Piedmont is a city on a hill and the Piedmont Police Department wants you to pay more attention to how you park your car to prevent rollaways.

PPD says a resident has called attention to the problem after seeing many of his neighbors forgetting to curb their tires on the hilly street he lives on. He recently contacted the Department about the need to prevent roll-away vehicles.

According to Piedmont Police Capt. Chris Monahan, at least two dozen warning citations have been written in the past several months for parking illegally on a grade.  Monahan is also working with the school district to pass on the warning.

"We've been writing warning citations and trying to get the word out more," said Monahan. "We have not had any reports of any rollaway vehicles that caused a collision to occur."

Even though there haven't been any recent roll-away accidents in town, Monahan said rollaway accidents do happen on a regular basis, both nationally and internationally. Angling the front wheels toward the curb may prevent vehicles from rolling into pedestrians, traffic, or other objects if a vehicle is hit, or if the transmission or parking brake fails.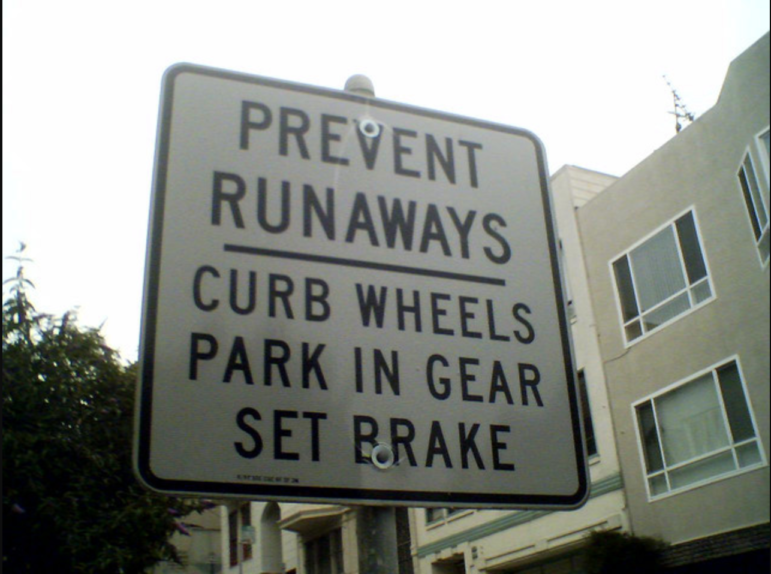 The basic guidelines for parking on a grade of 3 percent or more (1.72 degrees or more) are:
Facing downhill: turn the wheels toward the curb.
Facing uphill: turn the wheels away from the curb.
No curb: turn the wheels toward the shoulder of the road.
Always set your parking brake and leave the vehicle in gear or in the "park" position.
Curbing your tires on a grade is legally mandated by both California vehicle code (section 22509) and Piedmont city code (section 11.55). Drivers who forget to curb their tires on a grade in Piedmont may face written citations or may be fined $56. The same violation in San Francisco costs $72.
"Since we started being more vocal about it, we've noticed an increase in the number of vehicles that do have curbed tires," said Monahan. "[This is] just a casual outreach that has already yielded results."

PPD has considered signs to remind drivers to curb their tires, but the installation and placement of signs would be a bigger issue that involves the Public Works Department.
"We've been out doing enforcement and issuing a combination of warning citations and parking citations," said Monahan. "At this point, we're just trying to spread the word and not trying to pound people for $56."

You can find more information about parking on those tricky grades and hills in the California DMV Handbook: https://www.dmv.ca.gov/portal/dmv/detail/pubs/hdbk/parking.