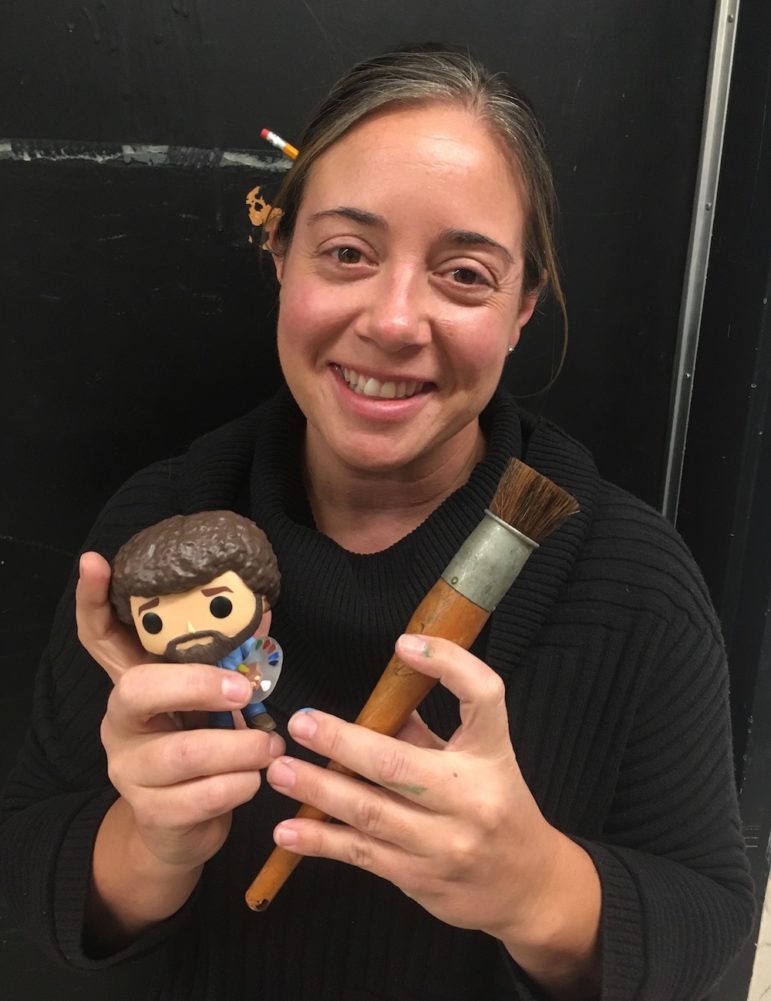 The Piedmont Education Foundation's Giving Campaign is conducting an interview series to share the voices of the heroes in our midst – the dedicated educators who strive each day to help our children grow and develop. In this "Voices" installment, we speak with Gillian Bailey, the Arts Department Chair of Piedmont High School.
PEF: What was your path to becoming an arts educator?
Bailey: I come from a family of educators – two of my grandparents were educators, and my mother was in special education and worked in service-learning. I went to California College of the Arts, and when I was home for the summer I helped students in juvenile hall with screen printing. I realized how much I love teaching people how to make art, helping them realize that they can make something appear out of their own ideas, so I decided to go into teaching. I'm now in my 9th year in the PUSD, and I'm the Chair of Visual and Performing Arts at the High school
PEF: What is the texture of your day like?
Bailey: It's controlled chaos! I teach combined level classes, so I have every period, 9th through 12th. I have students at all levels, from Home Base to GATE, art levels 1, 2 and 3, and so on. There's a lot of differentiation in what I do – I'm often teaching completely different levels on different sides of the room. I know when my kids are focused because the classroom is completely quiet.
PEF: What brings you the most joy about what you do?
Bailey: I worked in administration previously, but came back to the classroom because I enjoy watching students learn and grow as artists. Here in high school, students are in a place in their lives where they really want to express themselves, but they don't know how. To be able to give them the tools to express different ideas is an amazing feeling. When they get the chance to create their own original concepts, it's something they can connect to their own lives.  
PEF: What is most challenging about what you do?
Bailey: I truly love what I do, or else I wouldn't do it. But teaching pays a lot less than administration. Another challenge is the emotional toll that it takes give your all to each student in an individualized way every day. It's like giving a birthday party every hour and a half. To deliver curriculum to students that is relevant, that they can understand and build on, is really challenging.  All teachers lie awake at night thinking about how we can better serve our students, or how we can tweak our lesson plans. It takes an emotional toll. We don't really leave work at work – we take it with us wherever we go, all year long.
PEF: What do the arts bring to your student's educational experience?
Bailey: The big thing art education brings is a way of thinking — how to come up with an idea, develop it, figure out how do to make it come to life, and then see what fails and what is successful. Students can take that experience and apply it to other areas of their lives – they realize that sometimes there will be failures on the way to success, and they can make something that is truly their own.  We don't teach just art. We teach critical thinking, experimentation, failure, and perseverance. The process is more important than the outcome. It's scary to see a blank piece of paper for anyone!  We're teaching them to take that blank paper, or canvas, or computer screen, and use it to communicate it in a visual manner. We're creating critical thinkers and makers.
PEF: What are the most meaningful moments to you as an educator?
Bailey: When I hear a student say, "It worked!" or "I can't believe I made that!" it's a rewarding thing.
PEF: What are your thoughts on the state of public school funding in California?
Bailey: It's so broken and underfunded for a variety of reasons. I am concerned for the future of public education. I want to see teachers stay in the classroom, but as a teacher, I know it's becoming increasingly hard to do that – I could make so much more in administration. Financially, I don't know how long I'll be able to stay in the classroom.
PEF: What else do you think is important for people to know about your work?
Bailey: I truly love being an educator. We are in it for the students. That's why we become teachers! Everyone knows the pay is not good, and we sacrifice a lot of time energy to our jobs, but we all know that it's an important role in our society. I really appreciate the parent support in the Piedmont community.
PEF: What else should our community know about our educators?
Bailey: Piedmont has some of the most qualified, talented, and leading-edge teachers. I've been incredibly impressed by my colleagues. They elevate the level of education, and when teachers from other schools come in and see what the teachers here are doing, they are always so impressed.  I chose to leave Bentley for Piedmont High School in part because I have SUCH respect for the other teachers here – they are all innovating constantly, preparing students for the next level, and for life!
---
The Giving Campaign is the PUSD's largest annual fundraiser and provides a broad range of supports for our educators and our schools, including classroom aides, technology supports and resources, art and music, libraries, S.T.E.A.M. training, electives, A.P. classes, counselors, and supports for differentiation and educator salaries. To learn more about the Giving Campaign or to donate, please visit: www.piedmontedfoundation.org/donate/