The Highlanders' Marlowe McEfee and Audrey Call advanced all the way to the finals of the West Alameda County Conference Foothill League doubles tournament before falling to Berkeley's Maya Curry and Maya Ng-Yu. The two-day tournament concluded November 9 at Chabot College.
Marlowe McEfee

Audrey Call
The final was a thrilling, back-and-forth match, with Curry and Ng-Yu prevailing, 6-3. 2-6, 6-2.
McEfee and Call had a first round bye, and then defeated Alameda's Adeline Rickard and Claire Fox, 6-1, 6-2. McEfee and Call then came from behind to beat Bishop O'Dowd's Georgia Bunkers and Hayden Senegal in the semifinals, 3-6, 6-0, 6-1.
Maddy Young

Lily Orta
The Highlanders doubles team of Lily Orta and Maddie Young lost its opening match to Alameda's Olivia Willard and Nisha Johnson, 0-6, 6-2, 7-6 (6). Orta and Young then defeated Alameda's Kirsten Lee and Lauren Lee in the consolation bracket, 8-4.
Morgan Bouch

Hannah Ferguson
The third team of Hannah Ferguson and Morgan Bouch lost its opener to Rickard and Fox, 7-5, 6-3. Berkeley's Zo Pancoast and Leah Wildman beat Ferguson and Bouch in the consolation bracket, 8-4.
In singles, Audrey Edel made it to the fifth place match, where she fell to Bishop O'Dowd's Evian Jiang, 8-2. Edel made the match by defeating Castro Valley's Gaby Madison, 8-5.
Edel began the tournament by beating Bishop O'Dowd's Ava Daniel, 6-0, 6-4. Berkeley's Solia Valentine then knocked Edel out of the winner's bracket with a 6-0, 6-0 win.
Emily Becker beat Alameda's Katherine Legg in the opening round, 6-1, 6-0. She then lost to Castro Valley's Elena Lottich, 6-1, 6-0. Becker then fell to Jiang in the fifth place bracket, 8-4.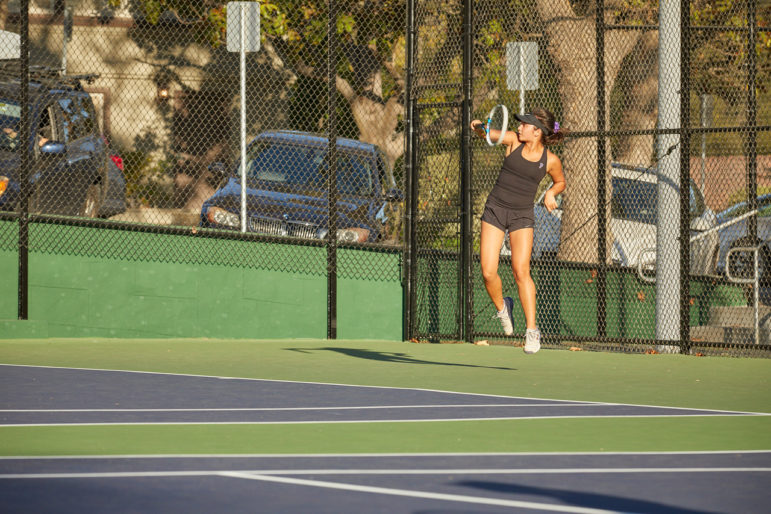 Valentine ended up winning the singles championship, beating Lottich in the final, 6-3, 6-1.
Next up for the Highlanders is the North Coast Section team tournament. Seeded fourth, Piedmont opened on November 12 with a home match against Albany at 5 p.m. The winner will face the winner of the match between #5 seed Bishop O'Dowd and #12 seed St. Patrick-St. Vincent-Vallejo. The second round will be on November 14, and the Highlanders will host the match if they win.
The NCS individual championships will be held on November 18.
Photos by Devon O'Shaughnessy and Brian Mahany