The Piedmont High School girls cross country team continued a dream season by winning the North Coast Section (NCS) Division 4 team championship on November 23 at Hayward High School.
The Highlanders scored 65 points to defeat Miramonte, which had 80. Bishop O'Dowd was third with 111.
With the team finish, Piedmont qualified for the California Interscholastic Federation (CIF) championships on November 30 at Woodward Park in Fresno.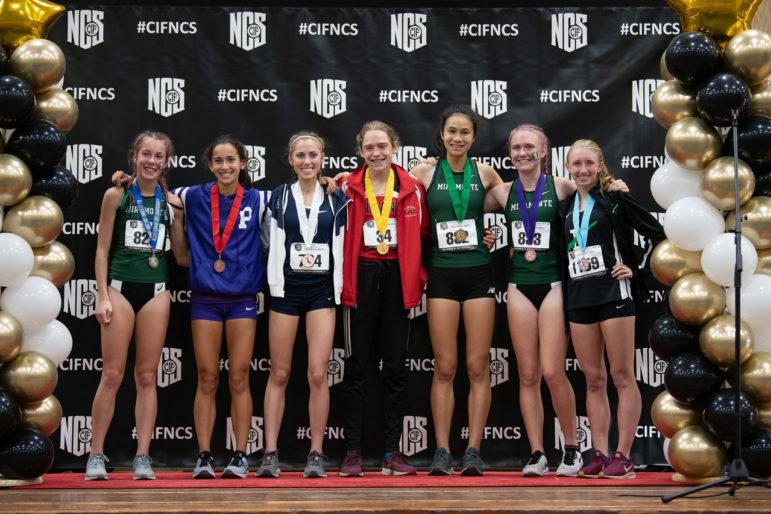 Leading the way once again was Sophia Zalewski, who finished a strong second behind Miramonte's Audrey Allen. The Piedmont senior finished in 18 minutes, 5.2 seconds, well ahead of third place Gigi Clifford of Marin Catholic (18:36.2). Allen won comfortably in 17:27.2.
"That was awesome," Zalewski said of winning the team championship. "That was always our goal that we were reaching for but we were afraid to announce because it's hard especially since we got second at league. To be able to win a race that's even more competitive is awesome. We didn't expect to be able to do that."
Said Highlanders coach Jeanine Holmlund, "Here we are, I think this is the fourth win we've had in the last seven years."
Ellie Black finished 10th in 19:28.2, with Maggie Black 13th in 19:38.0. Adri McAuliffe was 17th in 19:55.8. Mara Lovric took 23rd in 20:09.7, just a bit in front of Aya Troyer (25th, 20:14.1). Molly McWeeny finished 36th (20:45.5).
Sophia Zalewski

Ellie Black

Maggie Black
Holmlund has talked about the "Purple Train," the way the runners stay together throughout the race being a key. Zalewski agreed.
"All of our times are so close together," Zalewski said. "If one person has a bad race, then the sixth or seventh runner can come up and fill in their shoes. It ends up working out for us."
The Piedmont boys team also ran well, finishing fifth overall. That wasn't quite enough to make the state meet, but it made their coach proud.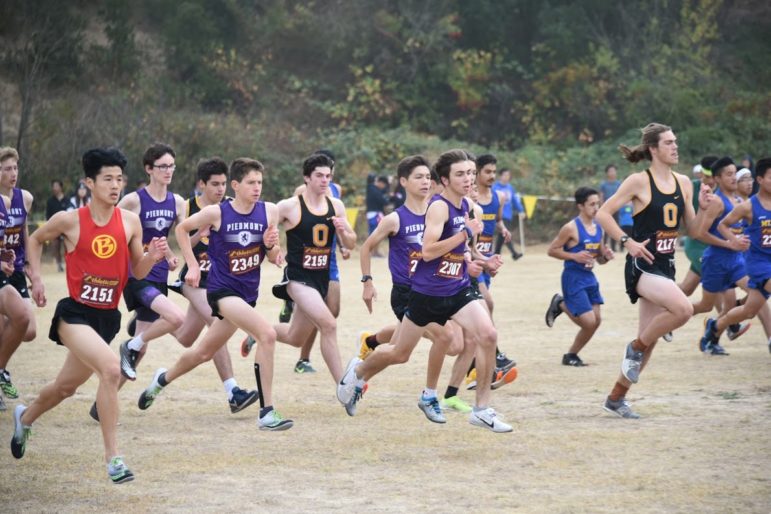 "They were amazing this season," Holmlund said. "I'm really proud of those boys.
The Highlanders scored 206 points, finishing ahead of San Rafael (214). Sir Francis Drake won the team title with 44 points.
Collin Mortimer

Seamus Chamberlain-Carr

Alex Weekes
Collin Mortimer was the highest finishing Piedmont runner (26th, 16:46.1). Seamus Chamberlain Carr was 28th in 16:50.3. Alex Weekes was 45th in 17:14.2. Rowen Connelly finished 51st in 17:22.0. Max Podell took 61st in 17:31.8. Cooper Downing (66th, 17:39.2) and Jack Stein (72nd, 17:56.0) rounded out the Highlanders team.
Looking ahead to CIF, Piedmont's girls finished 18th at last year's state meet.
"We're hoping to get in the top 10," Zalewski said. "Somewhere in there."
Zalewski is looking to improve on her overall 98th place finish.
Photos by Dennis Mockel