Highlander senior Sophia Zalewski won the individual title at the West Alameda County Conference (WACC) championships on November 9, setting a personal-best for the three-mile course at Hayward High School.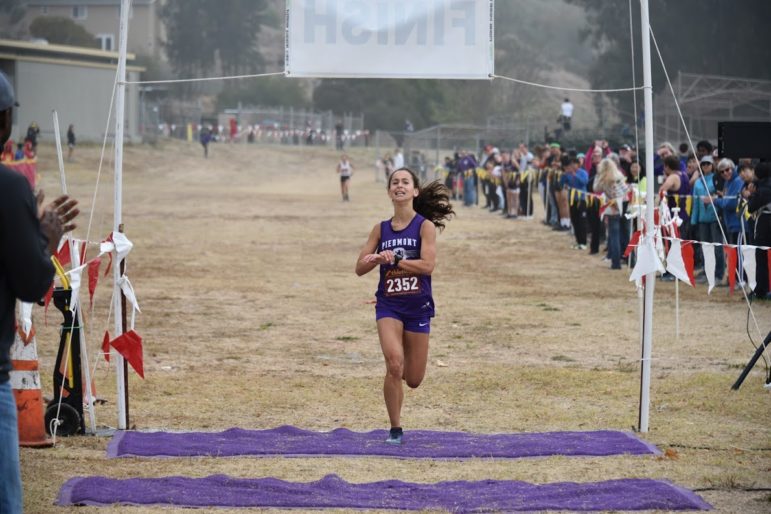 Zalewski broke 18 minutes for the first time, winning in 17 minutes, 50.64 seconds. As she came down the chute for the finish alone, with spectators lining both sides, she peaked at the timer positioned to her left to check out her time.
"I always check the clock," Zalewski said, laughing. "It's probably not the best for my race, but I like seeing where I am right now and gives me motivation to keep on sprinting. I really wanted to go under 18."
Zalewski was the defending champion in the event, and improved her winning time from a year ago by about 40 seconds. She ended up beating second place Olivia Liuson of Alameda by almost 15 seconds – Liuson finished in 18:05.38.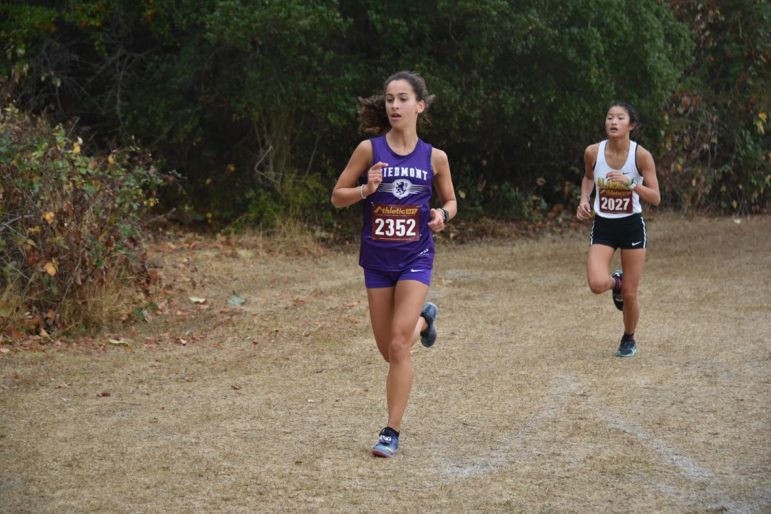 "Last year, I didn't have the best race on this course," Zalewski said. "So I didn't go into this race thinking I was going to lead from the start. I wanted to run off of (Liuson). It was also her goal to run under 18. So I wanted to run my first two miles with her, and then kind of push off and see what I could do on my own."
Zalewski helped the Highlanders take second place in the team competition. Piedmont finished with 48 points, just behind Alameda (42). Maggie Black was eighth (19:07.47), Adri McAuliffe 11th (19:15.43), Aya Troyer 12th (19:15.64), Ellie Black 16th (19:33.38), Mara Lovric 20th (20:16.55), and Molly McWeeny 21st (20:16.97).
"We all worked together over the summer and we were training a lot," Maggie Black said. "I think we just knew we were definitely going to improve. This season has been so amazing so far. We thought we were going to improve, but we improved by so much more than we expected."
Molly McWeeny

Ellie Black

Mara Lovric (center)

Adri McAuliffe (left) and Aya Troyer
Said McWeeny, "Everyone was super strong runners last year – Sophia, Maggie, Ellie – they were all on varsity. And then Adri and Mara had done so well last year and because seniors left, they were on varsity. We knew they would all work well together. I was so excited to be a part of it. We all knew going in that it was just going to be an amazing season.
"It's a great team and we're just really excited."

Molly McWeeny
Ellie Black said that the team is very close and that it helps them run well as a team. "Even from the very beginning of the season, at practices – we're such a bonded group of girls – from the very first races, we were running well together, working with each other," she e said. "So we knew that this whole season was going to be that much better, that much more fun, because we were all running together."
In the boys race, Collin Mortimer finished fifth for Piedmont in 16:19.21. Bishop O'Dowd's duo of Julian Jensen (15:42.78) and Lucas Chaney (15:43.37) went 1-2.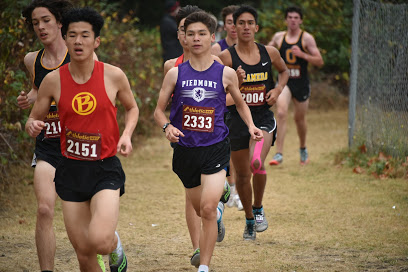 "I really wanted to push it," Mortimer said. "Last two races, I got 16:34 and 16:37. I really wasn't feeling all that well. This one, it was all about pushing and making myself mentally strong. I was thinking to myself, 'Don't stop, don't stop. You have to keep going.' Pushing up the hills, I was really trying to get to that front group."
The Highlanders took third place in the team competition, scoring 75 points, three points behind Bishop O'Dowd in second. Berkeley won the title with 67 points.
Alex Weekes

Cooper Downing (left) and Rowen Connelly
Piedmont's other finishers were Alex Weekes in 10th (16:31.00), Cooper Downing 17th (16:48.68), Rowen Connelly 18th (16:48.90), Seamus Chamberlain-Carr 25th (17:00.03), Max Podell 26th (17:02.77), and Jack Stein 33rd (17:13.61).
Max Podell (2336)

Seamus Chamberlain-Carr

Jack Stein (2342)
"We all did really well," Podell said. "Some of us PRd [ran personal records] by 40 seconds. We all were trying to beat 17:15. We've all improved so much. Most of the varsity was high 17's (at the start of the season)."
The North Coast Section championships will be held November 23 on the same course at Hayward.
Photos by Steve Zirkelbach