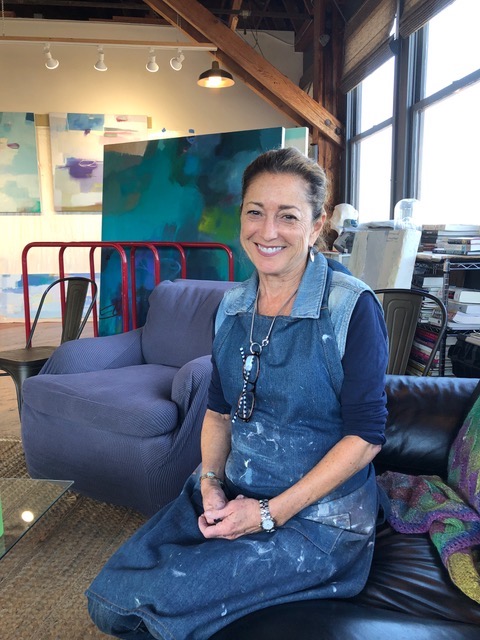 On a brilliantly blue and sunny morning this November, I visited Sharon Paster in her Sausalito studio.
The particular beauty of the Bay Area had been on full display during the drive over: the glassy expanse of ultramarine water, the deep greens and browns of the shore, Mt. Tam fading into a denim sky.
And entering Paster's airy, high ceilinged studio in the historic ICB Building, the views don't quit. It would be easy to spend the day gazing through her corner windows which afford a full view of sparkling Richardson Bay dotted with sailboats and a distant peek of the Bay Bridge.

But more than the views, Paster's stunning paintings capture attention.
On first glance it's the blast of juicy color that attracts, next up the subtle shifts in hue and value draw the eye into and through the paintings, just as if on a hike in our Bay Area hills. The paintings are large, generally 48" x 48" or bigger, and Paster comfortably utilizes a variety of large and small shapes to evoke not only landscape, but more importantly, the feeling of moving through landscape. There is a three-dimensionality to the paintings imparted by the presence of objects such as rocks or a horizon line, sometimes only implied, but enough to orient the viewer.
More than anything else though, there is a quality of confidence, of a painter working at the top of her game.

We settle into a comfortable sofa in a cozy corner to talk about Paster's journey to become the artist she is today. Paster (born in 1955) recalls early childhood memories of being finely attuned to color, and of being inspired by the smell of turpentine in her grandfather's Bronx painting studio. In high school Paster, the daughter of a NASA engineer, was encouraged along with her younger sister to pursue natural talents for Physics, Chemistry and Mathematics. A part-time job at Thermo Electron, Environmental Instruments Division gave Paster the opportunity to put her interest and skill in drawing to use to create a company mural and free-hand wiring diagrams.

Feeling the need for balance in her education, Paster entered Brandeis University, where within three years she earned a BA with Fine Arts Concentration, Phi Beta Kappa (1976).
After graduation, Paster took a position as a technical writer in the Nuclear Medicine industry, putting her art career aside for a number of years, and eventually became the Director of Communications for a Semiconductor Business. Meanwhile, Paster had married and had two sons, now 30 and 32.
After the foray into science and communications, it was the family's cross country move to Marin that gave Paster the opening she needed to return to the art world.

An artist's priorities

Paster's materials and work in progress
Once settled and reoriented to her new home, Paster enrolled in graduate level sculpture and painting classes at the College of Marin, where she met other artists and was encouraged to create a home studio. After a successful Open Studios event, Paster decided to move into her first studio in the ICB Building, a space she shared with three other artists and which she describes as 'teensy.'

Many years on, and now with a mile-long list of awards, juried shows, gallery representation and publications to her credit, Paster is able to reflect on the arc of her art practice. As a young artist Paster once considered her drawing skills and ability to recreate the works of the great masters to be the defining characteristic of her artistic talent.
Now, far from those representational roots, Paster is an artist in full control of her materials and her medium, an abstract artist who is generative of her own content. 'It's been in the last five years' Paster says, that 'she has been able to fully understand how to convey and articulate through her paintings her feelings about how she sees the world'. She adds that it is the accumulation of experiences and experimentation that makes a better artist. Her advice for an aspiring artist? "Get out there, travel, learn, expand your horizons."

Perhaps a jaunt through the Bay Area hills would be a good place to start.

---
See Sharon Paster's art on her website: sharonpasterart.com
Visit in-person at the
2019 Winter Open Studios at Sausalito's ICB Building
December 6-8, 11AM-6PM
Preview Reception | December 6, 6:00 -8:00 PM