Attendance at the official kickoff event for the citywide Climate Challenge last Thursday showed that a significant portion of the community is already willing to do its part to address the greatest issue facing the planet.

The event saw 90 RSVPs and was attended by Mayor Bob McBain, City Administrator Sara Lillevand, and City Council and School Board members.
"I'm blown away by the dedication I've seen. It's very inspiring," said Justin Szasz, who is two months into his duties as a CivicSpark Climate Fellow working with the city to promote and implement the newest version of its Climate Action Plan (view HERE).

The prevailing mood was enthusiasm and optimism in the face of what could be seen as a daunting and overwhelming task, as the number of households making the commitment to reduce emissions of greenhouse gases warming the planet continues to grow steadily.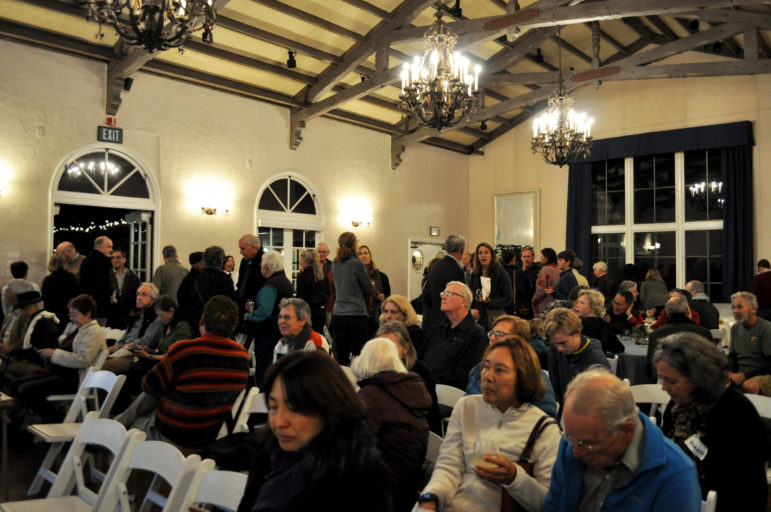 The screening of a portion of the 2019 HBO documentary "Ice on Fire," produced and narrated by actor Leonardo DiCaprio, offered a sobering, but inspiring look at what's at stake and what needs to be done to prevent the likelihood of mass extinction of species, mass relocation of human and animal populations and disruption to global food production.

"Needless to say, these are very big issues," Mayor Bob McBain said in his opening remarks. "The goals we need to reach probably seem at times to be out of reach." The community can't control what happens elsewhere, but can focus on addressing its role, he said.

"It's important to remain positive, keep optimistic, be rational," he said. "If we're not optimistic and hopeful it's hard to achieve anything. Very good opportunities and we mustn't let them slip away."

He said the challenge is an extension of an effort the city started in 2008 when it passed resolutions reduce the city's own consumption and educate the public. A citywide Climate Action Plan was adopted in 2010 and an even more ambitious version was approved in March 2018. McBain said that implementing the goals has involved "a lot of heavy lifting by volunteers in this community," led by members of climate group Piedmont Connect.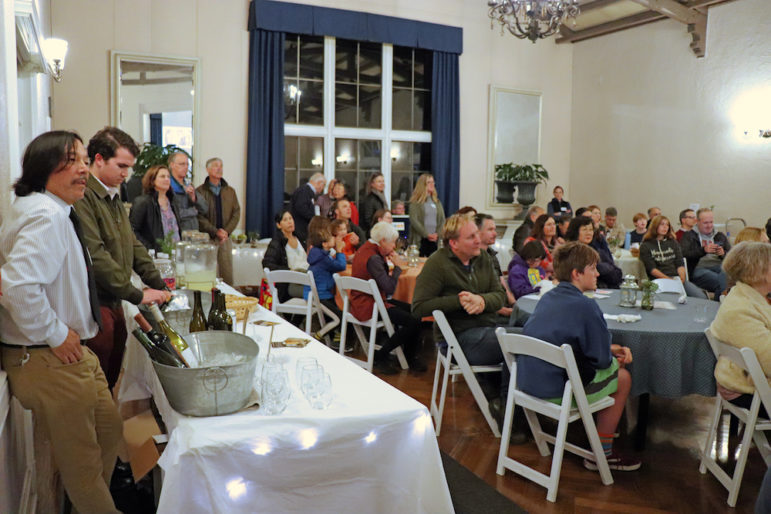 The Climate Challenge got its informal start at the Harvest Festival in late September with a goal of enlisting 200 households by March. As of Saturday morning participation stood at 160, or 80 percent of the goal and organizers would welcome the prospect of going well beyond the goal.

Climate Ambassadors recruited by community climate group Piedmont Connect are continuing their outreach to keep the number growing and meet or exceed the goal of reducing the city's overall carbon footprint by 450 tons of CO2 by March.

The Piedmont chapter of the League of Women Voters is also a major part of the outreach.

Central to the effort is the online Climate Challenge platform where residents can register, join teams formed by groups and neighborhoods and compete for the largest reductions.

"We have to make major changes to get there," Szasz said. "That's the reason we set up the platform. Obviously, we hope people continue to sign up."

Tom Webster, Piedmont Connect board member, helps attendees at the Piedmont Climate Challenge, register their houses to be a part of the City's goal to reduce residential carbon dioxide emissions by 450 tons. Piedmont is currently 20 percent on its way there. So far, 159 houses — the goal is 200 — are signed up.

Piedmont Connect member Susan Miller-Davis encourages Piedmonters to sign up for some friendly competition and make little changes in their lives that could lead to a big impact in Piedmont. The Challenge will last until March 2020 and winners of the Piedmont Climate Challenge will be announced in April.

Piedmont CivicSpark Fellow Justin Szasz presents information and data about the Piedmont Climate Challenge at the Community Hall on Thursday, Nov. 7.
Households that register are asked to take a survey of current consumption to determine a baseline carbon footprint and offer ways to reduce it.

He cited federal figures showing that 70 percent of U.S. emissions come from energy use in buildings, transportation (including air travel) and food production, all areas where changes in individual choices can make a major difference. Households that have already taken conservation steps, such as installing solar panels, aren't penalized in determining their baseline footprint.

"The way the site is set up when you do your profile you actually get a badge that gives recognition up to four or five levels for what you've already done and then adds what you accomplished during the challenge period," said Susan Miller-Davis, a Climate Ambassador and Steering Committee member of Piedmont Connect, the community group that is leading the organizing, promotion and recruitment for the challenge.
"The turnout is really encouraging. The message is getting through that the time is now."

Susan Miller-Davis, Climate Ambassador and Steering Committee member of Piedmont Connect
"Frankly, we weren't even sure where this would go. This experience is going to inform the next challenge."

Resident Bob Cheatham came away from the event impressed by what he saw. "I noticed a lot of talent and energy," he said. "I've always been skeptical about what difference it makes what I do as an individual" after reading about the major contributors to global emissions, he said. "But I thought, 'Why not.'"

Winning teams in the challenge will be honored at the Tasting a Sustainable Future 2.0 event still to be scheduled in April.
---
SEE RELATED