Emily Becker and Audrey Call have been best friends for a long time. They both signed up for Jim Landes' tennis classes in middle school, and in their sophomore year at Piedmont High School, they played No. 3 doubles together for the Highlanders.
In the two years since, however, they haven't played as a doubles team. But entering the North Coast Section Division 2 championships, the seniors were paired together one last time.
It paid off. Becker and Call swept through the tournament, defeating Arcata's Aimee Reiner and Keona Gutierrez, 3-6, 6-3, 6-1, at Napa Valley College on November 19 to take the NCS title.
"Audrey hit the ball at their feet and they popped it up," Becker said of the final point. "The ball went out on our side of the court. I was so surprised and I turned to Audrey and gave her a big hug."
"It was wrapping up our whole tennis career so it was just a really, really exciting moment."
The pair said they weren't thinking championship when they reunited for the playoffs.
"When we first came in we wanted to play together at the end and have a final match together. We didn't have any expectations."

Emily Becker
"We basically did it for fun. Some of the teams were really good. Then we got to the semifinals and thought maybe we can win this."

Audrey Call
The twosome said they quickly got used to playing with each other in the tournament. They received a first round bye, then faced Bishop O'Dowd's Georgia Bunkers and Hayden Senegal on November 18. It was a tight, back-and-forth match, with Becker and Call emerging with a 5-7, 6-3, 7-6 (3) win.
That moved Becker and Call through to the semifinals the next day. Facing University-San Francisco's Sydney Spivy and Catherine Kawaja, Becker and Call won in straight sets, 6-4, 6-4. That led to the final, in which the Piedmont pair got better as the match went on.
"I think that was our best playing in the third set," Call said.
Landes, who has coached Becker and Call since those early classes through their careers at Piedmont High, said that "Emily and Audrey improved their play with every match. By the time they played the last set in the final, they seemed invincible. After losing the first game in that set, they swept the next 6!"
Both girls started playing tennis in seventh grade. Becker was a soccer player to that point, but dropped that sport in her freshman year to concentrate on tennis. Her younger sister Amanda Becker is also on the team at Piedmont, having just completed her sophomore season.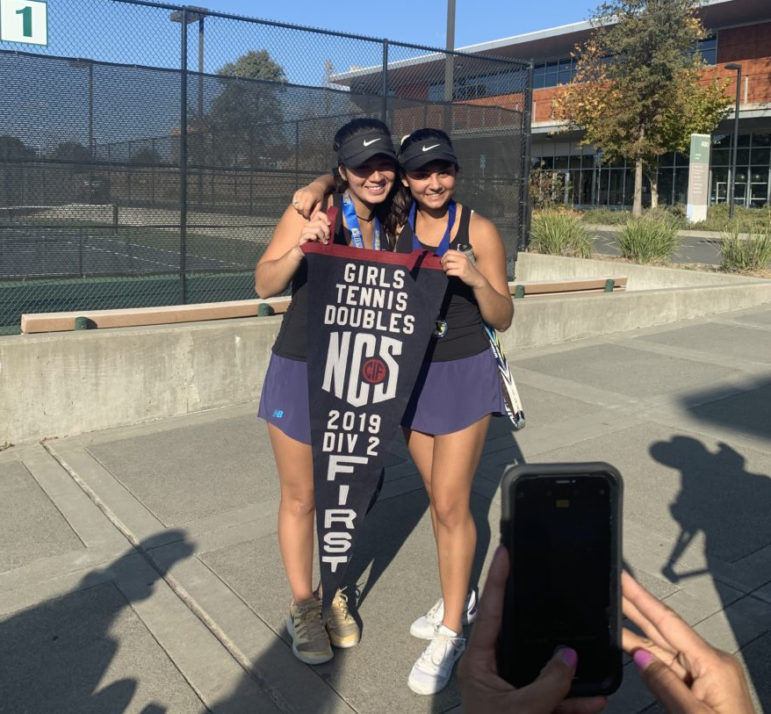 Call started at the same time (did we mention they're best friends?). She played a lot of sports growing up, including gymnastics and volleyball. As a freshman at Piedmont, she stuck with volleyball before switching over to tennis as a sophomore.
Becker said she may continue playing tennis in college, but isn't sure whether intercollegiately or on a club team.
"Not my main focus, but I definitely want to keep it going," she said.
Call said, "I will definitely play tennis for fun but not seriously."
They said they are both looking forward to the new Wall of Champions being constructed at the Piedmont tennis courts.
"Ending out the season with a win especially with Audrey was a lot of fun," Becker said.
---
Photos and video by Linh Becker