PIEDMONT — The Valero gas station/mini-mart at Highland Avenue, Highland Way and Vista Avenue, near City Hall and the police and fire stations, is open once again, providing a convenient fill-up for Piedmonters.
It's hard to miss, especially at night, with the bright LED lights guiding drivers to the per-gallon price of the day and illuminating the pumps. More LEDs are coming, Ali Alarkaban said. "These lights are going to be replaced, too," he said, pointing to a line of weaker lights over the garage doors.
Abdulraman "Abdul" Almendhar, Alarkaban's cousin, reopened the Valero station Oct. 14. It had been closed since April, when longtime operator Simon Ho left in the face of a huge rent increase. Ho moved his business to Glenview Automotive, just off Interstate 580 about a mile and a half south of Piedmont Valero.
While the gas pumps are working again, and the stock in the shop is filling out gradually, Almendhar said on Monday that the bathroom is still being updated to meet ADA standards.
A bigger challenge, he said, will be securing his own heavy repair equipment, as Ho took his equipment with him when he left. "It's going to be a while before the shop's open."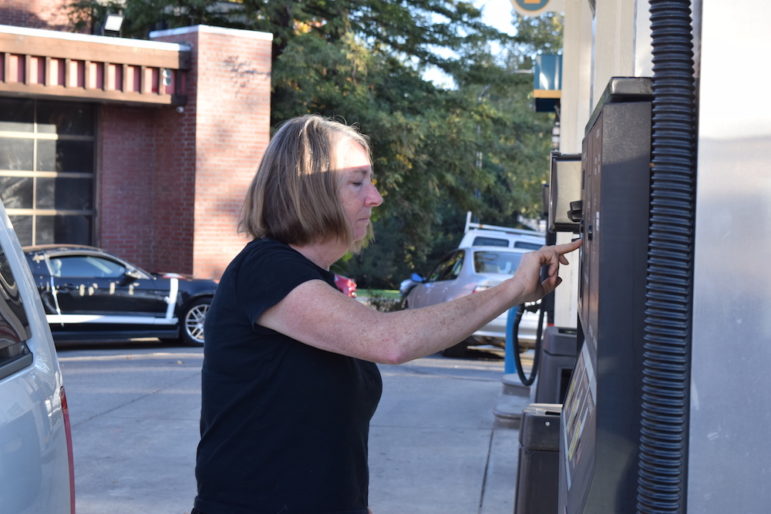 Almendhar said he wasn't sure how Piedmonters would receive him, given he's replacing a popular local presence in Ho. But he's been encouraged by the response from drivers his first two weeks open. On a recent late Monday afternoon, there was a steady stream of cars pulling up to the pumps — not a traffic jam, but steady business.
Kat Di Piazza of Piedmont (pictured at top) was one of those customers, and was glad she can do it again.
"I think it's awesome — it's on the way to school, and it's nice to support a Piedmont gas station," Di Piazza said.
Inside the small shop are the usual sodas, candy, snacks, cold coffee drinks, lottery tickets and a small selection of grocery staples. Coming soon, Almendhar said, will be a hot coffee bar and some more groceries. Not coming, he said, is beer or other alcohol.
Both Almendhar and his cousin Alarkaban acknowledge their shop, with two schools within a few blocks, is a magnet for kids after school. The store does sell tobacco, and the cousins said they intend to give no quarter. "We always ask for ID," Almendhar said. "That's a big violation."
In an email, police Chief Jeremy Bowers said his department's new juvenile officer, Nicole Casalnuovo, visited the shop right after it opened to talk with the owners about that topic. Curbing student drug and alcohol use is a key part of her job, and teen vaping has been an issue at Piedmont High.
"The Piedmont Police Department is committed to ensuring those products are not being sold to underage individuals," said Bowers, who also said Casalnuovo saw vaping products for sale in the shop when she visited. The chief noted his department has received no complaints from the public about Valero selling tobacco products to minors.
On Thursday, Almendhar denied there were vaping products in the store at any point since they opened — none were seen there by a visitor on Tuesday — and stressed they won't carry them at all.
As Di Piazza gassed up her minivan, she expanded on the value of being able to gas up close to home. "With three kids, getting gas is always a pain, so it's nice to have a gas station that's on the way to everything." Another Exedra reader was less excited about some of what's new and different: "About those lights. Let's hope…they dim those lights."
The cousins hope the shop, now open from 7 a.m. to 7 p.m, will be able to expand its hours to 10 p.m. Almendhar, who also operates a repair shop in Oakland, said they like what they've seen of Piedmont so far.
"People are really nice in this town," he said.
---
Photos by Sam Richards | Reach Sam Richards at sam.richards4344@gmail.com