Just back from Spain and Portugal where I had an opportunity to do some "research" on rocket fuel for Halloween and beyond. I have started to ask various mixologists to create a drink for me, and with their permission shoot a video while they craft the mix.
In the photo below, Savana, from the Cotton House Hotel bar in Barcelona, creates a special treat.
Here is a link to the 5-minute video of Savana in Barcelona, I loved her style. Please check it out below.
Savanah Rosemary Peat from Roderick Brown on Vimeo.
---
A seasonal approach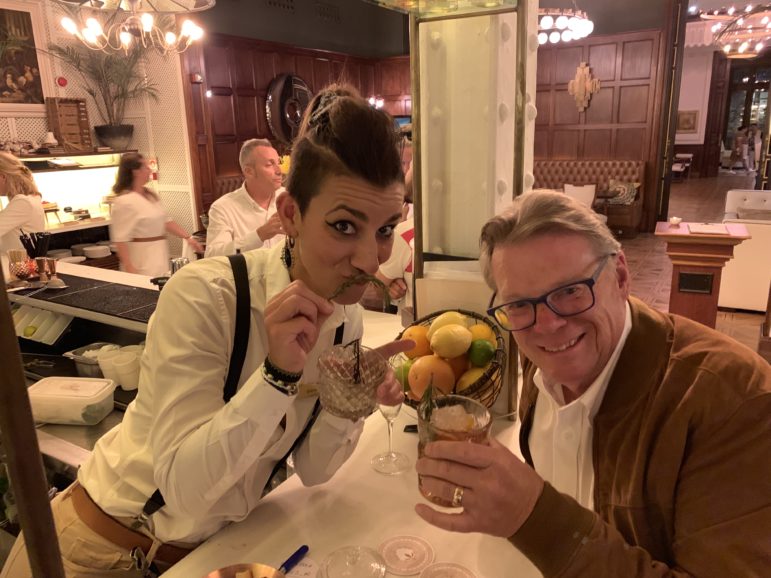 In autumn with its palate of golden brown, I lean toward things woodier, earthier — and well, smokier — which means scotch, bourbon, brandy and port. With that in mind, I asked Savana to create something seasonal for me to enjoy and share. Savana's theatrics aside (see video!), I was able to take the essence of her concoction and come up with something to share.
The result is a tasty autumn treat (which I initially wanted to call Rosemary's Baby — for Halloween — but wife Barbara shut that down) which I have christened "Autumn Smoke."
Why "smoke"? Because I love smoky Islay whiskey Ardbeg. Even more than the well-known Laphroaig single malt whiskey, the Ardbeg holds up well here. The drink is simple and offers a taste treat that morphs the whiskey's distinct charcoal and peat flavors without losing their essence. Orange and rosemary add to the taste and bouquet. 
Autumn Smoke: Ingredients and Directions
Start with a ½ teaspoon of brown sugar and muddle with a generous dash of Angostura bitters in the bottom of a heavy rocks glass.
Now take a full jigger of whiskey and a healthy sprig of fresh rosemary, generous ice, and shake vigorously to release some of the oils from the rosemary into the scotch.
Pour over a large ice cube in the glass with the brown sugar and bitters already mixed.
Add a generous slice of orange for a garnish and a second slice of orange bent to release the oils and rub on the rim of the glass.
Stir everything well, discarding the ice and rosemary in the shaker. 
Add a fresh stem of rosemary and a slice of orange peel and enjoy.
---

Rod Brown is a Piedmont resident who loves his cocktail hour.