Saying eight proposed cellular phone booster sites would go against local guidelines governing preservation of residential and historical character, the Piedmont Planning Commission voted Tuesday night to recommend the City Council reject applications for those booster sites.

In so voting, planning commissioners acknowledged not only that the ultimate decision to approve these cell phone towers rests with the City Council, but that federal law hamstrings Piedmont — or any local government — in some key approval decisions regarding cell phone booster sites. The city, they say, may have little choice but to approve the permit applications.

The City Council is scheduled to decide Nov. 18 whether to approve Crown Castle Fiber LLC's applications to build nine small booster sites, including antennae and related equipment. The sites would then be leased to Verizon.

The nine sites– technically, sites 10 through 18 — considered Tuesday night were at 201 Hillside Ave.; 237 El Cerrito Ave.; 410 Hillside Court; 338 Magnolia Ave.; 96 Fairview Ave.; 116 MacKinnon Place; 100 Palm Drive; 185 Wildwood Ave.; and 523 Boulevard Way.

Ultimately, Crown Castle wants to create 18 sites in Piedmont. Nine other sites, 1 through 9, have been selected but are not yet scheduled for an approval vote.

Planning commissioners struggled Tuesday night with the wording of their recommendation, given that federal law limits the reasons why such structures can be rejected.

The Federal Communication Commission in April issued an order "removing barriers to infrastructure investment" by cellular companies. Under federal law, cities cannot place conditions on, deny, or approve a proposed wireless communication facilities based on concerns about health concerns about electromagnetic field emissions (EMFs) given off by cellular facilities.

"On safety and health, we don't have very much say, we just don't," said Planning Commission Chair Jonathan Levine Tuesday night.

The City of Piedmont is one of 26 cities across the country joining to challenge the FCC's April order in a lawsuit filed in the Ninth Circuit Federal Court of Appeals in San Francisco.

The commissioners settled Tuesday on citing the residential and historical character as the basis of their recommendation to the City Council. And though commissioners praised city staff for working with Crown Castle on smaller pole-mounted installations and methods to largely conceal them from public view, they also said there would be too many of them — both with these nine units, concentrated around Piedmont High School and Piedmont Park, and with more facilities that figure to be proposed in the future.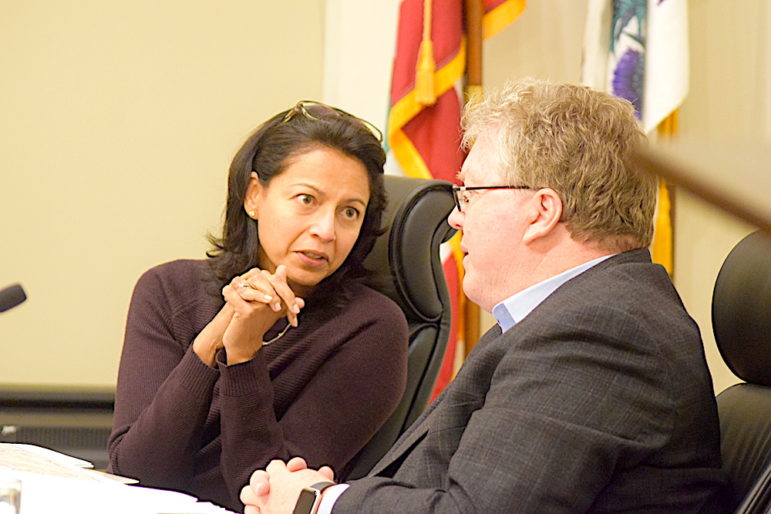 Commissioner Tom Ramsey said he wonders whether one day every utility pole in Piedmont will host a cellular antenna. And as for Crown Castle's current proposal, Commissioner Allison Allessio said, "There are just way too many sites on this application."

Crown Castle had originally wanted to build fewer (nine) but significantly larger and more powerful — and more obtrusive — wireless installations around the city. The City Council in October 2017 approved three of them but rejected five others. Crown Castle sued the city a month later over the rejections, and contended the conditions of approval for the four sites were so onerous that they were, in effect, rejections as well.

The 18 equipment sites now under consideration were established as part of a subsequent settlement of that suit in December 2018. The city settled the Crown Castle suit in part because the smaller, less powerful installations were seen as more palatable, and also because the city would likely face a continued costly legal fight had it banned the equipment altogether.

About a dozen residents that were part of a packed council chamber Tuesday night made their cases to the commissioners for opposing the Crown Castle application. One resident, Jim Horner, said work on a planned installation near his home on Fairview Avenue could threaten a fragile liquidambar tree. Several others said they would have a negative effect on neighborhood aesthetics and property values; yet others said there were too many of them clustered near the high school.
"It's the concentration in that part of town, it's very scary," said Gayle Young, who lives on Hillside Avenue. She also said she's a cancer survivor, and wary of the effects of EMFs. "We know we can't trust what we're being told."

Resident Michael Costello challenged the very notion that Verizon's endgame was improving local cell phone service. "I think this has more to do with Verizon's selling internet connections to homes than anything," he said.

Planning commissioners were under time constraints to make a recommendation to the City Council. The December 2018 lawsuit settlement contained a 50-day window for the city to approve the applications; that window closes Nov. 22. Levine said the city, in effect, was working with a "shot clock" in addressing Crown Castle's July 9 application for these nine sites.

Failure to approve these permits could mean Crown Castle's lawsuit against the city gets reinstated.

That short time line, Levine and others said, means the city can't wait for a Ninth Circuit lawsuit ruling before deciding on this round of Crown Castle permits.

Unusual vote on ninth site

In a situation that vexed planning commissioners, they voted 2-1 — with one abstention — to approve cell tower plans for one proposed Crown Castle site, 96 Fairview Avenue.

Because that spot was within 500 feet of Ramsey's home, he had to recuse himself from the voting on that site. Commissioners Levine and Rani Batra opposed approval, for similar reasons they opposed the others, while Strout and Allessio voted yes on that one site. With that deadlock, Levine eventually abstained so a ruling could be made, hence the 2-1 vote.
---
Photos by Sam Richards | Reach Sam Richards at sam.richards4344@gmail.com