Cal Barna threw for 235 yards and a pair of touchdowns, but it wasn't enough as the Highlanders lost 59-34 at San Leandro on October 4.
The Pirates (3-2, 1-0 West Alameda County League) jumped out to a 26-7 lead early in the second quarter. Running back Osario Aihie rushed for 152 yards and two touchdowns on 14 carries. Quarterback D.J. Bryant threw for two touchdowns and ran for three more to pace the San Leandro offense.
"A lot of miscommunication on defense," Piedmont coach Jerome Johnson said. "The offense played well. The defense just didn't get it done. No excuses, we did not get it done."
"What's more frustrating is they pulled their two guards the same way Lincoln did. We just got a different result", noted Johnson.
The Highlanders (3-3, 0-1) had beaten Lincoln-San Francisco on the road two weeks ago, and came into the game against the Pirates off of a bye week.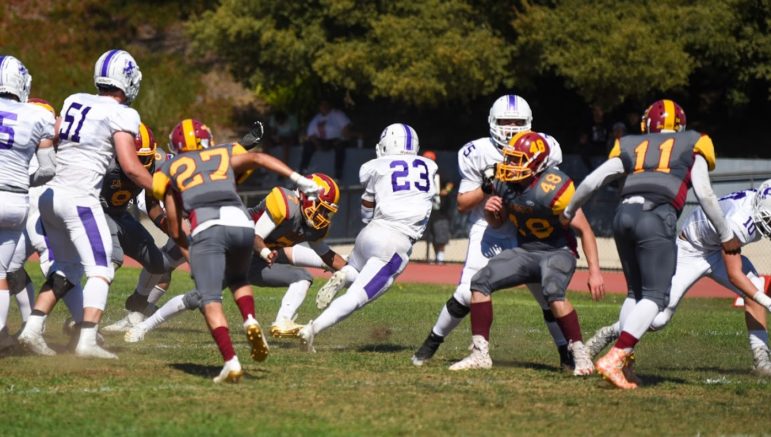 Piedmont battled back in the second quarter, cutting the lead to 33-28 at halftime. Running back Brian Cain scored on a 6-yard run, and Barna threw a pair of touchdown passes for 31 and 65 yards to tight end Lars Derr.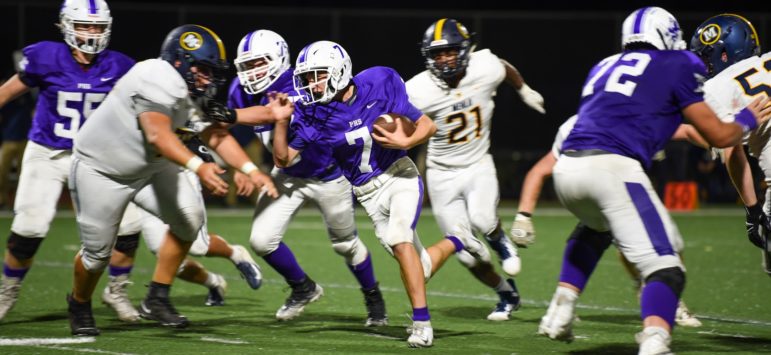 "Brian Cain and Nicky (Allen-Goix), they ran well," Johnson said. "The offense truly kept us in the game. They did their job. Had a couple of injuries. But they pretty much did the job. They ground and pound. We had some really good success in the air with our tight end Lars (Derr). We needed to get a couple of critical stops on defense. We thought at halftime we were in the game."
However, the defense simply couldn't contain San Leandro. Aihie added three receptions for 76 yards and a score. Bryant completed 11 of 20 passes for 177 yards.
Barna's 235 passing yards came on 11 completions. Cain finished with 51 yards and three touchdowns on 13 carries. He also caught three passes for 60 yards. Allen-Goix rushed seven times for 19 yards. Derr caught five passes for 163 yards.
Georgie Brayer (17)

Patrick Selna (72) and Jack Youkstetter (15)
On defense, linebacker Georgie Brayer led Piedmont with 11 tackles. Defensive back Joe Hempeck had seven tackles, and lineman Patrick Selna had five.
The Highlanders next host Encinal (5-1, 1-0) on October 11. The Jets have won all five of their games via shutout. Kickoff is scheduled for 7 p.m.
Photos by Todd Marshburn