"Paintings," a solo show of the works of Keith Scott Ferris from 2017-2019, opens this Saturday, October 12 at the Piedmont Center for the Arts. This will be the second time this year that visitors to the PCA will have the opportunity to enjoy Ferris' work; one of his paintings was selected for inclusion in the 6th Annual Juried Show at the PCA in January 2019.
Opening reception |Ferris and friends will have an opening art reception on Saturday, October 12, from 4:00–6:00 p.m., with live jazz, wine, and light refreshments.

Keith Scott Ferris, a Buffalo, NY native, has been a Bay Area resident for the past 35 years and describes himself as having been an artist his whole life. After earning a Masters Degree in painting in 1974 in Oregon, Ferris took a detour from the figurative work he had been doing into an exploration of installation art, using fabrics and string that he made and dyed. This was a natural outgrowth of the intellectual curiosity sparked by the year he spent doing social work as a Vista Volunteer, and the anti-war message Picasso's 'Guernica' inspired in him.

Over time, Ferris returned to painting, and while he no longer considers it strictly necessary that art should make a political statement, he does feel that art can play an important role in helping the viewer consider themselves in relation to the natural world, and lead to personal change.

The paintings Ferris has chosen to exhibit are authoritatively large-scale, abstract works in oil that refer obliquely to the landscape. With a combination of sophisticated color palette and unique mark-making through the use of combs Ferris makes himself, the paintings capture and hold attention. Thoroughly contemporary, Ferris' use of texture and color field techniques do perhaps touch back to his use of fabric in the installation art of his early career.

Ferris is a long standing member of a group of serious Bay Area artists known as 'The Book Club at Van Kleef'. Over a decade ago, members of the group began to gather every Thursday afternoon at Oakland's Cafe Van Kleef, ostensibly to share industry knowledge, but also to enjoy the opportunity to socialize in the eccentric atmosphere Cafe Van Kleef is known for. The ideas and concepts discussed by the group have led to BCVK group shows in Oakland, Alameda, and other Bay Area cities.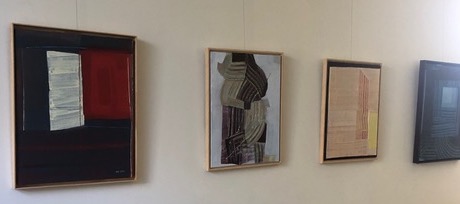 In addition to the paintings on exhibit, Ferris along with his wife, author Lia Smith, have put together a program of poetry and prose readings and music, and live dancing.
Opening reception – Saturday, October 12, from 4:00–6:00 p.m.

Gallery Hours
Sunday, October 13, 12-3 p.m.
Saturday, October 19, 12-3 p.m., with poetry and prose readings by Laura Joyce Davis, Roxane Beth Johnson, and Lia Smith
Sunday, October 20, 11 a.m. – 2 p.m. (Note earlier time)
Saturday, October 26, 12–3 p.m.Sunday, October 27, 12-3 p.m., with live dancing with limited audience participation (Ballroom, Swing, Jazz)
Please see the schedule on the PCA website for additional details.
---
Ferris and Smith are currently also collaborating with artist and daughter Cory on a hard-cover art book representing ordinary riders and operators of San Francisco's MUNI system. This project will include hand drawn and colored portraits of 25 individual people Ferris has observed and met while riding MUNI over the past decade. As described by Smith, "each portrait will be accompanied by a short 'meditation' written by Ferris, describing his activities surrounding the discovery of that rider and explaining what inspired the drawing." Quotes from interviews with the riders and operators will also be part of the caption included with each portrait.
---
All photos, except the featured photo (PCA website), by Katie Korotzer