Kurt Bryan laughs at the question: Is the A-11 offense allowed in indoor football?
"Good question," he says, before adding, "In the current rules, no."
He then says, "One of the things that attracted this to me, there's a lot of synergy between indoor football, eight-on-eight, and the structure of the A-11 game."
"This" is the Oakland Panthers, a new team that will begin Indoor Football League play in March. Bryan has been named head coach of the Panthers, who will play home games in the Oakland Arena. Oakland native and former Raider Marshawn Lynch is one of the co-owners, and the team is marketing itself as a replacement for the city as the Raiders move to Las Vegas next season and the Warriors begin play in a new San Francisco arena later this month.
Bryan relishes the opportunity.
"With our beloved Raiders moving again and the Warriors having moved, bringing a new team to Oakland is exciting," the 55-year old says. "Me getting a chance to coach professional football and not move my family? That was too good to pass up."
It has been a long, strange journey for Bryan, who moved to Piedmont when he was 12. He came into the world a surprise, in multiple ways. He was born two months early, along with his twin brother, Keith. Their mother lived in the Bay Area, but was driving in Southern California when she went into labor for what she thought was going to be the birth of one child. The twins were born in Inglewood.
"We didn't know I was in there and my mom was driving and boop," Bryan says, "I was the second born so I'm the bonus."
The family bounced around the South Bay, Fremont and San Mateo before moving to Piedmont. Already, Bryan was plotting a career as a coach.
"You grow up a latch key kid, you go out on the playground," he says. "When I was about 5-years old, I knew that I wanted to coach even though I couldn't put it into words back then. I loved to organize games."
"We used to play at a day care center. I wanted to organize a tackle football game. I went into the pantry and grabbed a giant bag of corn meal. I started pouring the lines to make a football field. But I ran out of corn meal. I went back into the kitchen area and grabbed a second bag, and by the time I dragged it back out, the birds had eaten the corn meal. I was heartbroken."
Bryan's first game as a head coach came at Piedmont High School. Football players would coach teams of girls in "powder puff" games. The boys who were supposed to coach the senior girls quit right before the game.
"Some members of the senior girls came on the morning of the game and they asked me to coach," Bryan recalls. "I said, 'I have to get a staff together.'"
Bryan met up with some buddies and they drew up plays on index cards. They met with the girls at lunchtime and got one practice in. That night, Bryan's team won, 12-6.
Bryan, however, never played varsity football at Piedmont. He had played on the Highlanders freshman and junior varsity teams, but he took his senior year off to commit to playing baseball full-time.
"I thought I was going to be a pro baseball player," he says.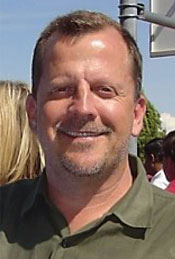 It would turn out to be one of the few regrets of his life. After Piedmont, Bryan went on to Chico State, where he started his official coaching career by walking into coach Dick Trimmer's office and saying he wanted to be a football coach. He spent a year volunteering for Trimmer, and the next year under Mike Bellotti, who would go on to build the University of Oregon football program into a power. Then, Bryan spent a year coaching at Chico High School. All of this while he was still a student at Chico State.
During this period, he wrote a letter back to Mike Humphries, one of his coaches at Piedmont and the father of Steve Humphries, with whom he would create the A-11 offense. Mike Humphries wrote back a year later and told Bryan to contact Steve Beyrle, who was the head football coach at the time. "Maybe there will be a place for you," Humphries wrote.
Bryan was a couple of classes short of graduation, but he moved back to the Bay Area and started coaching at Piedmont. He finished his communications degree at Cal State Hayward (now Cal State East Bay).
Bryan was the offensive coordinator from 1986-92, and then took over the head job when Beyrle left to coach at Portland State University. Bryan spent four seasons leading the program, then left to join Ken Margerum's staff at Menlo College. He was there for three years, then went to St. Mary's College in Moraga for three years. The Gaels dropped football and Bryan took 2003 off, then joined the staff at Livermore High School, where he stayed for two years.
Then, Piedmont called again.
"I remember getting the call," Bryan says. "My wife and I were driving and I didn't recognize the phone number. I said, 'Should I answer it?' She said, 'Sure.'"
The year was 2006. Bryan led the Highlanders to a 5-5 record, good enough for a berth in the North Coast Section 2A playoffs. Piedmont traveled to Orinda to face No. 3 Miramonte in the opening round. The Highlanders lost, 13-6.
"We had a physically brutal playoff game against Miramonte," Bryan says. "I remember thinking Piedmont has never been a football factory and some of these teams are really physical."
Bryan headed to San Francisco one evening to brainstorm with his assistant coach, Steve Humphries. They were trying to figure out a way to protect their players from being beat up and ground down on the field, as well as a way to score more points. Give their players a chance to fly down the field more. The question was how.
"Steve drew up the base formation," Bryan says. "Steve said, 'What if we had two quarterbacks in the shotgun formation?'"
Bryan says he had called exactly one shotgun play on offense in his entire coaching career to that point.
"I said, 'What if everybody was a game-changer and was interchangeable. We spent the next two days going through the rule book."

Kurt Bryan
In football, six offensive players are allowed to go downfield and receive a pass. They are the two ends on the line, and the four players who are in the backfield. Traditionally, teams lined up with the five offensive linemen packed in middle of the field. The ends might line up tight to the offensive linemen or spread out. The players in the backfield might line up behind the quarterback or as tight ends, just behind and next to the offensive line or split out wide.
At the time, the National Federation of High Schools rule book had no restrictions on jersey numbers. The NFL has long required teams to number their players by position, and players with numbers that normally aren't allowed to go downfield on a pass play have to report to the officials ahead of the play if they are going to line up as an eligible receiver. If a player wearing an ineligible number lines up in an eligible position, even if for a moment, a penalty flag is thrown.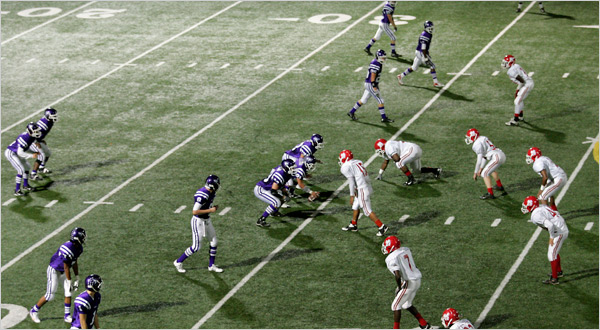 No numerical restrictions meant Bryan and Humphries could line players across the field and move them at will. Bryan and Humphries spread everybody out, including players who were restricted to the line of scrimmage. On a given play, there would be three linemen around the ball and various players split wide. Some would be on the line on one play – thus ineligible. Then, on the next play, that player would take one step back off the line and the next player over would move up and become ineligible. As long as the players complied with the shifting and motion rules, they could switch off between the eligible and ineligible positions.
Although Bryan and Humphries were pretty sure they were within the rules, they still went through official channels to make sure that game officials would allow the offense to work.
"We put together a whole portfolio to the National Federation of High Schools (NFHS)," Bryan says. "We had to send it to the (California Interscholastic Federation) rules committee head.
"We spent the next three, four months getting everything ready. We brought in all the key high school officials in August and said, 'Here's what we're going to do.' We gave them a four-hour chalk talk on the whiteboard. Then, we went for it."
They had permission, but they didn't initially have success. The 2007 season started with a 31-2 beating at Campolindo. The offensive line coach quit after the game. The next week, the team lost its home opener to Truckee, 15-7. Parents were approaching then-Piedmont principal Randy Booker with playbooks for offenses that the parents thought the team should be running.
"After the first two games, it wasn't looking good," Bryan says. "I was one week from being promoted to a customer. Meaning I would have to buy a ticket."
Booker was supportive and asked Bryan what he needed. Bryan says he told the principal, "One more week."
The Highlanders made the long drive to Weaverville where they faced Trinity. Piedmont pulled out a 20-14 win. The next week, the Highlanders beat St. Mary's-Albany, 21-14. A week later, it was a 17-14 win over Oakland.
Piedmont ended up winning seven consecutive games. The Highlanders lost in the NCS 2A playoffs to Las Lomas, but the A-11 was becoming a national story.
Bryan says he never heard too many complaints and that most of them came from people who hadn't even seen the offense. But the howls from the traditionalists were heard all over the country. Bryan was ruining football with his system, or so they said.
"It became this war of ideas."

Kurt Bryan
Piedmont went 8-3 the next year, again losing in the playoffs. By this time, there was a groundswell of "Something must be done" at the national level. At the NFHS's annual meeting in February, 2009, uniform restrictions were added to the national rule book, effectively killing the A-11.
Bryan is asked if he was surprised at the outcome."Surprised? I'll say disappointed," he says. "We had shown what it did for smaller schools against larger opponents. I was disappointed that they weren't open-minded enough to keep studying."
Bryan and Humphries created the A-11 prior to the heightened concern with player safety that has risen up in the past decade. The intent wasn't to make the game safer in the long-term. But Bryan now sees how his baby could be the future of football.
"The A-11 showed what was possible," he says. "I still believe without a doubt within the next 10-25 years, that's what the game will be because players are much different than they were in 1906 when the forward pass was legalized. It's going to happen. I think it will become the norm having fully interchangeable offensive players."
He continues, "We basically eliminated the three-point stance in '07. Every player is upright so they're not banging heads every play. The defender doesn't know if his guy is running by him on any play. So he can't just tee off on the same guy 50 times in a row.
"The concussions, everything that was brought to light the last decade, and the NFL, the NCAA and high school have done a bunch of great rule changes. But they haven't addressed the crux of the problem. When you have five guys tackle-to-tackle who are constantly being hit by defensive players, because the defensive players know they aren't going to go downfield."
"Helmets and shoulder pads can only reduce trauma so much. You have to change the structure of the game."

Kurt Bryan
Bryan spent two more seasons as Piedmont's head coach. He had been coaching more than 25 years at this point, and was burnt out. He spent the next few years trying to get a professional A-11 league off the ground. It never quite materialized. He spent more time with his family.
"It was good to be out of coaching for a while," he says. "You can't be half-in."
However, he got the itch again in 2017. Bryan took over as head coach of Arroyo High School and spent two years there trying to build the program. Wins were rare: The Dons went 2-18 in that span. But Bryan believes he has built the foundation for future success. He says he had planned to be at Arroyo for 5-10 years.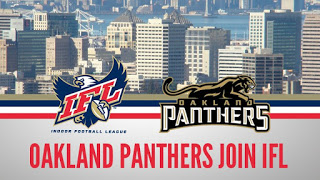 Instead, the Oakland Panthers came along. Indoor football is played in sports arenas across the country. The field is 50-yards long with eight-yard end zones. Offense and defense play with eight players, and offensive players can run to the line of scrimmage without coming set before the snap of the ball. It's a high-scoring form of football; maybe not quite the same as the A-11 offense, but closely related.
The IFL played with 10 teams last year and is planning to expand to 16 teams for the upcoming season, according to Bryan. Of the 12 teams currently named, the Panthers will play in the arena with the largest seating capacity (19.596).
The IFL is not to be confused with the Arena Football League, which used to have a franchise in San Jose. The AFL has been playing since 1987, while the IFL was established in 2009 when two existing indoor leagues merged.
Bryan is looking forward to it. Free agency just started and open tryouts will be held (the next on November 3 at Oakland Tech – details are on the Oakland Pathers website at https://www.oakland-panthers.com/). The tryouts will be open to the public, but prospective players need to sign up ahead of time.
Bryan is trying to use his position to help local high school coaches get a foot in the door at the professional level. He has six internships specifically for coaches looking to move up.
Training camp opens on February 27, 2020. The schedule isn't out yet, but Bryan can't wait to take the field at the Oakland arena.
"That thing is going to be rockin'," he says.