Just days away from its inaugural concert on Friday, Chase Center officials on Tuesday kicked off the opening of San Francisco's newest sports arena and event center with a ribbon-cutting ceremony. After more than two years of construction, the Chase Center's opening marks a new era for event-goers and sports fans in the city. The 18,000-seat state-of-the-art arena in the Mission Bay neighborhood is set to hold about 200 events annually, including all home games for the Golden State Warriors basketball team that financed the building.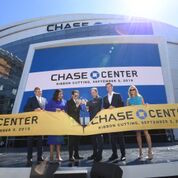 During Tuesday's ribbon-cutting ceremony, both Gov. Gavin Newsom and Mayor London Breed welcomed the center and acknowledged the major hand the late Mayor Ed Lee had in making it possible. "Ed Lee, two and a half years ago, just a stone's throw away, at the groundbreaking, he ended his speech talking about how much he looked forward to this day. As you know, he lost his life, but his passion is demonstrable here today. And I just want to express on a personal level my deep gratitude to him," Newsom said. "It was his faith and devotion to this cause that led to this moment," he said.
"The future is here right now," Breed said of the center's opening. She also acknowledged Lee's role in making the center possible."This arena was something he wanted to have for San Francisco," she said. "Every step of the way, Mayor Ed Lee pushed for this project to happen and I know we would not be here today had it not been for his incredible leadership. And we know he's smiling down on his today."
Chase Center is set to open its doors to the public on Friday with its much-hyped inaugural concert featuring Metallica and the San Francisco Symphony. Other acts scheduled to appear later this month include Dave Matthews band, Elton John, Eric Clapton, Mumford and Sons, and Janet Jackson, among others. The Warriors will then play their first preseason game against the Los Angeles Lakers on Oct. 5.
In addition to the entertainment and sporting events, the center's surrounding area, called Thrive City, will feature restaurants, shopping and events. The space also includes a 5.5-acre waterfront park and public art exhibitions. Chase Center's first public art exhibition by artist Olafur Eliasson, titled Seeing Spheres, has already been installed. "A brand new journey starts today," Warriors President and COO Rick Welts said. "Every trip you make here, you're going to discover something new. A new restaurant opening, a new activity on this plaza, maybe it's a farmer's market, maybe it's a movie night," Welts said. "It's going to be quite a year, a year when every trip here creates a new memory."