Saying safety concerns trump aesthetics questions, at least in the short term, the Piedmont City Council approved moving ahead with soliciting bids for "traffic calming" safety improvements at two local intersections.
Plans to move ahead with pavement striping and installation of "bollards," short, moveable yellow traffic-guiding posts, at the intersection of Grand and Fairview Avenues near the Ace Hardware store, were approved 4-0 Tuesday night with very little discussion (Councilwoman Betsy Smegal Andersen was absent)..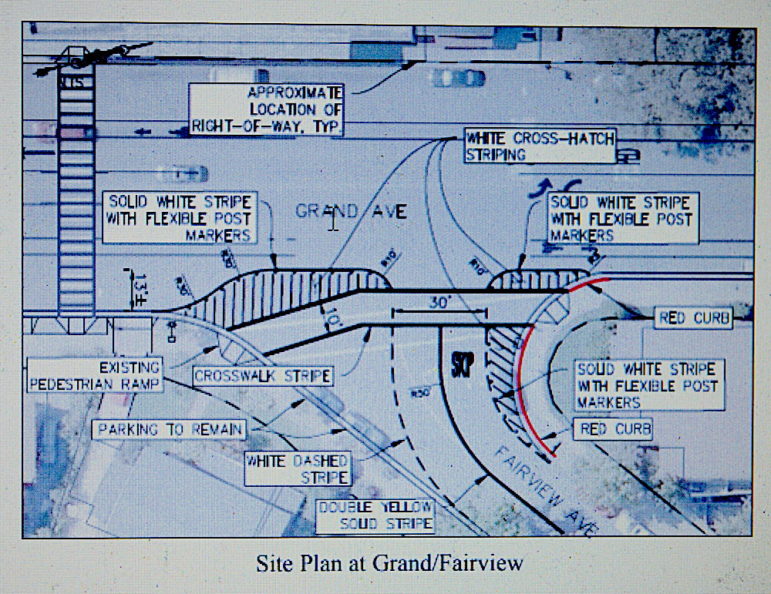 Discussion was more in-depth, and at times heated, about similar striping and bollards planned for the intersection of Oakland and Greenbank Avenues. Plans there have been made more complicated by a desire to preserve residential parking spaces, by driveways that have served as de-facto crosswalks, and a corner some described as scary.
"It's a hair-raising experience to pull out onto Oakland Avenue in both directions" from Greenbank, said John Wenger, Piedmont's city engineer.
The paint, bollards and raised lane delineators planned at those two intersections are expected to cost about $37,000 total — far cheaper than more extensive "hardscaped" bulbouts and other planned safety improvements at the intersections of Oakland Avenue and El Cerrito Avenue and Oakland and Jerome Avenue.
The City Council on Tuesday night heard from a handful of residents who said the stripes and the bollards not only won't solve the cut-through traffic problems on Greenbank Avenue, but are also ugly.
"We can't get out of our driveways many mornings because of the traffic," Greenbank resident Debra Constantine told the council. She said she favors improvements more permanent and more attractive.
"I don't know anyone on our block who's in favor of this." Constantine said.
At least one neighbor disagreed. Casey Bivens, who lives near the Oakland/Greenbank intersection, said he couldn't care less about aesthetics. He said he wants his block safer, and the sooner the better.
"You know what's beautiful is me putting kids in my car safely," Bivens said. "Public safety should be the main goal here."
City Council members agreed with Bivens, saying that the city's budget doesn't allow this year for more extensive improvements at these two intersections. The two Oakland Avenue "bulbout" projects could cost $700,000, city officials said in April when a total of five intersection traffic calming projects were approved in principle.
They also rejected unsightliness as a reason to reject these two projects. Councilman Tim Rood said the crosswalk signs in the middle of Highland Avenue were at first considered "unattractive," but that drivers have now become accustomed to them.
As for whether the paint and bollards will be effective … that's another question. If they prove to be less effective than hoped in slowing and guiding traffic, stripes can be painted over, bollards can be moved, and something new can be tried at a relatively low cost.
"It is possible to take a first step and then have community input," Vice Mayor Teddy Gray King said. "I suspect this is not the last step in the journey."
---
Reach Sam Richards at sam.richards4344@gmail.com