It's 5 a.m. and the morning rush is still a couple of hours off, but PUSD Director of Facilities Pete Palmer is arriving at the Piedmont High School campus to survey the construction work underway.
"Construction is in my blood," said Palmer, who oversees construction of the new Science, Technology, Engineering, Art and Math (STEAM) and theater buildings. Palmer oversees a $66.1 million budget and is responsible for keeping the huge project on schedule. His workday usually ends around 4 p.m.
Working each day on the PHS campus is something of a homecoming for Palmer. He is a Piedmont High grad who went on to earn a bachelor's degree in conservation and resource studies from UC Berkeley. He held various positions in commercial and construction project management before joining PUSD in 2015.
"I'm the one that signs off on everything," said Palmer of the project. "Everything that's going into the building has to be checked and approved." The construction work, made possible by Measure H1 — the PUSD improvement/modernization bond that voters approved in November 2016 — will give the campus a much-needed facelift as well as update its facilities. Palmer meets regularly with a Citizens' Oversight Committee to provide updates on the project's progress.
Outside of this latest construction project, Palmer is also responsible for district-wide operations and maintenance, for which he manages a crew of five. He also oversees two groundskeepers, a groundskeeper consultant and thirty custodians. On top of that he oversees facility rental coordination, the Safe Schools plan, and the online MSDS (Material Safety Data Sheets), a database that manages chemicals, injury and illness compliance.
Palmer's support team includes construction consultant Trish Culbert and bond accountant Philip Chang. The general contractor for the PHS project is Overaa Construction, a Richmond-based firm.
Although the project is running on schedule, Palmer admits that his team struggled with the hilly site, narrow streets and bedrock (which was deeper than the team had anticipated). "Having all these people work together in such a small area has been a real challenge," he said. "This summer was extremely challenging because we were doing all of the underground [bedrock] at the same time we were doing the foundation."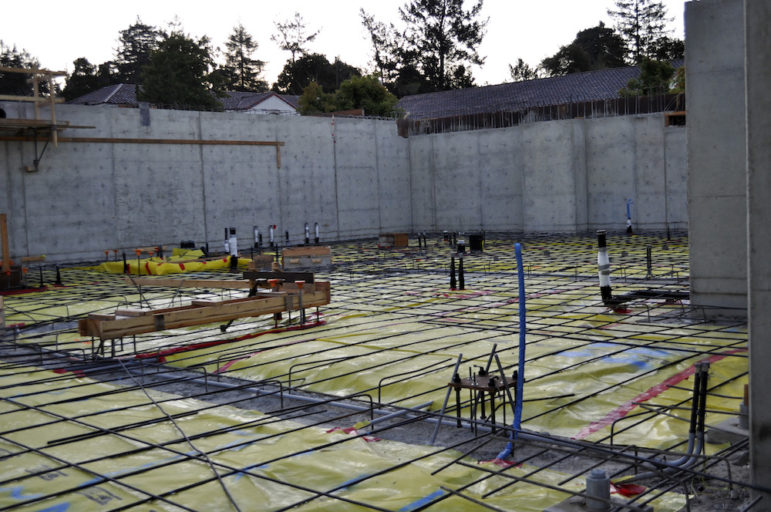 But Palmer remains passionate about the project, which will be seismically safe and highly energy efficient. The STEAM building will have photovoltaic (PV) solar panels that will both power and shade the building. The energy required to power the building will be created entirely by the site's renewable energy source — solar.
"We'll be able to go completely off-grid," Palmer said. "It has zero net energy; it pumps hot water and cold water through the floors and we're going to cool the building by using the concrete. That's the future." According to Palmer, the new buildings will be able to reduce energy costs enough that the district may be able to return some of that savings to the district general fund.
The new building will save energy and money by being self-sustaining and going off the energy grid.
"The typical PG&E bill at the high school is like $15,000 a month," said Palmer. "I'm anticipating when both the STEAM building and the theater become operational, we'll probably cut that in half because we no longer have gas anymore in both those buildings. We'll have the PV panels generating all our power."
Although there have been a few incidents of vandalism at the site, the project continues to move forward. "We have video surveillance signs all the way around and then we have cameras at all three sides so we can see everything that goes on," Palmer said.
"This is really going to be a great thing for the entire community, especially the theater," said Palmer. "It's gonna just knock your socks off." The STEAM building is expected to be completed in Aug. 2020 and the new Alan Harvey theater in fall 2021.