The Highlanders dug too big a hole against Encinal on September 26 in their final home match of the season. Piedmont rallied back from an early deficit, but lost, 13-10.
Piedmont fell behind 7-2 early in the second quarter, but the frustrating part was how it happened. Three times, Encinal's Selma Malkic gained control of the ball in her defensive zone and fired an outlet pass nearly the length of the pool. Each time, teammate Iris Phillips had slipped behind the Highlanders defense. All three goals happened in the final two minutes, four seconds of the first quarter, and made the score 6-2 at the first break.
"On defense, we just have to be more aware of where our girl is and anticipating their moves," Piedmont coach Sarah Mooney said. "Sometimes they get ahead of us. We have to react and we changed the next two quarters and made the shift. But we have to make the shift earlier and not let it happen so many times."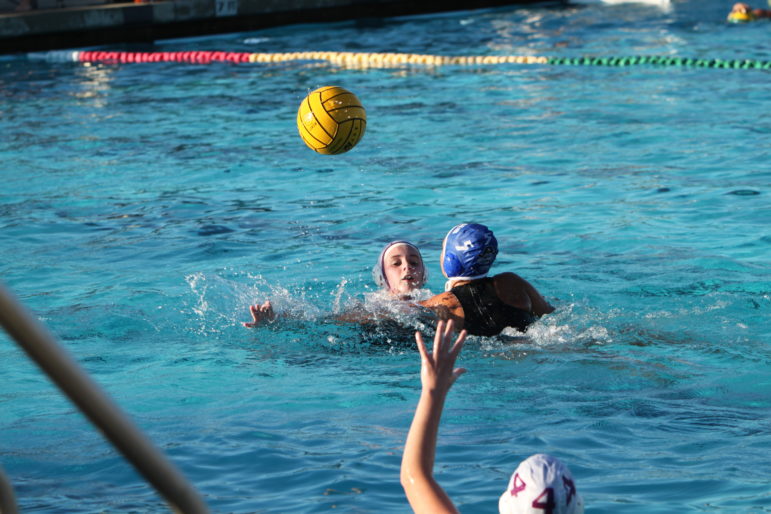 Nora Linnane scored five goals for Piedmont. She scored three of them on soft lobs over the head of Encinal goalkeeper Zuni Moon.
"It's always worked for me," Linnane said. "I don't know why I started doing it but it works every time. The goalies don't expect that."
Linnane pointed out that last year, the Highlanders lost to the Jets, 20-1.
"It was very exciting," she said. "It was kind of crazy to come this close to winning. Also, our last game at Piedmont Pool."
Linnane and her fellow seniors will only return for a game if they make the playoffs. Several games have been moved around on the schedule, and the October 22 match with Bishop O'Dowd will now be at Mills College.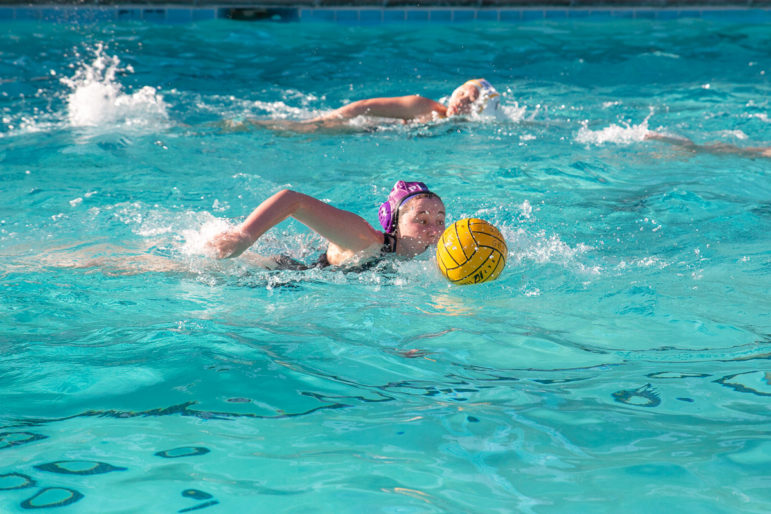 The Highlanders fought back in the third quarter. Erin Quick scored two goals, and her second cut the lead to 10-8 late in the period.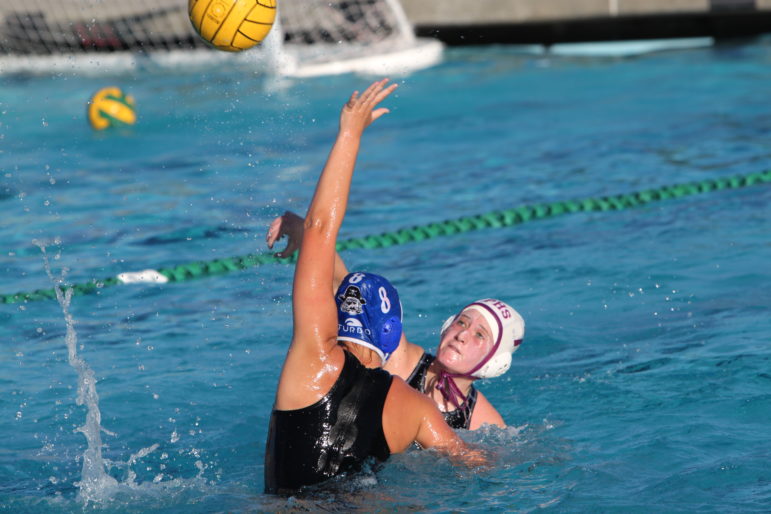 Ella Wright had two goals, two assists, and four steals for the Highlanders. Clara Feldman and Grace Davies had two assists apiece. Merry Roberts blocked six shots in goal, splitting time with Julia Pappas (one block).
Goalie Merry Roberts

Tali Cooper

Goalie Julia Pappas and Nora Linnane
"The girls played really hard the entire time," said coach Mooney. "Nobody gave up, which is great to see. I asked a lot of them and they rose to the occasion. They fought for the entire fourth quarter."
Piedmont plays next on September 28 in a tournament at Amador Valley, and again on October 1 at Berkeley.
Photos by Lynne Bourgault Wright