Brian Cain and Georgie Brayer ran wild, and Patrick Selna had a key sack late in the game, as the Piedmont High School football team hung on to beat Rodriguez-Fairfield, 14-12, in a windy road contest on August 30. It was the Highlanders first win of the season.
Junior running back Cain rushed for 136 yards on 31 carries to pace the offense. The Highlanders got all of their yards on the ground.

"We just had a great, great game on Friday night," Piedmont coach Jerome Johnson said. "Our offensive line was stellar."
Cain rushed for a 2-yard touchdown. Senior Georgie Brayer also scored on a 4-yard run. Brayer finished with 59 yards on 12 carries.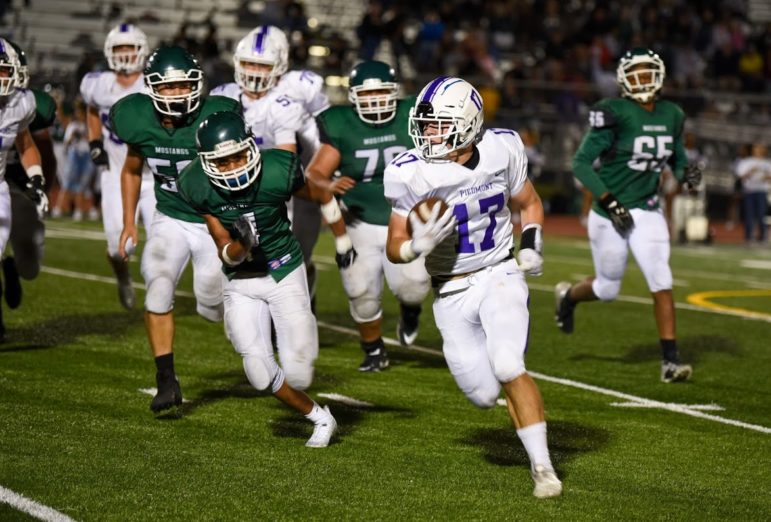 Piedmont evened its record on the year at 1-1. The Highlanders lost their season opener at Justin-Siena-Napa 35-9 on August 23.
"Great to get our first win," said Johnson, who is in his first season as head coach.

Coach Jerome Johnson
A short punt late in the first quarter set Piedmont up with a short field. The Highlanders went 38 yards in nine plays to score the game's first touchdown on Brayer's run.
The Mustangs (0-2) cut the lead to 7-6 with four minutes, 38 seconds to go in the half, when Jackson Miller intercepted a Cal Barna pass and returned it 40 yards for a touchdown. A celebration penalty moved the extra point back, and the Mustangs missed the kick.
Piedmont went up 14-6 late in the third quarter, with Cain carrying the ball on six of the 10 plays on the drive, including the final one.
Midway through the fourth quarter, Rodriguez quarterback Jackson Troutt converted a fourth down pass to Carlvesi Light for an 11-yard touchdown. The Mustangs went for two, but Troutt couldn't connect with Robert Searcy at the goal line.
Piedmont went three-and-out on its next possession. Rodriguez then drove to their 41, but on fourth down Cain tackled David Hicks for a two-yard loss to turn the ball over on downs.
The Highlanders decided to go for a fourth-and-4 at the Mustangs 33 on their next drive, and appeared to convert. But a Piedmont penalty forced a punt.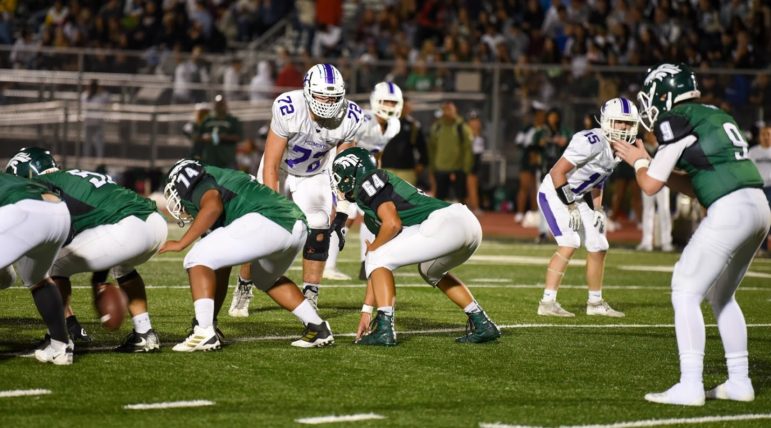 Selna's big sack came on the second play after the punt. Rodriguez then moved the ball to the Highlanders' 41 with time running out. Troutt completed a final pass to Alexander Mendoza, but defensive back Ben Marshburn ran him out of bounds to end it.
Next up for Piedmont is the home opener on September 6 against the Menlo School. Kickoff is scheduled for 7 p.m. The Menlo School opened its season on August 31 with a 71-0 win over Fremont-Oakland, a score that Johnson took note of.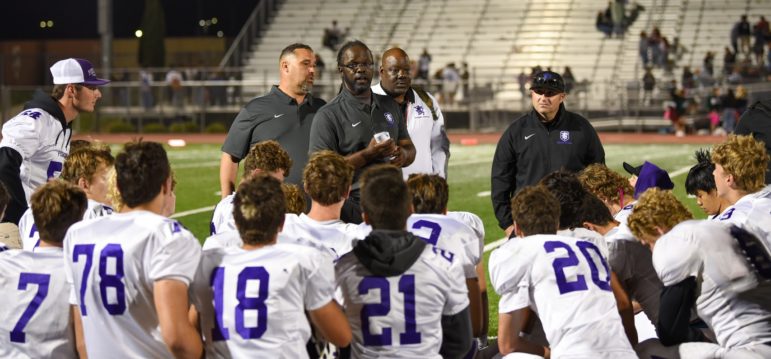 "It's going to be different this week," Johnson said, "I was shocked when I saw that score. It's gotta be wrong.
"But they come to us. They're a balanced offense. They will do a little bit air-it-out but they do that zone-read. And they do it well. So we've got our work cut out for us."

Photos by Todd Marshburn