Brian Cain rushed for 122 yards and a touchdown and Ben Marshburn had a pair of interceptions to help lead the Highlanders to a 17-14 victory at Lincoln-San Francisco on September 21.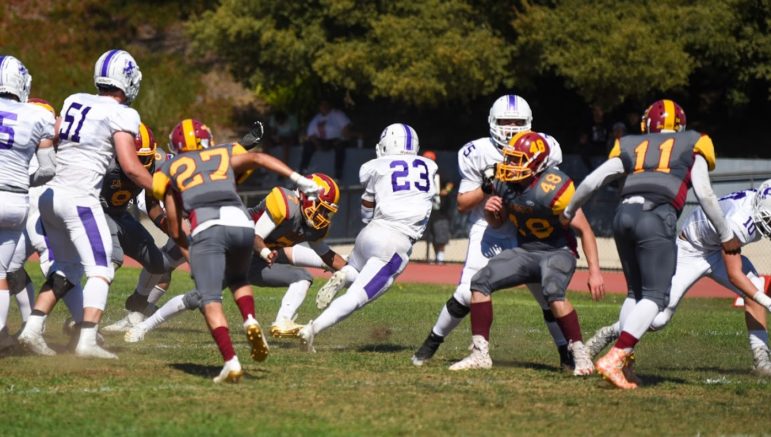 The win lifted Piedmont's record to 3-2 on the season. The Highlanders have the next week off and will open West Alameda County League play on October 4 at San Leandro.
"It was a great performance," Piedmont coach Jerome Johnson said. "We matched their physicality. We were very aware of their speed, their power."
The Highlanders led almost the entire game, but had to survive a couple of late threats. Marshburn had both of his interceptions in the fourth quarter, one coming in the end zone.
Mason Kimball (78) makes a key sack

Andy Melian (51)

Patrick Selna (72) and Jack Youkstetter (15)
"Our D-line is doing a great job, they were rushing that quarterback, they got to make that quarterback throw it out fast," Marshburn said. "My fellow DBs were covering very, very well. I was just able to make a play on the ball."
After Marshburn's second pick, Piedmont had a chance to run out the clock. But Nicky Allen-Goix fumbled the ball on a 12-yard run, and the Mustangs (1-1) had one more chance.
Piedmont's defense responded big time. Mason Kimball forced an intentional grounding penalty on quarterback Jonas Francovich on first down. Luis Contreras, who finished with 150 yards on the day, ran twice for a total of 10 yards, setting up a fourth-and-22. Francovich's pass fell incomplete and one kneel-down later, Piedmont had its win.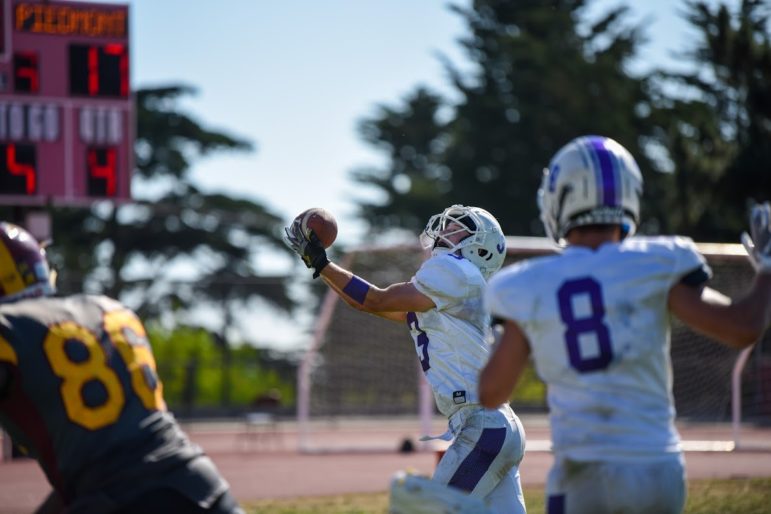 "Their offense had about three plays that they were doing," Marshburn said. "That was their bread-and-butter. But once we started hitting those holes, our linebackers were coming in there and hitting hard. Once we made them throw the ball, that's when I was able to take advantage of it."
The Highlanders held Lincoln to a three-and-out to start the game. A short punt gave Piedmont outstanding field position at the Lincoln 28. Five plays was all it took to score the touchdown, with Cain running the ball in from the 3.
The Mustangs came right back with Contreras carrying the ball off a direct snap on nine plays in a 12-play drive, picking up 56 of 75 yards. Contreras' 4-yard touchdown run capped the drive, but Lincoln missed the extra point.
Jake Alering (12)

Cal Barna (9)

Georgie Brayer (17)
A 26-yard run by Cain helped set up a 14-yard touchdown run by Georgie Brayer to make it 14-6 midway through the second quarter. Marshburn kicked a 24-yard field goal with nine seconds left in the half to make it 17-6 at the break.
Lincoln's James Walsh busted loose for a 46-yard touchdown on an end around in the third quarter. Contreras ran in the two-point try, and it was 17-14 with 6:59 to go in the period.
From that point on, the Piedmont defense gave no quarter. The offense drove to the Mustang 8 at one point, but penalties killed the drive and the Highlanders failed to convert a fourth-and-goal from the 30.
Brayer finished with 9 tackles, Selna had 5, and Melian 4. Linebacker Jet Moxley had 6 tackles, and defensive backs Jake Alering and Joe Hempeck finished with 4 each. Quarterback Cal Barna completed 4 of 8 passes for 40 yards.
"It was an even game," Lincoln coach Phil Ferrigno said. "They just played better in the end, I thought. They played hard, we played hard, hat's off to them. They deserved it."
Photos by Todd Marshburn