Locals can meet Sophia Gougoumis, a Piedmont native and an aspiring firefighter, this Sunday at the Harvest Festival where PFD will be hosting a booth with games and important safety information.
The timing couldn't be better for the Piedmont Fire Department to have its first-ever intern.
Sophia Gougoumis, a Piedmont native who started her internship last week, is an aspiring firefighter who will get college credit for her time with the city.
The department, meanwhile, is stepping up its outreach efforts to the community not only for educational efforts about fire prevention and resistance, but also trying to interest young people in potential careers at a time when the ranks of firefighters need replenishing to help battle or minimize catastrophic incidents.
"We've never had an intern before," said Fire Chief Bret Black. "It will be a way to get more experience on how to get on board with today's youth. It's just icing on the cake that she grew up here and knows the town so well."
Gougoumis, who works at the department two days a week and also works in Concord as an emergency medical technician, will make her public debut with the PFD at the 19th annual Harvest Festival on Sept. 22 at Piedmont Park.
The PFD is planning to have an expanded presence at the Harvest Festival, the season's biggest community event.
Piedmont Boy Scouts will be helping staff the booths, freeing Gougoumis and other department personnel to answer questions from the public.
Gougoumis has been preparing activities for the department's booths at the event, writing questions on fire safety, fire prevention, and disaster preparedness and response.
Spin-to-Win game

PFD's prizes and giveaways
Questions are for all ages and those who answer correctly can spin the wheel for prizes such as
LED lanterns, first aid kits and crank radios for adults and flashlights, Legos and rubber duckies for children.
Later she will return to Piedmont High representing the department at a career fair, with the idea of showing career alternatives that don't require a four-year college degree.
"I'll be talking about public service and what they want to do in the community," Gougoumis said. "I think I'll be able to talk to them and give them some ideas."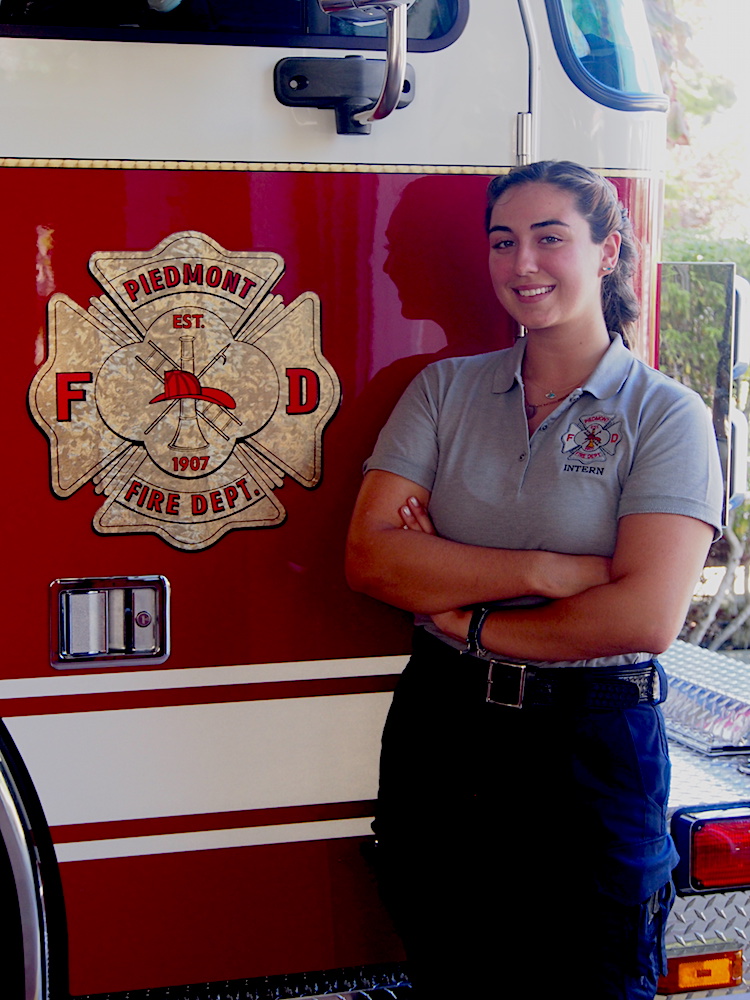 Gougoumis can draw on her own experience, having found her career desire after attending and leaving Sacramento State University with no idea what she wanted to do with her life.
After leaving Sacramento State she enrolled in the Sierra College Fire Technology program in Roseville. She also took part in a fire academy run by Los Medanos college, where she fractured her ankle during outside training.
The internship, which is run by Sierra College in conjunction with the Piedmont Fire department, will give her the final credits necessary to graduate with her A.S degree in Fire Technology.
"In high school we were always told you have to go to a four-year school," while attending community college instead was seen as failure, she said.
Black wants her to share that experience with the idea of getting others enthused about firefighting and emergency response at a time when the need is greater than ever, particularly in California.
"We're talking to the school district. We need to be more deliberate," he said. "It's a fantastic career. In two years you can have a good job with a living wage. Nationwide we're seeing a shortage of recruits. We may not be a direct beneficiary, but it's all going to benefit everyone in the fire service."
In the big picture, "It would be a big win for Piedmont because we would be bringing new firefighters on the job," Black said. "It's what we've been doing, but not to the level we're going to start doing. We'll be cranking up communications, public relations and recruiting."
Gougoumis is accompanying fire companies on calls as an observer and will participate in training exercises.
"She will be doing public outreach, public education," Black said, including helping the department prepare for Fire Prevention Week on Oct. 6-12, and the Great Shakeout earthquake exercise on Oct. 17.
"She will also doing some research on fire department organization and municipal government," Black said.
Asked what attracted her to the profession, Gougoumis said, "I want to help. I don't want to just sit on the sidelines."
She stressed that she's grateful for the chance to build experience with her hometown fire department.
"It's perfect," she said. "I'm so happy to have the opportunity and thankful to Chief Black."
(Editor's Note: An earlier version of this story erroneously said Gougoumis attended Fresno State. Additional details regarding her connection to Sierra College have also been added.)