A sea of color swept across the Beach blacktop this past Sunday with the return of the annual Chalk Art Festival.
Some 252 blank squares were up for grabs, and eager participants filled their grids with rainbows, dogs, unicorns, landscapes, cartoon characters, fanciful food, abstract creations, and celebrations of some of Piedmont's landmarks. Piedmont Arts Fund volunteers sold boxes of chalk and squares as the Beach Dads' Club Pancake Breakfast kicked off and live music filled the air. Chalk was generously sponsored by FLAX Art & Design.
"We have an obsession for pigs and unicorns," said Beach student Lucy Shoop, who with her friend Zoya Schulze was busy drawing panels featuring both animals and their friends. "It's going to be really colorful," Zoya said.
Rainbows were a favorite theme
Beach second-grader Susannah Cantrill created a rainbow Shiba Inu in honor of a beloved canine pal. Fellow Beach student Lucia Hickman and other friends joined in to complete the colorful square. Brothers Liam and Gus Leahy, students at Beach and Piedmont Middle School, took fresh inspiration from a favorite TV show with a brightly hued Homer Simpson.
A vivid, detailed eye illustration by Millennium High School senior Kelly Mitchell wowed passersby (pictured at top). Participating in the Chalk Art Festival drew in part on her art classes at school, where she works mostly with pencils, oil pastels, and chalk, Mitchell said.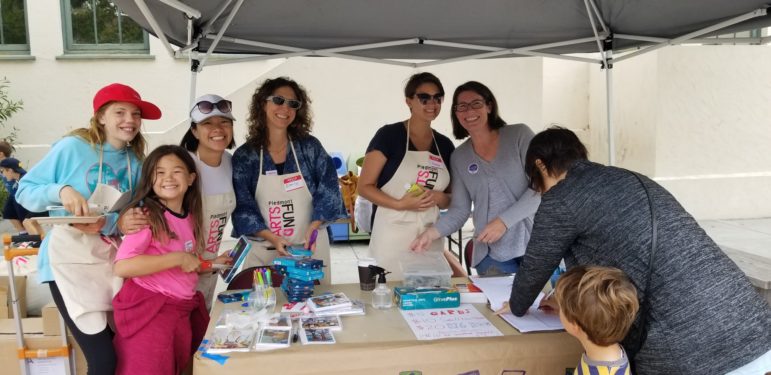 Piedmont Arts Fund wishes to thank the volunteers who came out to help – Emily Shoop (Chair – pictured above), Jane Lin (pictured above), Michelle Han, Susan Waitkus, George White, Becky Swain, Brigid Gaffikin, Andy Schuetz, Keith Bencher, Etienne Fang, Chiaty Shrive, Amanda Ward (pictured), Dan Collins (pictured), and many kids.
Piedmont Arts Fund is seeking volunteers to help with events like this. If you are interested in getting involved please visit piedmontartsfund.org.
---
Photos courtesy of Piedmont Arts Fund