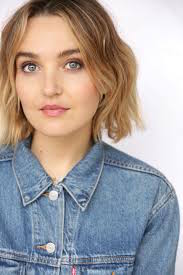 On September 12, Variety reported that three new cast members would be joining NBC's upcoming Saturday Night Live season. Chloe Fineman, a 2006 graduate of Piedmont High School, is one of the three. The report says she "was a New Face at the 2018 Just for Laughs Festival in Montreal and has been a regular performer at the Groundlings."
Elle magazine described Fineman as being "really, really good at impressions," citing her Marianne Williamson and Timothee Chalamet interpretations. Her Instagram @chloeiscrazy is packed with her takes on other celebrities.
Longtime PHS acting teacher Kim Taylor remembers Fineman well. While a student, Fineman independently produced and directed Metamorphosis by Mary Zimmerman as a high school junior and the Vagina Monologues by Eve Ensler as a senior. "At PHS, she was equally brilliant with comedy and drama, with lead roles in The Visit by Friedrich Durrenmatt and Crimes of the Heart by Beth Henley," said Taylor. "She's come back to help me direct productions here since she graduated, including A Streetcar Named Desire and August, Osage County, and has led workshops in improvisation as she was learning at the Groundlings in Los Angeles."
"She's a generous soul, a comedic genius, and we all wish her the best!" said Taylor.
Fineman and a PHS classmate, Claire Neuman, came in second place in the PHS Bird-Calling contest in 2004 according to a Piedmonter article from that time.
The other cast members are Shane Gillis and Bowen Yang. SNL begins its new season on September 28.