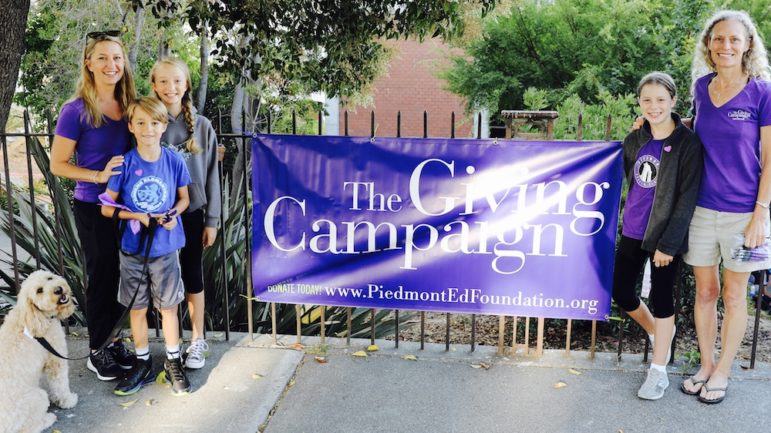 This year's Giving Campaign launched on Tuesday, August 27 with celebratory events all day — and campuses festooned in purple. Thanks to everyone who came out to support our schools!
A wave of purple swept across town last week, as the community celebrated the launch the Piedmont Education Foundation's Giving Campaign on Tuesday. In what has become an annual community tradition, parents and children all over town wore purple for the day to show their support for Piedmont's students and schools. Purple and white balloons greeted families at every school in the district that morning, and after school ended, a group of families gathered in front of the Exedra vase in Piedmont Park to enjoy popsicles donated by Mulberry's market, reconnect after the summer, and celebrate our community's support of the PUSD's largest annual fundraiser.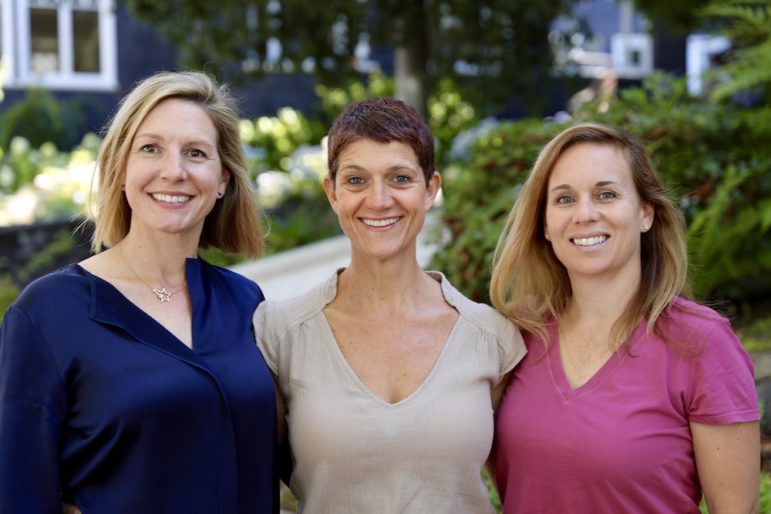 Co-chair Nicki Gilbert, who is helping run the Giving Campaign for the second year in a row and has children at Havens Elementary, and Piedmont Middle and High schools says "The Giving Campaign is the single most important fundraiser for our school district. Dollars raised by the Giving Campaign help maintain the excellent level of education at Piedmont schools, and I am proud and happy to raise my family in a community that is so generous, in so many ways. This is my second year as co-chair of the Giving Campaign and Launch Day is my favorite day of the school year – it's the start of something very special: a true community effort to ensure a successful Giving Campaign. It's for the kids, and it's up to us!

Co-chairing the campaign with Gilbert this year are Emily Harrold, whose children attend Beach, and Amelie Kappes, who has two children at Wildwood elementary. An amazing committee of over 50 community volunteers (the largest committee ever) and the hard work of PEF staff are all helping power the Giving Campaign this year.
Scenes from Tuesday Giving Campaign launch — purple, purple everywhere! View full photo gallery at PiedmontEdFoundation.org. (All photos courtesy of PEF)
Because of the strong support of the community, Piedmont's schools can provide educational resources that are far beyond what most public school systems can give their students. At the beginning of each school year, the funds raised in the previous year's Giving Campaign are immediately disbursed to the PUSD. The dollars raised by last season's Giving Campaign are already at work in Piedmont's classrooms, keeping class sizes small while funding elective and AP choices, music and art programs, librarians, counselors, class aides, and other specialists. With the ongoing funding cuts to public education, this year's Giving Campaign is more important than ever. To learn more about how to contribute, please visit www.piedmontedfoundation.org/donate/