In a world that increasingly values the virtual, it can come as a surprise to realize how strongly we crave the experience of the elemental: metal, wood, rock, wind, temperature. Through her multi-layered paintings, Piedmont artist Paula Valenzuela weaves together a story of elements conscious and unconscious, of time, and how they affect us and the environment around us.

Valenzuela cites the Atacama Desert, located in her native country of Chile, as one of her major influences.  One of the driest places on earth, parts of the Atacama Desert are known to have had no rain for millions of years. A place of volcanoes, geysers, salt flats and ochre sand dunes, the Atacama could be perceived as desolate and forbidding. But for Valenzuela, its vast expanse has been a vibrant source of inspiration and a way to consider the unending cycles of human existence.

Using a combination of paint, acrylic pouring medium and metallic flakes Valenzuela builds the beginning stage of her images. Many layers later, the paintings contain a variety of marks, some made by scratching and repainting the surface, and some made by drawing specific interconnected shapes.

As with many artists, Valenzuela once looked past an early love of art to pursue a degree and career in a different, more "practical" field. She entered the mental health profession, and for many years was a practicing psychologist helping pregnant women and parents of premature babies in neonatal intensive care centers. Even in this setting, however, Valenzuela has used art to work with patients. And in a nod toward the virtual, she is contributing both her artistic and therapeutic expertise in the development an app designed to help parents of premature babies.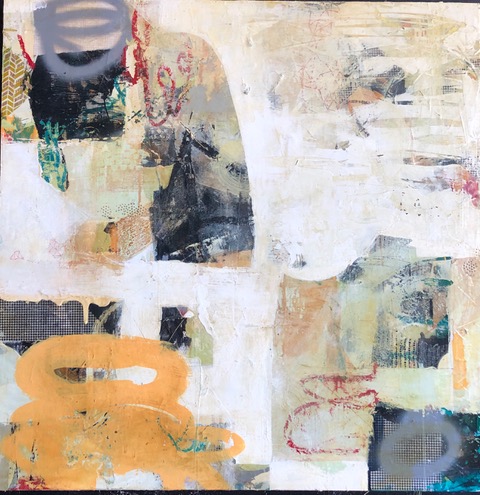 It was in her training as a psychologist, however, that Valenzuela became fascinated by the concept of the collective conscious, noticing that human societies throughout time have used certain recurring symbols in common. These symbols inform her work today. The spiral and the labyrinth in particular signal growth and expansion; for Valenzuela the triangle has a particular association with mountains.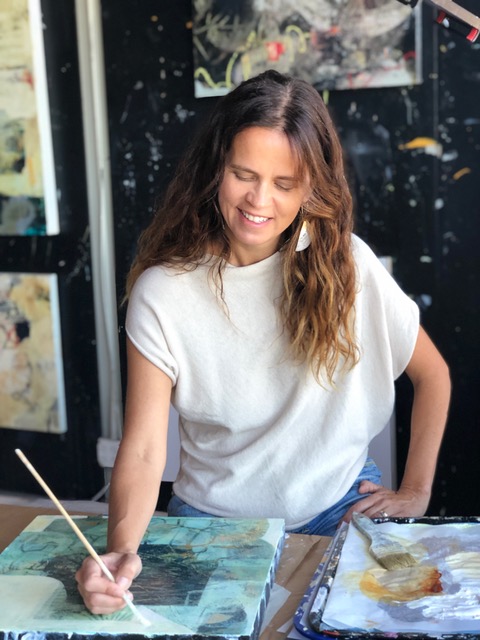 In spite of the influence of psychology in her art, Valenzuela is no longer practicing as a psychologist these days. Rather, she divides her time between a busy second career as an artist and raising her three children.  She recently relocated her studio to the prestigious ICB building in Sausalito; the commute from Piedmont across the Richmond Bridge gives her time to think and talk by phone with family members in Chile.  No doubt the views of the San Francisco Bay will inspire further artistic insight.

Galleries across the Bay Area represent Valenzuela's art. Piedmont Exedra readers can meet her and other artists at the ICB Building in Sausalito on September 28 at the "Artists At Work" event, open from noon until 5:00 pm.
---
All photos by Katie Korotzer