People who appreciate dance and live classical music are in for a rare treat when Cal Performances launches the 2019-20 dance season with the Mark Morris Dance Group and the evening-length work, Mozart Dances, September 20 – 22. Choreographed in 2006 with a West Coast premiere at Zellerbach Hall in Berkeley in the 2007-8 season, the triumphant return of Morris' jubilant, expressive choreography set to three magnificent Mozart piano works is cause for celebration.

The music performed by the Berkeley Symphony under the baton of Colin Fowler and joined by Israeli-American pianist Inon Barnatan includes the Piano Concerto No. 11 in F major, K. 413; Sonata for Two Pianos in D major, K. 448; and Piano Concerto No. 27 in B-flat major, K. 595.

The dance, presented in three movements, is acclaimed for its exquisite structures and Morris' signature sensitivity to music, without in any sense the choreography serving as a slave or a shallow reflection of the music. Instead, a dance by Morris who not only insists on live music in performances, but also in rehearsals, consistently amplifies, enhances and opens wide the audience response to a score or piece of music. After having seen a ballet created by Morris, a piece of music presented simultaneously is likely to never again sound the same, and afterimages — an arm waving as if liquified, a gravity-defying leap, a "cloud" of dancers sweeping across the stage — is forever attached to each musical phrase or note.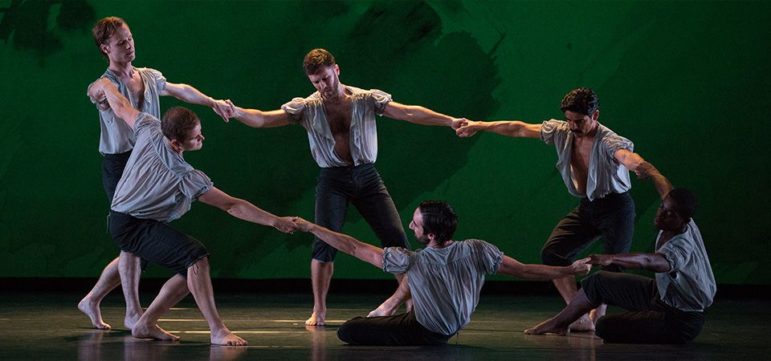 For rehearsal director Sam Black, a Berkeley native who began his dance career locally studying tap with Katie Maltsberger, Mozart Dances was a seminal experience. "It was pivotal for me," Black said in an interview. "It was the first original dance I was in after I joined in 2006. Being part of the creation was wild. This dance didn't exist and was happening in front of me."

Black's first performance of the work was at Lincoln Center. He recalls feeling intimidated and challenged by the over-two-hour piece that tested his physical endurance and ability to stay focused. Dancing to live music requires active listening and staying in the moment with the musicians. "These are living people who might put out the music a hair faster than you're used to. It adds energy that's thrilling," he says.

Dancers who work with live music become sensitive to tempi and different qualities in the music, according to Black. "It's made me hear the composer's work differently. Mark makes the music visual in physical form and with that, it becomes inextricable. Dance and music are intertwined forever." An improvised piano cadenza to which every note has a corresponding movement, he adds, is "an education in itself."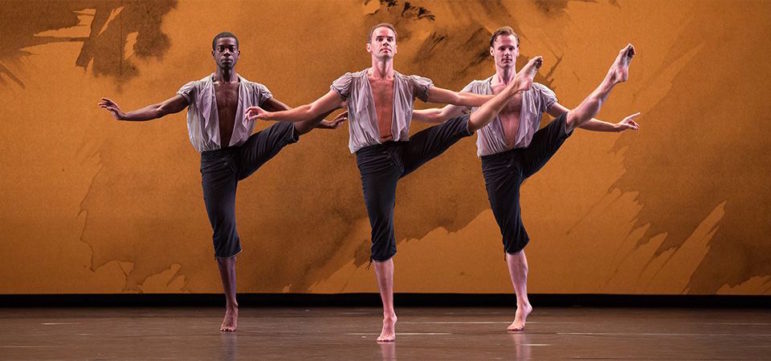 Black says he dislikes telling people what to look for in a plotless dance like Mozart Dances. "There's already anxiety that they won't get it, won't understand a modern dance's meaning. What you get from it is completely valid. Mark loves to put on a good, entertaining show that he hopes people will like, but even he doesn't tell people what to like or think. He likes to create conflicts onstage, making it impossible for modern dance to be abstract because people are doing it. When two people are onstage, there's already a story."

One thing Black doesn't mind previewing is the appearance of five dancers from the original group on which the piece was made. Included among them is Lauren Grant, the dancer featured in Eleven, the first movement. Although he will not be joining them onstage, Black says one of the perks of working with the company is the opportunity to hear fine musicians. "The caliber of musicians we get to work with is fascinating," he says.

The company enjoys a decades-long relationship with Cal Performances and always offers community activities along with residency performances. A Mozart Listening Party on Sept. 21 at 5 pm is free and open to the public. Morris, Fowler, and Cal Performances' executive and artistic director Jeremy Geffen will be in conversation about the work. A community dance class Sept. 22 requires a $10 fee and pre-registration available at Cal Performances' website.