Henry Saunders is working hard to make it to the next level. Saunders graduated from Piedmont High School this past spring and is now working out with the USC men's water polo team, getting ready for his first collegiate season.
"It's a lot more competitive," Saunders said. "It's difficult at first adjusting to college ball but the hard work really pays off. I've been practicing for the past month or so with the team."
Saunders, a center defender, is joining a program that has won 10 NCAA championships, including last fall. The Trojans expect to be in the hunt again this season.
"Obviously national championships are a great team goal," Saunders said. "I'd love to develop and increase my level of play on a physical and mental level. And also be competitive in the college water polo atmosphere."
It's an impressive landing spot for one of the best players in the Bay Area the past four years. Saunders is the son of a former Piedmont High School swimmer, and was always interested in swimming. He picked up water polo around age 10 and loved it. He was also playing lacrosse. At age 12, the family moved to New Zealand for a year, and he tried rugby as well.
After his freshman year at PHS, Saunders decided to concentrate on water polo. He also played with a top club team – CC United, based in Contra Costa County.
Saunders played four seasons for the Highlanders, earning all-North Coast Section honors all four years. But he was able to play with top players on CC United – according to the club, 14 players will play at high-level colleges this year, including Marcus Longton, who will join Saunders at USC.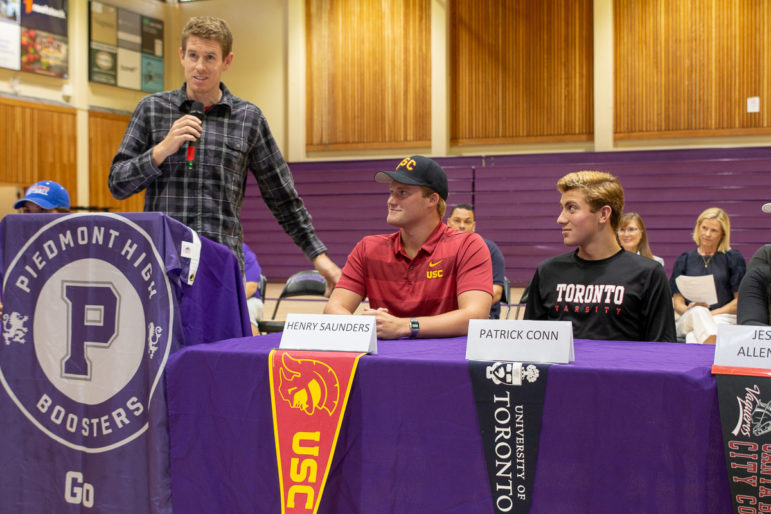 The Trojans have produced 24 Olympians as well as five players who have won the Peter J. Cutino Award as the best men's collegiate player in the country.
Saunders is excited to get to work, but he was happy to take a moment to reflect on his senior season. His younger brother Charlie made Piedmont's varsity team, and the brothers got to play together.
"It was really fun," Henry said. "It was an excellent experience. I really enjoyed showing him the ropes. There's not really a sense of competition, but we definitely like to push each other."
Saunders said he likes to spend time in the outdoors when he's not at the pool. He said he especially enjoys hiking with his dog and his family.
His advice to younger players?
"I would tell them try their best, find a program that suits them," he said. "But also keep an open mind and really work towards their goals."