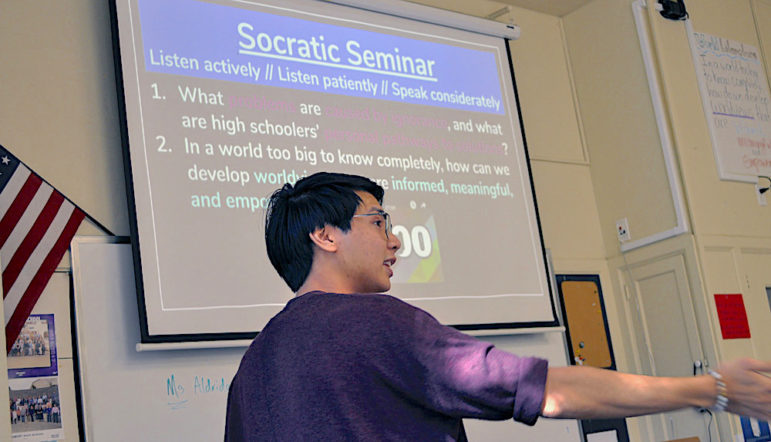 It's the first day of class at Piedmont High School and sophomore World Literature students are all settled in their seats. Only the teacher is missing. A few minutes go by and one student mutters, "Leave it to the new guy to not come on the first day." That's when Aaron Barlin — or Mr. Barlin —rises from a desk behind the student. He introduces himself to the class as their new teacher.

"I got up and said, 'People! Do I really look that young?'" Barlin said about the prank. "[Department chair] Beth Black said it'd be funny if I hid among the students. I told her that I'm 22 [years old]; they're going to know! But I said, 'I'll probably never get the chance to do this again in my career.'"

Barlin is starting his first year of teaching World Literature to sophomores and American Literature to juniors at PHS. Sitting in his class before a Socratic Seminar, it is clear that Barlin knows how to co-mingle with his students. He proudly announced after roll call that he has 70% of his students' names memorized.

The discussion of that day revolved around problems caused by ignorance and racism, and the solutions high schoolers — particularly the ones at PHS — could take to develop informed, meaningful and empowered worldviews.

The students dissected blogger Renegade Mothering's post, "How I discovered I am white," which dived into identity and race relations in the United States.
One student said she doesn't see racism in at PHS, but that racism exists outside of Piedmont. Another replied back saying that there is still distance between perspectives, due to the white majority at PHS.

One student played the Devil's Advocate and asked: what if racism is transgenerational and passed down? How do we solve this? (The class answered in unison: education.) The students generally agreed that modern perspectives from minorities are needed to expose the modern undercurrents of racism.

Barlin highlighted one particular text on the syllabus, Claudia Rankine's "Citizen: An American Lyric," a book that has been integrated by many schools and centers. Using poetry and prose, Rankine explores microaggressions and the deep scars that racism leaves in its wake. Barlin has a plan to advocate for the addition of "Citizen" to the English Department's curriculum starting next school year.
Only half of the students spoke during the Socratic Seminar, to which Barlin stated, "There shouldn't be voices left unheard."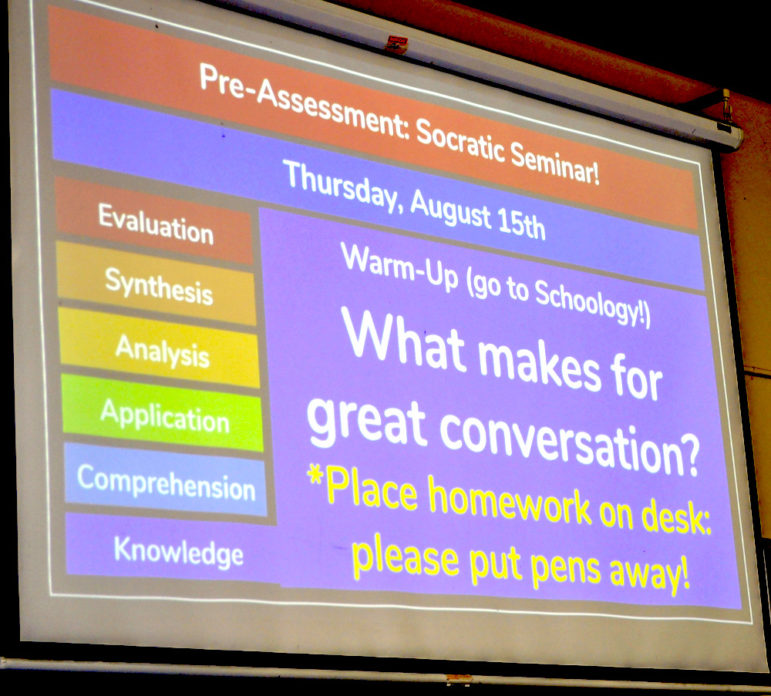 Students who were seated in the innermost circle were expected to speak. The rest of the class sat behind them and contributed to the online discussion — called the "backchannel" — on their Chromebooks, which Barlin monitored. After each seminar, students would rotate so that everyone had a chance to speak out loud or weigh in from the backchannel.
"Our challenge as instructors is how to push you further," Barlin told his students after. "You are very influential voices. Expanding this outside of high school is another action and helps us avoid singularity."

So far, Barlin's experience teaching at PHS has been fantastic, he said, albeit a bit of a culture shock. That's because he recently finished student teaching for half a year at Horace Furness High School in South Philadelphia.

He taught 10th grade and 11th grade AP English Language and Composition and designed units using concepts like unconscious bias, intersectionality and Social Reproduction Theory. Barlin said he worked mostly on his own, to which he credits his mostly hands-off mentor.

Horace Furness High School is a Title 1 school and is comprised of a community largely susceptible to violence, gang activity and shootings.

"The trust that students have in education over there [in South Philly] is a lot less than it is here [in Piedmont]."

PHS English Teacher Aaron Barlin
Recalled Barlin, "The teachers do their best to try and earn that trust back. It's odd to say the least to be in a school where the trust is already there; we get to move forward to curriculum."

Barlin was born in Biloxi, Mississippi on an air force base. Both of his parents are originally from California so the family naturally moved back. Barlin would say that his talents for teaching came before his decision to choose English as his subject.

"Seventh grade is when I realized I wanted to teach," he said. "Eighth grade is when I realized I liked English a lot and that was thanks to my English teacher at that time."

Barlin graduated magna cum laude from UC Irvine's Education Sciences program in March 2018. There he completed field work for a year as an intern for a ninth grade class. He said he also taught a discussion section to first years for academic and social acclimation."

After UC Irvine, he attended the University of Pennsylvania's Graduate School of Education program and earned a Master's in Secondary Education in May 2019. It was during this program that he became a student teacher at Horace Furness High School. After graduating from U. Penn, Barlin followed his girlfriend to the Bay Area, where she currently studies at UC Hastings College of the Law.

He said that PUSD reached out to him the day after he submitted his application on Edjoin.
Since he was still in Pennsylvania, Barlin was interviewed on video by the PHS English Department.

"We were very excited by Aaron's enthusiasm right away when we spoke to him," said English Department Chair Beth Black. "He was so engaging. We hope that he learns as much from us as we do from him."

Black said that Barlin had shared a lesson with the Department that matched their views on teaching social justice — with a "mirror and window" concept that was part of their professional development through Teaching Tolerance, a program that emphasizes social justice and anti-bias by providing resources to educators.

"I really leveraged the fact that teaching in Philadelphia at the lowest levels when it comes to standards really taught me to be a better teacher," said Barlin. "It helped me learn how to genuinely differentiate for different kids."