The unifying, boundary-erasing power of music is on full display at concerts given by wind ensemble Deep Tones. The chamber ensemble's five classically-trained musicians, three living on the West Coast and two traveling from their East Coast homes to join their Bay Area compatriots, fold together and bridge the country's geography.
Formed one year ago, the ensemble includes Arturo Rodriguez (flute); Marcus Phillips (oboe); Medina (clarinet); Cathleen Torres (horn); and Kika Wright (bassoon).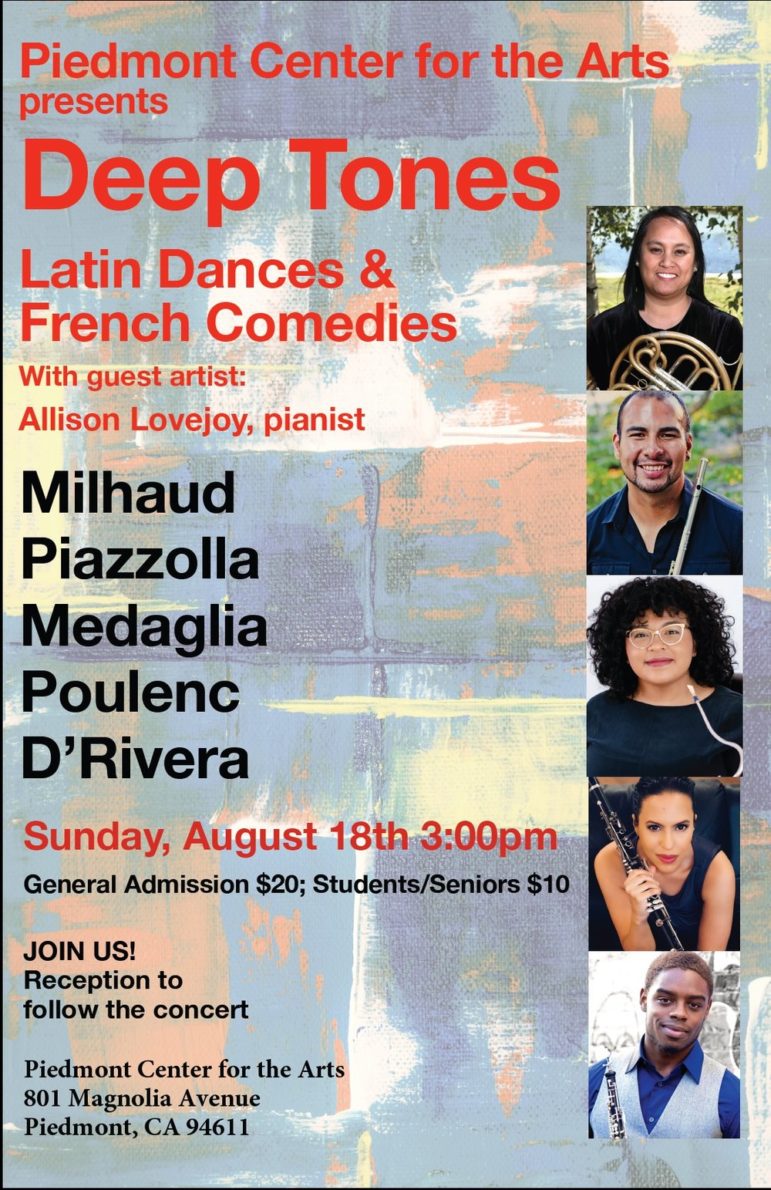 Appearing August 18 at Piedmont Center for the Arts to present Latin Dances & French Comedies, Deep Tones is dedicated to "energizing the classical music scene through diversity," according to oboe player Phillips.
The repertoire for the program in Piedmont extends the bridge-building metaphor. Audiences will discover unexpected sonic connections between classical music, the dance-inflected Latin groove in Astor Piazzolla's Libertango,and French history and cleverness reflected in Poulenc's Sextour for Piano and Wind Quintet (pianist Allison Lovejoy joins the quartet for the selection).
"During the concert, we'll talk about the pieces," Phillips says. "People don't hear a Latin work like the Piazzolla and immediately think of it as classical music. They think it's a dance-y pop piece. We're also playing a Poulenc that has an edge to it. There are crunchy chords in the Poulenc that aren't typical and those chords are in the Piazzolla too. In both pieces, there's tension in the sound and then resolve. Those moments are like pure, musical gold."
Members of the ensemble are likely to explain the process French Horn player and composer Jeff Scott undertook to arrange Libertango for a chamber wind ensemble. "Composers say that arranging for a wind ensemble is the hardest," says Phillips. "It's such a mixed bag of color, unlike a string quartet where all the sounds blend and mold together. A piece arranged for wind ensemble is edgier: there's growling with the clarinet and sweetness with the oboe flying over other colors. Broader instrumentation opens the door to a whole new piece."
Similarly, Phillips says having seen Scott perform as a member of the Grammy-nominated, New York-based Imani Winds ensemble, along with oboist Toyin Spellman-Diaz and other musicians of color, opened his mind to opportunity. "Funny, Deep Tones comes together from all over, but we all looked at Imani Wind from our different locations. When I saw a person of color, a woman in the case of Spellman-Diaz, playing music written in classical form, with technical fingering and also some pieces with African rhythms, that made me think I could do it too. We talk about that as an ensemble, how Imani Winds indirectly brought all of us together."
Also on the program are the woodwind quintet music of Medaglia's Suite Popular Brasileira, selections from Darius Milhaud's La Chemineé Du Roi Rene and sections from Paquito D'Rivera's Aires Tropicales for Woodwind Quintet. A free, meet-the-artists reception follows the concert.