Artist (and former Piedmont resident) Lisa Scimens has choreographed the many elements of her life into a fully integrated artistic life. Putting things in order, getting the facts straight, helping others through a difficult time, bringing beauty to the everyday through a colorful home and garden and contributing to the greater good through art have been the touchstones of Scimens's life.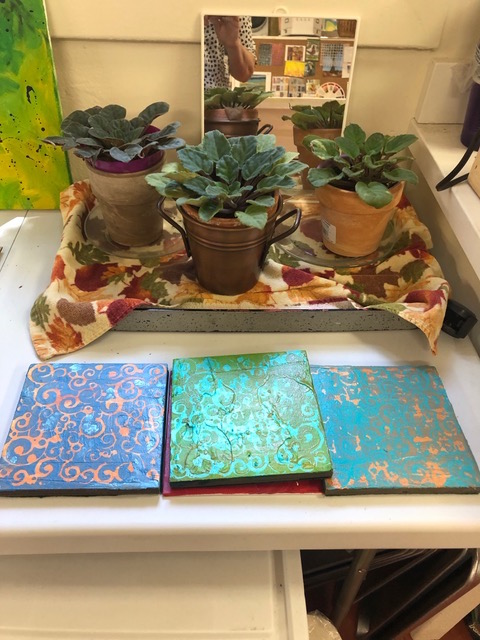 Arriving on a sunny day in July, I strolled through Scimens's front garden, a colorful place alive with honeybees and hummingbirds. The bright array of plants and flowers proved to be in harmonious accord with the paintings Scimens has created and displayed in her home, her exuberant, breezy style and love of color come through whether works are representational or abstract. Scimens finds inspiration for subject matter and color through music, especially jazz; her travels, such as a journey to the Longjing Green Tea Plantations in China; and through the family's collection of abstract expressionist paintings by her grandmother-in-law, Vicci Sperry, a student of Hans Hofmann.

The art bug was planted early for Scimens by her mother, a former newspaper reporter who took Scimens and her two sisters to see Nureyev dance in Sacramento in 1964 and who rented Van Gogh prints from the Sacramento library to decorate the family home. As a child, Scimens enjoyed drawing and creating fabric designs; Scimens attended elementary school with Wayne Thiebaud's son and remembers seeing the gumball machine commemorated in his famous painting in the Thiebaud home. In addition to sharing her appreciation of the arts with her daughters, Scimens's mother introduced the girls to advocacy; no grapes were served in the household for years in solidarity with migrant fruit pickers, the girls were kept busy writing postcards to representatives, raising money through bake sales and working several election seasons as precinct walkers.

After finishing her degree in media and society at UC Berkeley, Scimens worked in restaurant management for a few years before transitioning into media advance work on a variety of political campaigns for candidates such as Jerry Brown, Nancy Pelosi, Diane Feinstein, and Art Agnos. Scimens went on to a 20-year career as an Emmy Award-winning executive producer at Channel 7 ABC Television in San Francisco.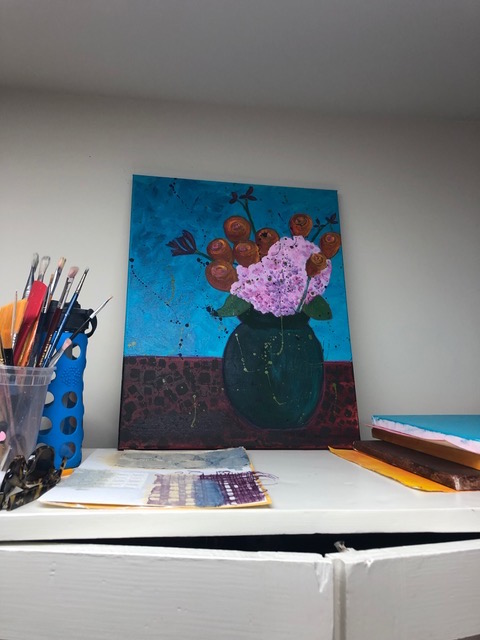 By the early 2000's, Scimens was the mother of two elementary-aged children, and with the help of an insightful career counselor, had decided to reconnect with her early love of art. Scimens credits her son, Alex, in 4th grade at Beach Elementary in 2002, with volunteering her to teach Meet The Masters, a parent-led program which brought hands-on art lessons to elementary age students. It was through this experience that Scimens was ultimately able to link her love of the arts and belief in the value of arts education with advocacy skills she first learned while growing up in Sacramento, California. After Meet the Masters, Scimens held many positions including president of PAINTS (Promote Art in the Schools) a support organization dedicated to supporting arts education in Piedmont schools, from 2002 until 2010.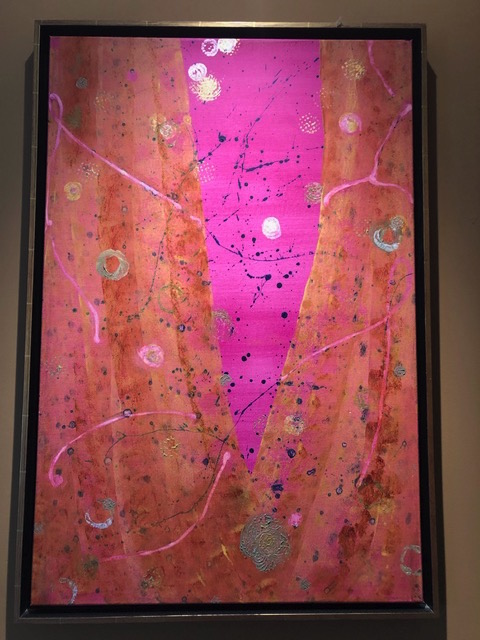 Beginning with classes at Piedmont Adult Education, Scimens went on to study watercolor at Merritt College; over time, participating in summer workshops at Idyllwild School for the Arts and in art retreats in Santa Fe adding studies in acrylics with private instructor, Tesia Blackburn of Hunter's Point, San Francisco. Now, nearly 20 years later, Scimens often leads her own painting workshops in her dedicated home studio.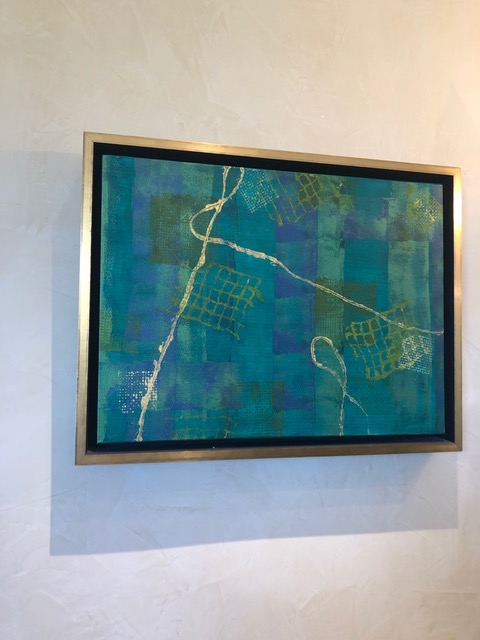 Putting her many skills into play, Scimens now hosts an annual open studio event, selling her work to raise funds for Family Sanity, an East Bay support group she co-founded to help parents of young adults and teens who struggle with depression and anxiety. Collectors eagerly support the cause; last year Scimens raised nearly $5,000 for Family Sanity in 2 days through sales of her work. This year's open studio will take place October 26-27.

In her artwork, Scimens is open to trying new methods to create beautiful results, such as making paintings with foam rollers or using lace and even ravioli cutters to create pattern. In creating a life interwoven with her art, Scimens puts her innovative spirit to work in ways that benefit all.