From BART:
The next track shutdown between Orinda and Walnut Creek will happen on Labor Day weekend. This shutdown will include daytime lane closures on eastbound Highway 24 in Lafayette near Oak Hill Road. The two left eastbound lanes will be closed starting at 11 pm Friday, 8/30 with both lanes scheduled to be reopened by 7 am on Tuesday, 9/3. BART is working with Caltrans to make sure traffic delays remain below 30 minutes.
---
We are making extensive repairs and upgrades to the track between Orinda and Walnut Creek stations on most weekends through October, including some upcoming full weekend closures with bus bridges. Using Measure RR funds, we'll be replacing track and electrical equipment, installing new switches, improving station platforms, and making other repairs and improvements to provide more reliable, safer, quieter, smoother and faster service.
Learn more about the rebuilding project on our frequently asked questions (FAQ) page.
Closure weekends: 8/17-18, 8/31-9/2 (Labor Day weekend), 9/14-15, 9/28-29, 10/12-13, 10/26-27

Riders should expect delays of 40 minutes or more on closure weekends.
County Connection and AC Transit will provide free shuttle bus services:
1. Direct service between Orinda and Walnut Creek
2. Service between Orinda, Lafayette, and Walnut Creek stations.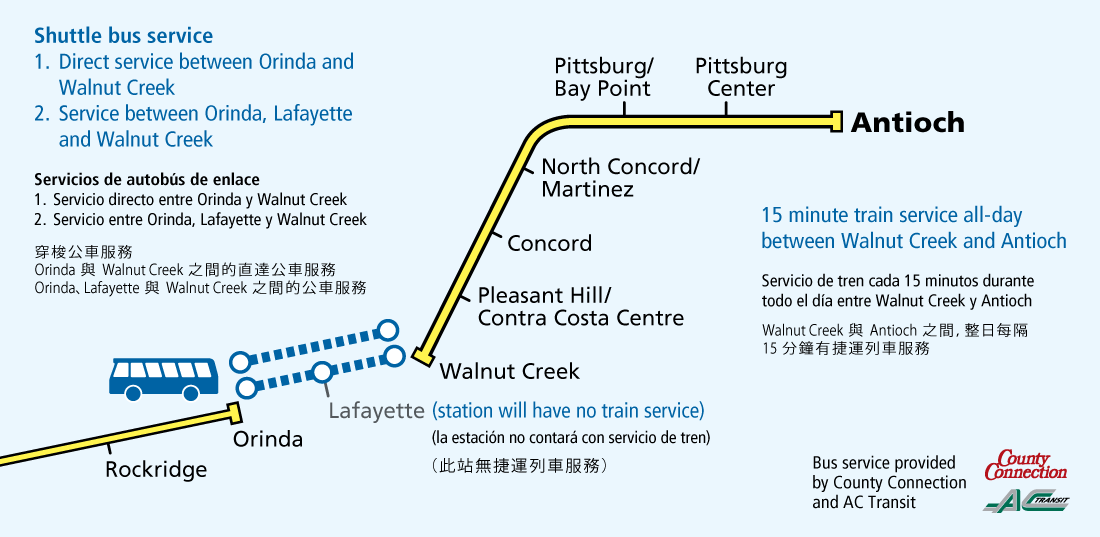 On the Labor Day weekend shutdown, the first Millbrae-bound train from Lafayette on Saturday, Sunday, and Monday mornings will be cancelled. However, this will only impact Lafayette, Orinda, and Rockridge riders because an additional Richmond-SFO train has been added and is scheduled to arrive at MacArthur Station at 6:11 am on Saturday. The additional Richmond-SFO train will arrive at MacArthur at 8:09 am on Sunday and Monday.
Additionally, the last two train trips from Antioch to Walnut Creek on shutdown weekends have been cancelled. The last trip of the night departs Antioch for Walnut Creek at 11:15 pm. The regular last two trains of the night will run from Orinda toward SFO as scheduled.
Highway 24 lane closures
All lane closures for this project will happen near the Lafayette Station and Oak Hill Road and will only impact the two far-left eastbound lanes of Highway 24. Westbound lanes will not be closed during this work. Expect delays of up to 30 minutes during weekend daytime lane closures. If delays reach 30 minutes Caltrans will notify BART and the number of lanes closed will be reduced from two to one.
Lane closures for single-tracking Saturdays will only happen during overnight hours from 11 pm Friday to 7 am Saturday and 11pm Saturday to 9 am Sunday.