The Corey Reich Tennis Center (CRTC) officially opened on August 24 with a community event attended by almost 100 supporters, high school players, and children participating in a post-celebration clinic.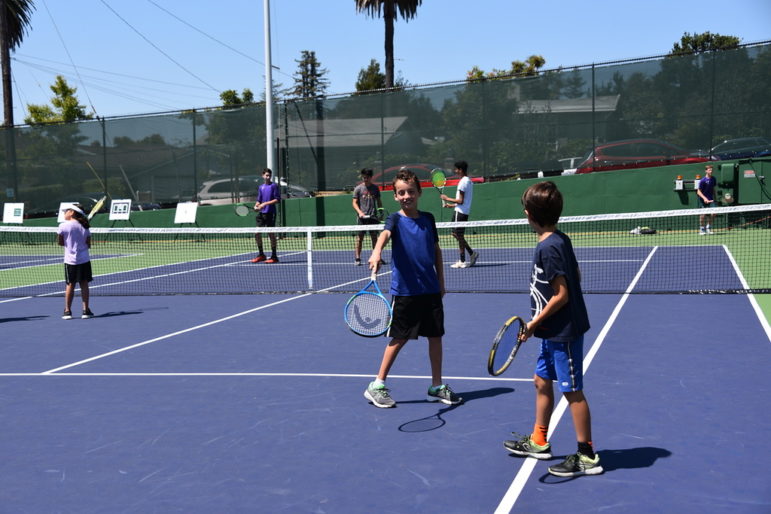 Corey, a 2004 graduate of Piedmont High School (PHS), was a member of the boys varsity tennis team. In 2007, he was diagnosed with ALS. After graduating from Middlebury with honors in 2008, Corey returned to Piedmont and has served as the Assistant Coach for the PHS boys and girls varsity tennis teams. Corey has been instrumental in the continued success of the PHS tennis program, whose teams have qualified for the North Coast Section (NCS) team championships each year since their inception in 1998-99.
The four courts on Vista Avenue were finished just before school started on August 13, and the girls high school team has been using them for the start of their season.
Piedmont Mayor Bob McBain

City Manger Sara Lillevand, Council member Jen Cavenaugh, Michael Murphy, and Council member Betsy Anderson

PRFO President Steve Collins
Piedmont Mayor Bob McBain and Piedmont Recreational Facilities Organization (PRFO) President Steve Collins both spoke. They discussed the public-private partnership that made this project a reality. Over 200 individual donors contributed on the private side, with large gifts from two local families, the Brebers and Bakers, and a group of men's players.
Pierre and Maria Breber with City manager Sara Lillevand

Poster acknowledging the Baker family's generous donation

Back (l-r) Mike Jumper, Kevin Paige, Bernie Yu, Shahan Soghikian, Andy Filler, Todd Somers; Front (l-r) Steve Bratman, Nick Levinson
McBain and Collins also thanked former Recreation Director and current City Manager Sara Lillevand and her staff for their tireless work, along with the tennis committee formed to organize the project. Committee members included the Reich family, Andy Filler, Leila Kasrovi, Betsy Lalli, Barbara Love, Shahan Soghikian, Bernie Yu, and former PHS coach Neil Rothenberg and current PHS coach Jim Landes.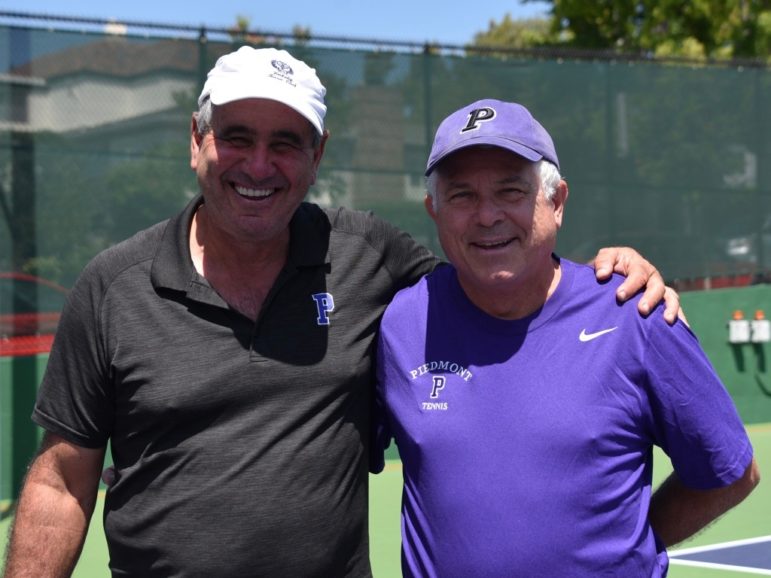 Corey's father Ted expressed the family's thanks to the community, and Corey and his mother Wendy cut the ceremonial ribbon.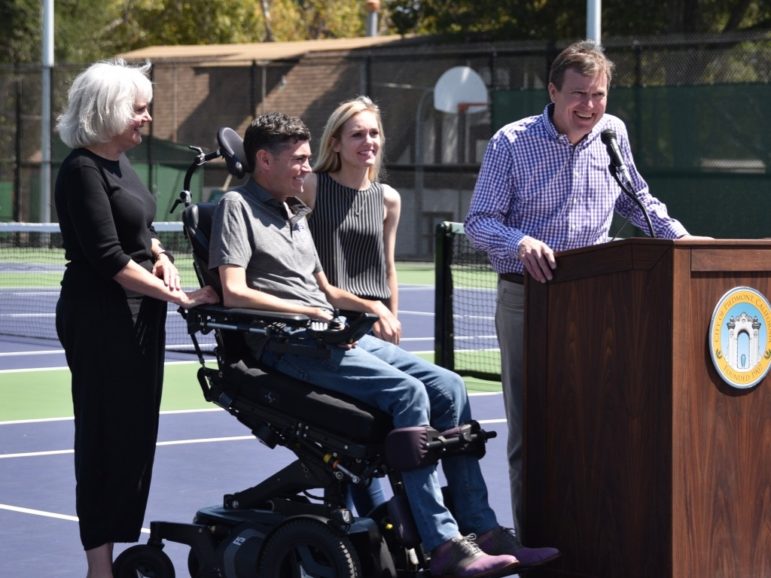 Photos by Julie Moll