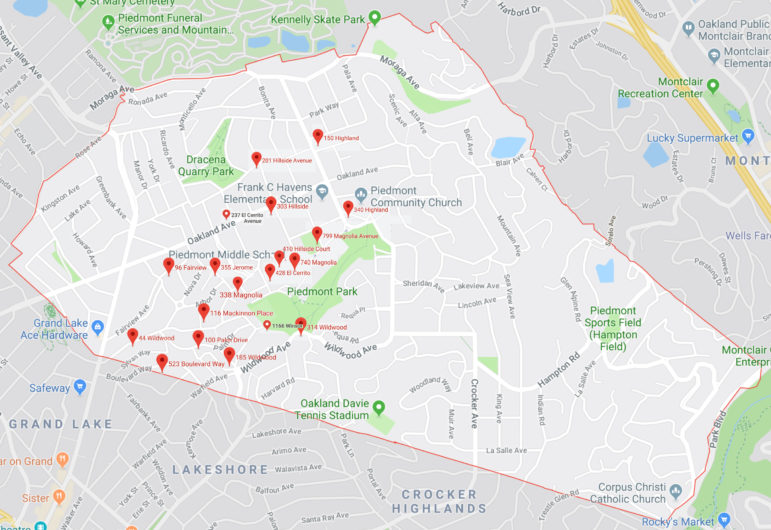 PIEDMONT — Almost seven months after a lawsuit settlement allowed a Texas-based company to apply to build 19 cellular phone booster sites in Piedmont, the company has filed those applications.
On July 9, 2019, Crown Castle Fiber LLC filed permit applications with Piedmont's Planning and Building Department for the 19 sites, most of which would feature equipment attached to utility poles or street lights. The proposed sites are generally located around Piedmont Park and its surrounding neighborhoods.
This comes almost three years after Crown Castle in November 2016 filed applications to build nine relatively powerful cell-booster sites around Piedmont. A year later, in November 2017 Crown Castle sued Piedmont for rejecting most of the proposals, or putting conditions on approved projects Crown Castle officials deemed "onerous."
Under a 2017 settlement agreement, Crown Castle scrapped plans for the nine original relatively powerful cell-booster sites and is now pursuing 19 smaller, less powerful and less obtrusive installations.
In December, after the city and Crown Castle had been in federal mediation for eight months, the City Council voted unanimously to settle the November 2017 lawsuit. Under that agreement, Crown Castle scrapped plans for the nine original relatively powerful cell-booster sites and instead build 19 smaller, less powerful and less obtrusive installations. These would then be leased out to Verizon, allowing that company to improve its local cell service.
In December, several residents told the City Council the smaller installations were not really any more acceptable than the larger ones, and that they too present potential health hazards and would negatively affect property values.
While council members said in December they would rather simply reject proposals by Crown Castle and other wireless communications companies wanting to build facilities in Piedmont, they also acknowledged new Federal Communications Commission regulations (which took effect in January) designed to help wireless companies get faster local approvals to expand their networks. Those new rules, city officials said, will make it much harder for cities to reject such proposals outright.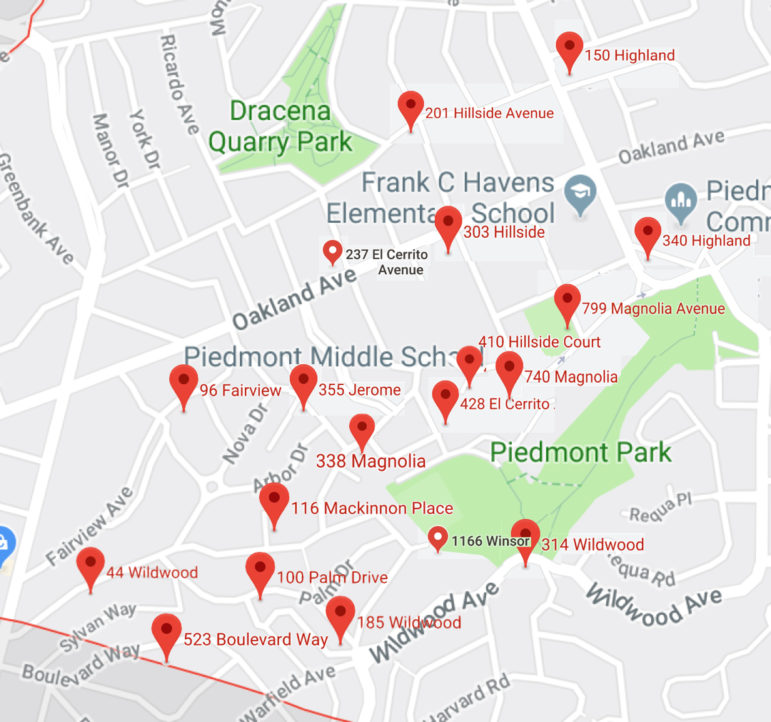 The proposed cell equipment locations are 340-370 Highland Avenue; 150 Highland Avenue; 799 Magnolia Avenue; 740 Magnolia Avenue; 303 Hillside Avenue; 428 El Cerrito Avenue; 355 Jerome Avenue; 1166 Winsor Avenue; 314 Wildwood Avenue; 201 Hillside Avenue; 237 El Cerrito Avenue; 410 Hillside Court; 338 Magnolia Avenue; 96 Fairview Avenue; 116 MacKinnon Place; 100 Palm Drive; 185 Wildwood Avenue; 523 Boulevard Way; and 44 Wildwood Avenue.
Two of the brand-new Crown Castle applications, for cell equipment, in the 300 block of Jerome Avenue and in the 1100 block of Winsor Avenue, have been moved a short distance from where they had first been proposed.
The next step is for the city to review the applications and then tell Crown Castle whether the applications are complete, and how to complete them. The project applications will then be scheduled for review by the Piedmont Planning Commission and/or the Piedmont City Council.
Due to recent changes by the Federal Communications Commission, and according to terms of the settlement agreement, the city must take action on the applications within 50 days of Crown Castle's response.
The Planning Commission, at an as-yet-unscheduled time, will make a recommendation to the City Council for approval or denial of the applications for all new sites. The site near 314 Wildwood Avenue will also be scheduled for review by the Park Commission, which also makes a recommendation. The City Council will then consider all the applications and make a final decision.
If approved, Crown Castle will dismiss its lawsuit against the city. If not approved, the lawsuit will proceed.
A city press release, along with a link to the Crown Castle applications filed with the city, can be viewed HERE. The city's wireless communications page is viewable HERE.
---
Reach Sam Richards at sam.richards4344@gmail.com