A slightly chaotic off-season for the Piedmont High School football team is now behind them. The team is preparing for its season-opener on Friday at Justin Siena-Napa. Kickoff is scheduled for 7 p.m.
The Highlanders are coming off a 5-6 season that included a berth in the North Coast Section (NCS) Division 4 playoffs under first-year coach John Trotman. With several players coming back, it looked like a chance for the program to build.
Then, just before fall practice officially started, Trotman received a job offer that forced him to step down. Jerome Johnson, about to start his first season as defensive coordinator, suddenly assumed the interim head coaching job.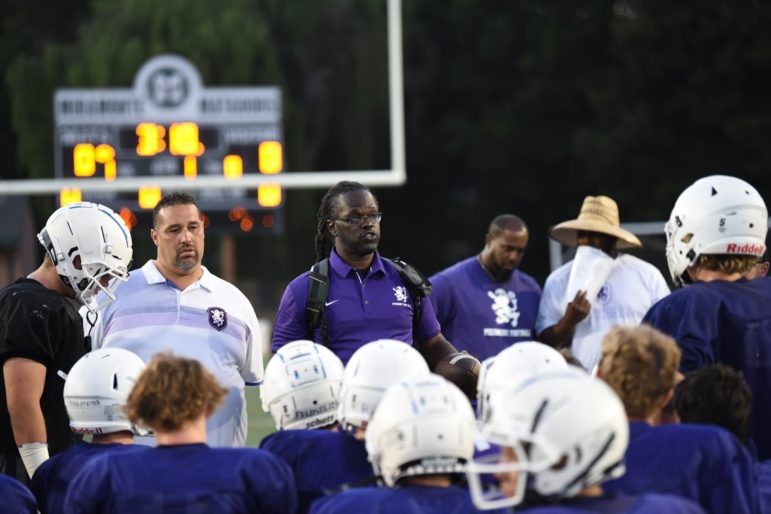 "Talent-wise, we have a few pieces that I'm very excited about," Johnson said. "It's a very instinctive sport. You have to have some knowledge. It's not just physical, there's a mental part. Kids are very, very coachable and they learn fast."
Tommy McNeil and Cal Barna, both juniors, are battling for the starting quarterback job, and Johnson expects both to play in the opener. Johnson said he is fine taking his time making a decision, and depending upon how each plays this week, they might continue to split time in the Week 2 game at Rodriguez-Fairfield.
"Both of the kids are really great leaders, both of the kids have the vision, the aptitude to run that offense," Johnson said. "Both can throw the ball. What separates them is Cal is a baseball player. He has a different air about him. He slings the ball. When he lets it go, he lets it go."
The offense will use multiple sets and multiple personnel. The team will go with power formations like the "I" and spread sets as well.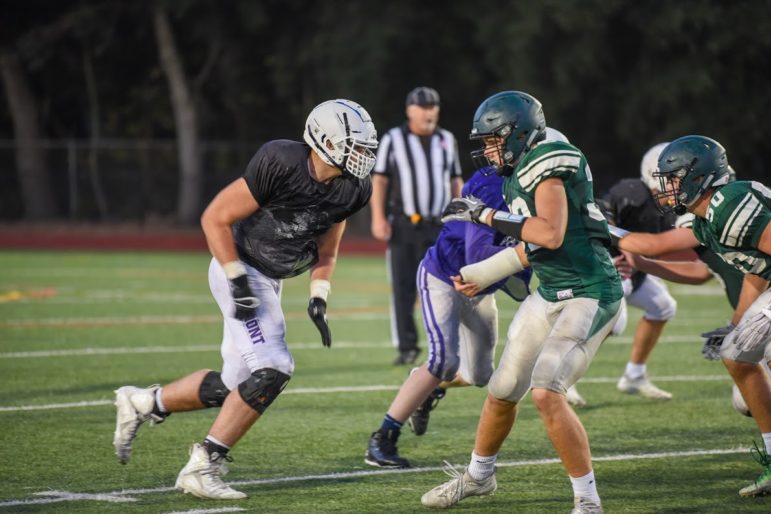 Ben Marshburn, a junior, heads the wide receiving corps. He'll be joined by fellow juniors Alex Hilton and J.D. Harrison. Patrick Selna, who recently committed to play at UCLA next year, will sometimes move out from the tackle spot to play tight end.
The running backs are led by junior Brian Cain and senior Georgie Brayer.
Ben Marshburn consults with his coach

Brian Cain runs into the open field
Selna will line up at left tackle to anchor the offensive line. Right tackle Andy Melian and center Trevor Thayer, both juniors, will also be keys to the offense.
"In high school, you never have enough linemen," Johnson said. "We have a few pieces. As in most cases, you want more. We'll play cards with the hand that we're dealt."
On defense, the Highlanders will use a 4-2-5 nickel formation on most plays. Selna will start at defensive end along with senior Billy McNeil. Brayer will start at one linebacker position, with Jet Moxley, a junior, spending time at the other. Joe Hempeck, also a junior, will play a hybrid linebacker-defensive back position, with run and pass responsibilities. Marshburn is the free safety on defense.
"Our goal is to compete at the highest level," Johnson said. "We push the never-quit mindset. We talk every day about getting better, getting faster, getting smarter. Our goal is to win league."
That will be a tall order with longtime powers Bishop O'Dowd (where Johnson once was an assistant), San Leandro, and Encinal competing in the West Alameda County Conference (WACC) – Foothill Division with Piedmont.
"O'Dowd is always a team that's going to be a favorite," Johnson said. "One of the things I've understood about this league, San Leandro is always a team that can knock you off. Encinal with coach Keith Minor. It's up in the air. Anyone can win league right now."
"Between those three schools, I want to be that team that sneaks right up on them, hoping that they take Piedmont for granted and when that clock stops at the end of the fourth quarter, we beat all three."
After two away games to start the season, Piedmont hosts Menlo School on September 6. San Leandro is an away game on October 4, Encinal visits Witter field on October 11, and the Highlanders travel to O'Dowd on October 18.
Photos by Todd Marshburn