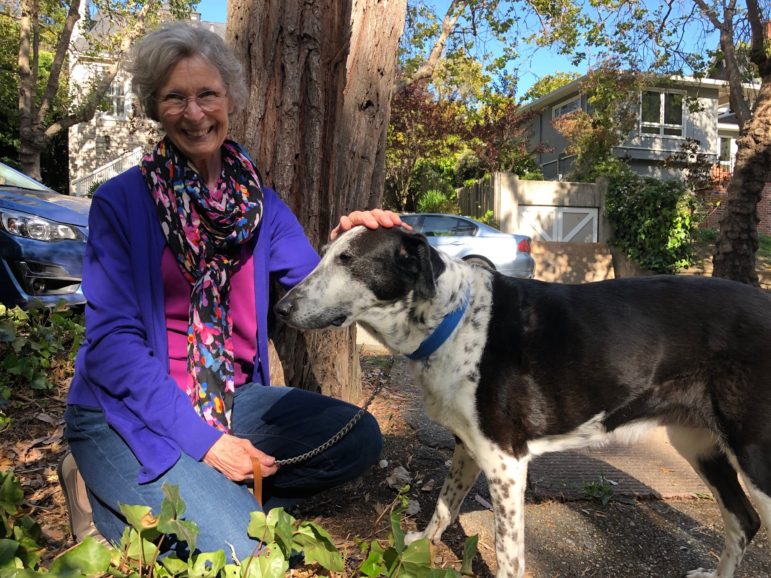 Persons: Emily Jurs Sparks, soprano in the Chora Nova in Berkeley
Pet: Willow
Age: 14
Breed: German shorthaired pointer and Greyhound mix

Adoption story: My partner Vincent and I had two dogs and two cats but they had died. For the longest time we weren't ready, but then we decided to go to the Oakland SPCA to see if there was a dog we'd want to adopt. All the dogs were in their pens and Willow was the only one who wasn't hyperactive. She was looking over her dog shoulder with sweet curiosity. We were just drawn to her. The SPCA told us someone had found her pregnant on the streets of Berkeley and took her in. She gave birth to 11 puppies at the home of the person who first took her in, and then she was brought to the shelter when the pups were old enough. All 11 puppies were adopted in 2 days, leaving Willow for 3 more weeks. She was called "Berkeley Mom" at the SPCA. We named her Willow because she looked graceful. Her middle name is Grace.
Likes: Guests who come to visit us. And being chased; she was one of the fastest dogs at Dracena Park until the Viszlas began coming.
Dislikes: A thing she (probably) dislikes is her fear of cats — surely it stems from an encounter in her previous life.
Interesting facts: One side of her face is black and the other side is white. She always has a very distinguished expression.
Anything else we should know: She's much calmer than most dogs and she doesn't do tricks. She's just very sweet and loving.