For Rachel Livoni, the large stand of redwood trees above the backyard was a clincher for her and her wife to buy the Littlewood Drive house this past April.
" 'Yes! Piedmont values trees!' " she said, recalling seeing the house for the first time. "I said, 'This is where I want to live.' "
Two months later, the chainsaws revved up, and the big trees started coming down. No one, including the owner of the house at 108 Dudley — the property where the trees were — asked her what she thought about it, even if the trees' removal allowed the folks in that house to look straight down from their house into Livoni's bedroom.
She also was concerned that removing the big trees could have an effect on a nearby sewer easement, and on the stability of the hillside above her back yard.
While Livoni acknowledged the owner of 108 Dudley Ave. doesn't appear to have violated any laws, she said advance warning would have been appropriate.
"I left him a voice mail saying his neighbors would really have appreciated a heads-up about this," Livoni said.
In Piedmont, there is no heritage tree ordinance that governs trees on private property, said city Planning Director Kevin Jackson.
The city in January 2018 enacted a heritage tree ordinance that covers preservation of trees on city property. While not specifying age, size, or species in nominating "heritage" trees, Piedmont's ordinance does require trees to have historical, educational, or aesthetic importance in some way to be considered for nomination as heritage trees.
The "heritage tree" designation is granted by the Piedmont Park Commission.
Most Bay Area cities have a "heritage tree" ordinance or similar rules that govern how trees can be removed or trimmed, based on the trees' size, age, species, location, ecological importance, and/or aesthetic value. Some, like Piedmont's, cover only trees on public property, and don't require a permit to take down a tree on private property.
Oakland, for example, has a Tree Preservation Ordinance that places limits on what trees, and what sizes of tree, can be trimmed or removed, even from private property.
San Mateo's and Walnut Creek's ordinances names names (of species) — in San Mateo, any bay, buckeye, oak, cedar or redwood tree at least 10 inches or more in diameter measured at 48 inches above the ground qualifies as a heritage tree. It applies to trees on public and private property.
Permits are needed in Oakland, San Mateo, and Walnut Creek to remove a heritage tree from private property. Most cities, including Piedmont, call for dying or diseased trees, or those presenting a public hazard, to be trimmed or removed.
Piedmont does not require property owners to tell neighbors about any tree-removal plans. Some cities do have some such requirements, In San Mateo, "abutting property owners" must be notified of any tree removal plan. In Walnut Creek, if a property owner is governed by a homeowners' association, the association must be notified. In Oakland, the Office of Parks and Recreation does the notifying to adjacent neighbors of tree-removal permit applications.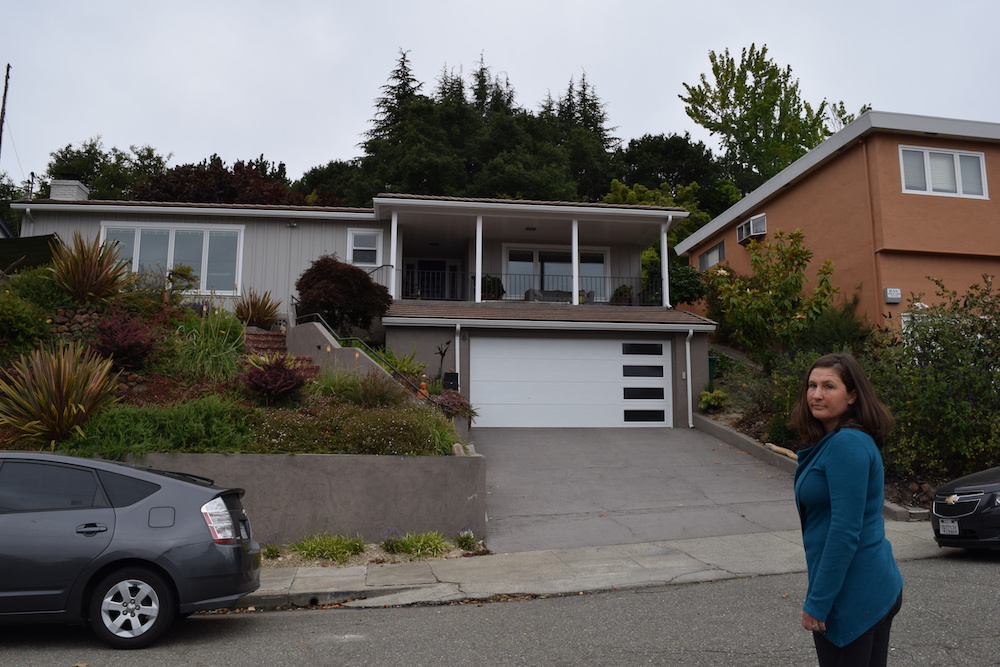 Livoni said she wants to begin a discussion in Piedmont about tree preservation, or at the very least about requiring landowners and property caretakers to notify neighbors about proposed tree removals.
"If we had received notification about these redwoods, I would have submitted a written protest to the city," Livoni said. "
The house at 108 Dudley Ave., designed by noted Bay Area architect Harry A.Bruno, has since April been owned by 108 Dudley LLC, with an address listed in Oakland's Montclair neighborhood. Livoni said she had earlier been communication with Alastair Mactaggart, a Bay Area data security executive, about the house; Mactaggart was not available for comment.
Jackson said it's up to the City Council as to whether a public discussion about trees on private property, or notification issues, will happen. Piedmont's urban forest, both on public and private property, is quite lush, Jackson said, "particularly in comparison to some other cities in the region that have tree protection ordinances."
"[City Council] has never previously been interested in adopting a tree protection ordinance that would limit private property rights."

City Planning Director Kevin Jackson
Barbara Morrison, who with husband Bob has lived on Littlefield Drive for 45 years, said she and others in Piedmont recognize the property-rights argument. But when she and Bob returned from a vacation recently to see much of the stand of big redwoods above the backyard gone — a big patch of sky where the trees once stood — she wondered why they hadn't been told of the planned removals.
"At least the neighbors should be notified, and could appeal the decision," said Morrison, who said she would have appealed the removal to the Piedmont Park Commission.
Livoni asked the City Council at its July 1 meeting for a future discussion of the matter, particularly about a requirement or some sort of notice residents would have to give neighbors before taking major actions that could affect neighbors.
"We need a line of respectful communication so respectful conversations can take place," Livoni told the council.
At that July 1 meeting, Councilwoman Betsy Smegal Andersen said she wants to know more about Piedmont's tree regulations.
A week later, Councilwoman Jen Cavanaugh said she also wants more familiarity with city tree rules, and also to "better understand what's possible" in meshing the concerns of multiple parties who don't necessarily have the same goals.
"In a very compact community with very nearby neighbors, there is tremendous sensitivity around privacy, light, views, property owners rights and the importance of trees in our community. As a city, we try to help neighbors balance those sometimes conflicting interests. If this is an area where we can help them better navigate, that then it is worth considering."

City Council Member Jen Cavenaugh
Livoni said she looks forward to whatever conversation happens, and to helping bring about some changes. That such big trees can be removed with no input from anyone other than the property owner, she said, is wrong. Such an action, she said, can affect many others.
"I'm not interested in living in a community where this can happen," she said. " It's sad, but …. "
---
Reach Sam Richards at sam.richards4344@gmail.com