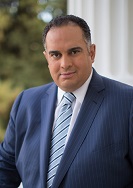 A new chair of the University of California Board of Regents has been elected, UC officials announced Monday. Regent John Perez has been elected board chair for 2019-20, effective July 1, according to the university.
Perez has also served as California Assembly speaker and as the political director for the California Labor Federation. Regent Cicilia Estolano was named vice chair. Chairs for the board's committees have also been appointed.
The regents are the governing body of the UC system. Regents are volunteers and serve without pay.