Ryan Tripp was like many kids growing up. He played soccer, basketball, and baseball through elementary and middle school. But in eighth grade, he decided to give rowing a chance.
"My grandpa rowed in high school and that got me interested enough to try it out in camp," Tripp said.
Pretty quickly, Tripp realized that he had a new favorite sport.
"I started out two days a week fall of eighth grade, four days a week spring of eighth grade and by ninth grade it was six days a week," Tripp said. "I kept doing my other sports in the fall, but I quit doing them by the spring of eighth grade."
Three years later, Tripp has been part of a national championship eight and is now deciding where he will row in college – he plans to visit Dartmouth and Princeton.
Rowing is difficult. Rowers work out constantly, lifting weights and working on a rowing machine, aside from their practice in the boat. That hard work is part of the appeal for Tripp.
"It was the high-performance sport," he said. "The work ethic and a group of individuals that are working to achieve at a higher level."
Tripp has been rowing for the Oakland Strokes Rowing Club, which is based on the Oakland Estuary. The club was established in 1974 and has taught boys and girls of all skill levels. The club has won 19 national championships, including the 2018 Men's Lightweight 8s, which is the team that Tripp rowed for.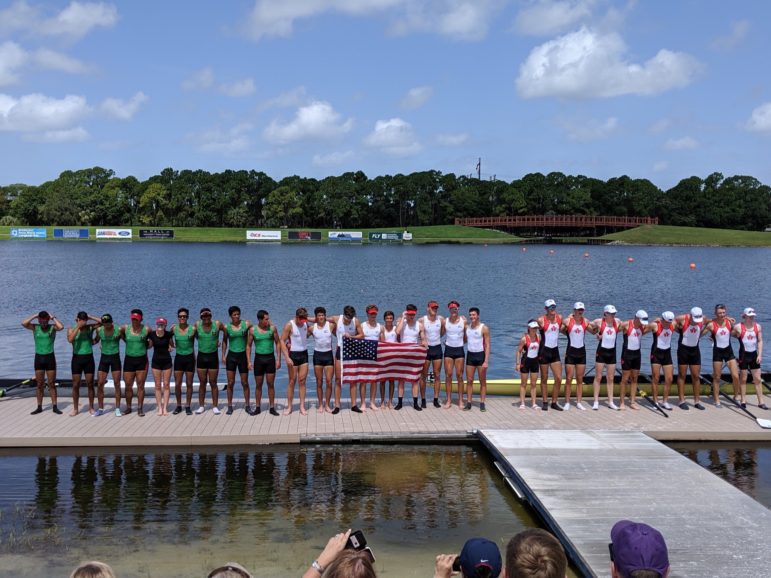 "He won a national championship as a sophomore in high school," former Oakland Strokes Director of men's rowing Brian de Regt said. "It's not unheard of but not common.
"He's as good as they come."
Hard work is a requirement to be a rower, but Tripp goes beyond that, according to de Regt.
"What we ask him to do is pretty high-end," de Regt said. "But he's waking up before school to get on the rowing machine. He did 1,000 extra minutes of work. He did twice as much as everyone else did in one week. Definitely above and beyond."
Said Tripp, "It looks a lot easier from the shore. I'm up at 6 most days to work out on my own. We spend a lot of time working on our technique each day. It can go beyond just moving together. All kinds of precise movements with the hands or the feet. With the casual observer, you wouldn't be able to see the techniques that we focus on."
Tripp is 5-foot-10, 165 pounds and qualifies as a "Lightweight" in rowing. Essentially, the average weight of the rowers has to be 155 and nobody can weigh more than 160 at the weigh-in. Similar to wrestling, rowers have to keep their weight below the limit. But Tripp said it's not as extreme as wrestlers who cut weight.
"I'll go for a 20-30 minute jog with lots of clothes on and sweat it off," he said.
This summer, Tripp traveled to Chula Vista to work out at the Elite Athlete Training Center – a 155-acre complex where many Olympic athletes in a variety of sports train. Tripp was selected for the national Under-19 team and then competed in Sarasota, Fla., at the CanAmMex ODP Summer Cup. Tripp's team won the Men's 8 in five minutes, 50.6 seconds.
As Tripp prepares for his senior year, he is enjoying the recruiting process, which he said should wrap up in the fall. He said he'd recommend rowing to anyone.
"It's a really good sport for anyone who wants to work hard at something," he said. "That's the general identity of rowers. It's also a very beautiful sport and requires a lot of delicacy.
Click here to see a videoof a training session for Ryan Tripp's boat at the Chula Vista Elite Athlete Training Center in June. Tripp is the first rower after the coxswain.