Smock is to artist as blow torch is to encaustic painter Lorna Strotz, a surprising truth I learned during my recent tour of Strotz's Sonoma, California studio. Of course, the use of heat is integral to the encaustic medium; images are created when beeswax is melted with pigment. Yet, Lorna Strotz, a petite and convivial hostess, doesn't immediately convey the vibe of a person who would know her way around a heat gun.
Knowing that she divides her time between Piedmont and Pickberry Vineyard in Sonoma, I hinted to Strotz that I wouldn't mind a drive up to California wine country for our interview. Strotz kindly took me up on my offer and generously served a light lunch and a pan of killer brownies as we talked about her art practice, as well as how the very house we were sitting in came to be.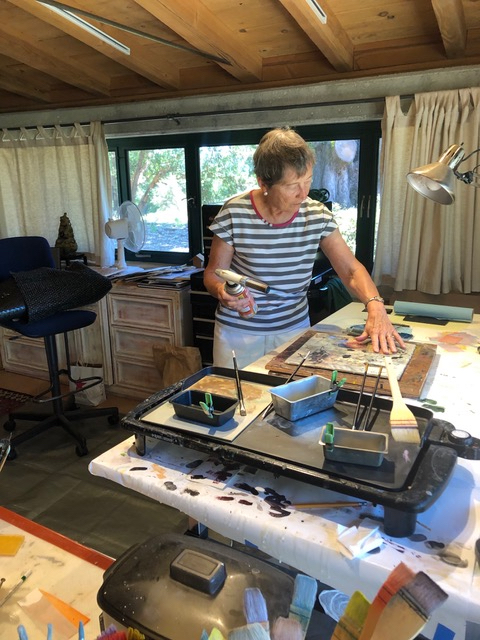 Strotz, originally from Wisconsin, holds a degree in Economics. She began her fine art practice after moving to Piedmont with husband, Cris and their two young children. Strotz learned watercolor painting at Piedmont Adult School one night per week, then went on to take summer figure drawing classes at Holy Names College. Later she participated in a regular sketching group with artist friends and traveled to workshops to learn techniques from well known artists. Her mature style, which she describes as contemporary realism, developed through ongoing studies with Oakland artist Karen Frey. Strotz cites travel with husband Cris Strotz as source for inspiration for her luminous watercolors.
She became intrigued with the encaustic medium after an encaustic painting in a gallery caught her eye. Turned off by a fellow artist's comments about the possible toxicity of the heated wax, she didn't actually try the medium at first. Meanwhile she and her husband had begun to build the home they share at Pickberry Vineyard, a property they originally purchased in 1975. And, when I say build, I mean literally – build. Strotz and her husband figured they had what it took to build a house from the ground up. Undeterred, and in fact, motivated by the need to learn how to use various power tools and heavy equipment the couple proceeded to build an elegant and truly unique family home.

So when Strotz decided it was time to begin making encaustic paintings, manipulating the wax and pigment with the blow torch was a simple thing. Once she began to experiment with encaustic, she was able to apply her previous knowledge of composition, color and drawing from her watercolor practice to this new medium. Right away she enjoyed the tactile quality of working with the melted wax, finding ways to experiment with embedding collage elements and adding layer upon layer of color to her paintings.
Strotz has received recognition for her watercolor and encaustic work; as a Signature member of the California Watercolor Association, in publications; and acceptance into many juried shows. Strotz continues to experiment and push her creativity with the encaustic medium; most recently incorporating handmade hemp and burlap shapes into her encaustic paintings.
Strotz and her daughter Kirsten Hosemann, a contemporary quilter, are planning a joint show opening July 19 at the Piedmont Center for the Arts. Strotz will exhibit her current body of watercolor and encaustic work. I feel certain that Strotz will leave her power tools at home, but if we're lucky she might bring along a pan of those killer brownies for the reception!