Coming into the 21st Century – from Paper to Cloud
The City Council voted 4-0 Monday to spend approximately $207,000 on one-time expenses to bring the city's financial and administrative functions out of the paper-records age and into the Cloud.
The council authorized a service agreement with Caselle, Inc. for what they call an 'enterprise resource planning system," to switch most City Hall functions from manual processes to electronic ones.
"This literally brings us from the 1990s into the modern age," outgoing City Administration Paul Benoit told the council. It's a key element of the city's IT Strategic Plan, and it's a system all city employees will eventually use. The new system is also expected to eventually allow Piedmont residents to pay fees, licenses and other payments online, with a credit card. Enacting the system is expected to take 12 to 18 months.
Sewer work 'sooner rather than later'
The City Council on Monday also voted to spend $279,995 to replace sewer lines in the Littlewood Drive and Dudley Court neighborhoods, and approve an overall budget of $356,690 for the project.
This work is seen as urgent, as the city is between "major phases of sanitary rehabilitation." The city is in the midst of a complete replacement of its underground sewer system, and is 79 percent done with that work. The work is being done to comply with a Environmental Protection Agency consent decree to eliminate groundwater infiltration and storm water inflow into the sanitary sewer system.
This project includes replacement of approximately 1,183 linear feet of sewer pipe, rebuilding seven lower sewer laterals and reconnection of 23 private sewer laterals in the area. Most of the work, city Public Works Director Chester Nakahara said, will take place on private property, mostly backyards. It will mostly involve the "trackless" process of installing new pipe within the old terra cotta pipes.
City officials hope the work can begin in July and be finished in early fall.
And finally … a fond farewell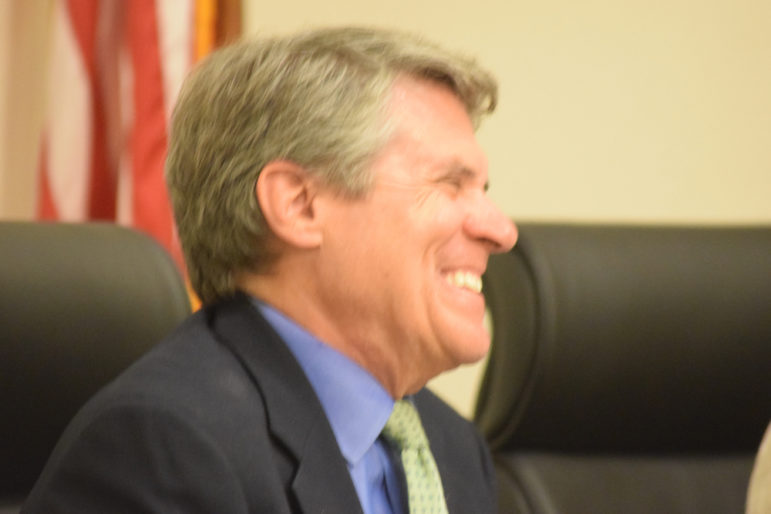 Monday's meeting was the last for Benoit, who announced several months ago his intention to retire from the city administrator's post to the Oregon coast. McBain and City Attorney Michelle Kenyon heaped praise on Benoit for his accomplishments over the past five years, and the council chamber rung out in applause as McBain adjourned the meeting on honor of Benoit.