Persons: Carolyn and Dan Irving, and their kids Katherine and Ben
Pet: Luna
Age: 7
Breed: Spanish Water Dog

Adoption story: Our daughter Katherine wanted a dog from the moment she could express herself. Being a "non-dog" person myself, I succeeded in fending off her entreaties for years.  But in 2011 we moved to England and Katherine reignited the dog debate. When I asked her for a good reason she replied, "If I had a dog, then I would always have a friend no matter where we moved and having a dog would give us something to laugh about together as a family."
The next thing you know, we're attending the Discover Dogs show at Earl's Court. Because Katherine and I are allergic to most dogs, she managed to find booths with Irish Wire Hair Terriers, Belgian Malinois, Bouvier de Flandres, and others. Finally, she dragged me to a booth festooned in the gold and red Spanish flag; and there we met our first Spanish Water Dogs. A search ensued — trips to Brighton and Newbury, emails to Somerset and somewhere in Surrey — until someone tipped us off to a litter of four pups about to be born on the Isle of Wight. Several ferry rides to and from East Cowes later, we brought Luna home on March 10, 2012.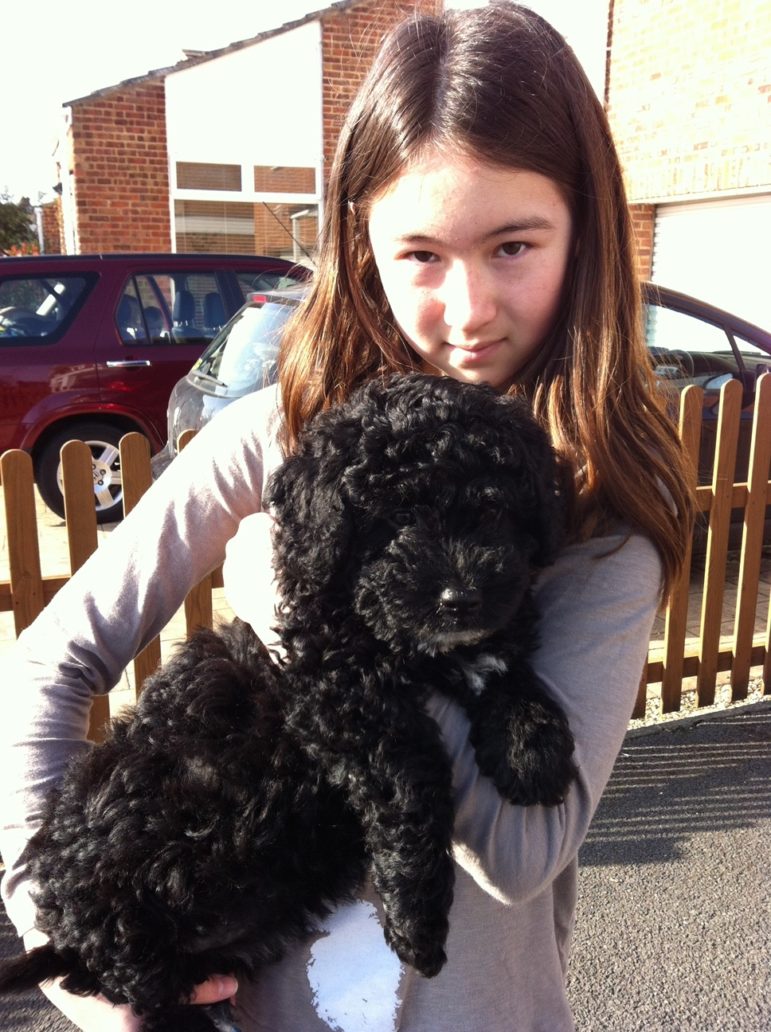 Likes: Stalking and chasing squirrels, incessant petting and belly rubs, chicken.
Dislikes: Packed luggage in the entryway, strangers at the door, getting her hair cut.
Interesting facts: Luna has webbed paws (foxtail traps!) and is a tireless swimmer. She actually gets strangely manic near bodies of water and would retrieve sticks/buoys/balls for hours on end if allowed to.
Anything else we should know: She ignores everything we watch on tv except soccer, The Great British Bake Off, and any of the David Attenborough series.