I visited Piedmont botanical artist Bonnie Bonner at her home studio on a sunny June afternoon, pleasantly cool after a run of unusually hot weather. I was soon holding a tall glass of homemade iced tea; in characteristic fashion, prior to our interview, she had learned the secret to preparing the perfect pitcher of sweet tea from a mutual friend in the south, and had it ready to offer along with freshly sliced lemon wedges, to this native southerner.

With a lively smile, twinkling eyes and with the personality to match, Bonner, 72, has put this sort of natural curiosity and exacting attention to detail to work throughout her life. After a tour of her prize-winning botanical art, Bonner invited me to sit down in her studio, refreshing summer beverage in hand, to share her artistic journey.

Anyone who knows Bonner shouldn't be surprised that she would choose to pursue botanical art. Bonner, a third generation Piedmonter, has always had a connection to the natural world. As a youngster, her household chores at the family home on Pacific Avenue included watering the begonia garden and weeding the lawn. A few years ago, Bonner began creating her unique Bug Hotels, artful mosaics she composes using natural materials and which provide a place for pollinators and beneficial insects to feed, rest, propagate and hide from predators.

Bug hotel

Tray of material for a bug hotel
Botanical art is an exacting form in which the artist depicts a plant or flower in an aesthetically pleasing way, that nevertheless must be underpinned by both botanically correct details and highly developed artistic skill. Botanical art at its best has the startling quality of making its subject seem realer than real; conveying a certain assertive verve that photography doesn't capture. In addition to researching the plant material depicted, the botanical artist must master drawing, composition, color theory, and painting technique, an ongoing process of education that requires focus and persistence.

Stages of a painting on Bonner's work table

Golden Bamboo (Look closely for a bit of fauna on the flora.)

Bonner with Golden Bamboo
Bonner's interest in botanical art began in 2002, when she was introduced to the form by a neighbor. She began taking classes with well-known botanical artist and teacher Catherine Watters, learning the subtle differences between different kinds of watercolor paper and vellum, the effects various types of brushes will make on the surface, and the way to achieve glowing color through the application of multiple layers of transparent paint. The pristine appearance of Bonner's finished botanical art is only achieved after hours of practice. During my visit Bonner described the multiple sketches, layers of transparent vellum test paintings, and consultations with her teacher and mentor that have been necessary to create the sunny painting of bamboo stalks currently on her easel.

Early sketch for a new painting

Part of the natural world, suspended
In all her pursuits — Bonner is also an avid skier and has had an accomplished acting and writing career — she has seemingly breezed her way to success, her upbeat attitude and high energy level masking all the hard work and attention to detail she puts into any endeavor she is involved with.  In describing her commitment to excellence she writes that "We're born with a passion to live up to our potential, to leave a mark, to contribute."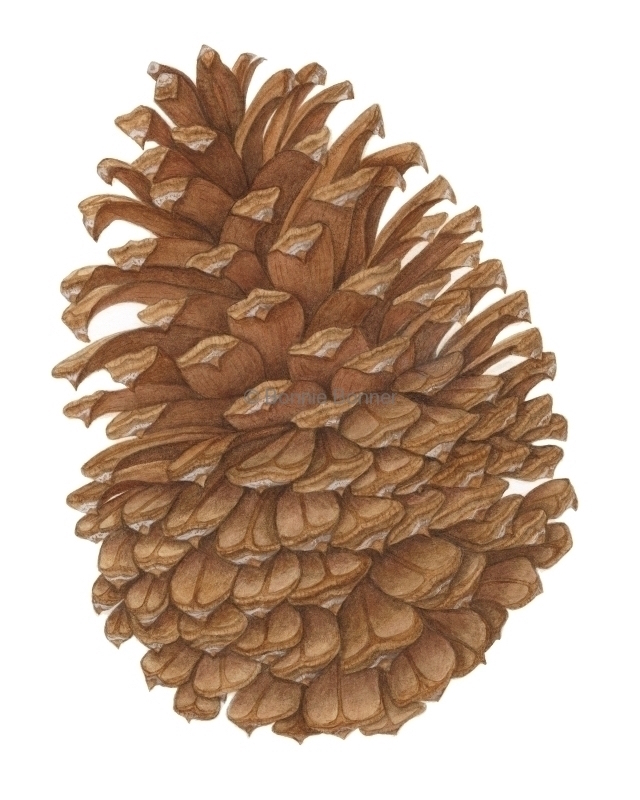 One of her proudest artistic achievements so far came in 2016 when her botanical watercolor painting of a Jeffrey Pinecone was chosen to represent Lassen National Park in the Centennial of the National Park Service at the Conservatory Gallery of the U.S. Botanic Garden on the mall in Washington D.C. for that year. Through months of work, and careful study of her subject, Bonner drew and painted each of the cone's hundreds of bracts. These grow in a tricky double spiral pattern known as the Fibonacci sequence, exceptionally difficult for an artist to capture. In Bonner's painting, the pinecone bristles with energy; the meticulous layering of color over color and subtle composition choices give this individual pinecone an affable gravitas. The painting was featured in the July 2017 issue of Fine Art Connoisseur Magazine, and will be used as teaching material on an ongoing basis to promote environmental awareness and conservation.

Other botanical paintings by Bonner are included in the permanent collections of two florilegium (a group of paintings and drawings of plants found in a certain area): The Gardens of Alcatraz housed at the Presidio and Heather Farm Park in Walnut Creek. In addition, Bonner's work has been selected in many juried exhibits and publications, including cover illustrations.

As we bring our conversation to a close, Bonnie Bonner modestly describes herself as a finisher. She certainly finishes many things that ordinary people would only dream of beginning.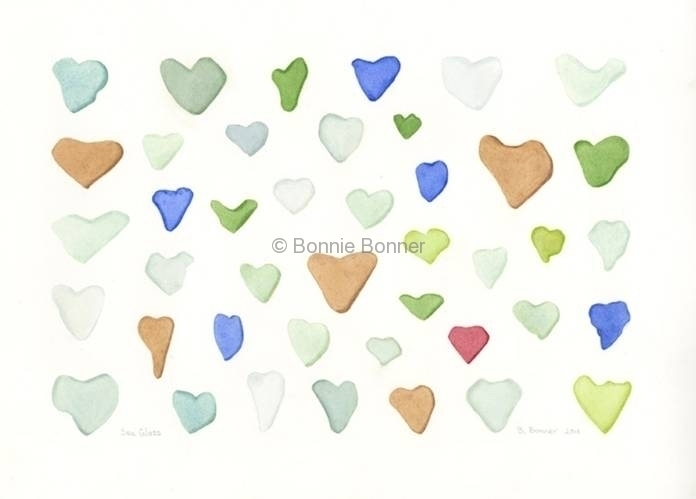 But just as the repeated action of waves creates the rare heart-shaped beach glass that Bonner has found and painted, it's her commitment to return again and again to the task at hand that results in the beauty brought forth through her many gifts.
To see Bonnie Bonner's art and learn more about her upcoming exhibits, visit her website:www.bonniesbotanicalart.com