"Be kind. Be curious." And know that working to make a better world does not have to conflict with your career plans. These were some of the simple yet powerful messages Oakland Mayor Libby Schaaf left for the Piedmont High School graduating class of 2019.
On May 31 Schaaf addressed over 200 purple-robed grads. But before her address, I was fortunate enough to sit down with the Mayor for an exclusive interview in which she talked about what speaking to the Piedmont community means to her, what priorities she has for city hall, and what things she hopes the class of 2019 will take with them, now and going forward.
As we sat on the turf at Witter Field in the quiet moments before the students' arrival, Schaaf said "Honestly, I was kind of honored that the parents and students of Piedmont wanted the Oakland mayor to be their speaker. And to me that said that there is an interest in being part of a bigger world, a more diverse world, a world that has a lot of suffering and challenge. And that there must be an interest within this community to really make a difference in those areas."

As a Bay Area native, Schaaf has always had connections to Piedmont. Schaaf attended Skyline High School where she was a cheerleader and a top student. She went on to become an attorney and a founder of Oakland Cares, a non-profit organization which launched hundreds of volunteer community improvement projects across the city. "I grew up in Oakland really relishing the diversity, and diversity includes race and economic status and nationality. Almost a third of our residents were born in another country. And I'd like to think that's something that Piedmonters also enjoy about living here — is that access to diversity."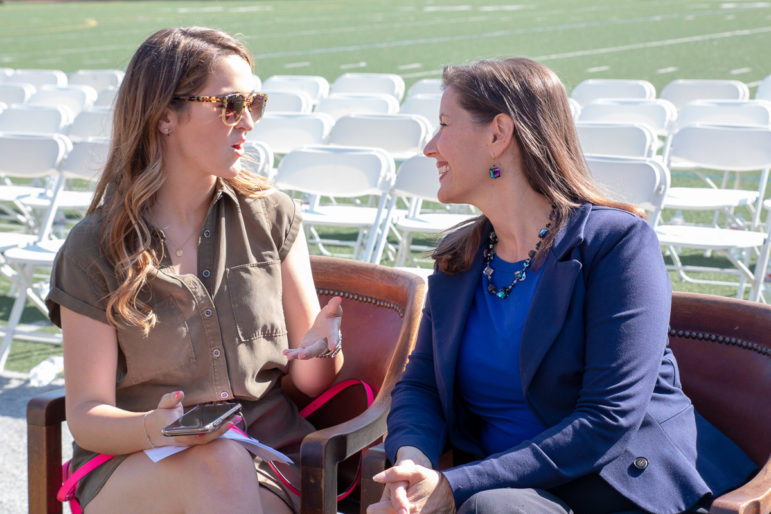 Just a few moments after she shared her thoughts with me, she was off to the podium to address the Class of 2019, and elaborate on this notion of community and making a difference.
Schaff urged graduates to keep that up by taking action to help those around them. One of the biggest issues facing the community right now is homelessness, she said. One city initiative to fight homelessness is building more "cabin communities" — one-room sheds capable of housing the homeless. When I asked Mayor Schaaf what Piedmont students could do to help, possibly using their privilege as a powerful tool for the common good, her answer was this: "A cabin costs $7,500. Have a bake sale. Raise me $7,500. You could actually shelter two people for $7,500."
For students looking for other ways to make a direct impact on the community, Schaaf suggested that rather than starting a small non-profit from your kitchen, students could work in someone else's. "Volunteer at St. Vincent de Paul. They serve five to six hundred meals every day." By working in the kitchen, students could provide much-needed help to a great community organization, while also seeing the direct impact of their work. The ability to interact with those you are helping often makes the work feel that much more meaningful.
"There's something beautiful about breaking bread with someone," said Schaff, "looking them in the eyes and asking them how they're doing. So often when I talk to our unsheltered residents, that kind of humanity and dignity is something that means a lot to them."

Schaaf also explained ways Piedmont grads could help in a broader context: by taking a stand on systemic issues such as "income inequality, the role of technology in our lives — making sure that it's being used for good and not bad, the cost of housing." Schaaf listed these as some of her personal priorities, but urged students to find their own. As she advised them to "be curious," she explained that she did not expect or hope that their values and ideas would align directly with her own. "Whatever that passion or issue is — you don't have to agree with mine– I hope that you stay curious."
To Schaaf, 2019 graduates are a collaborative and benevolent generation, capable of ending the current moment of intense political polarization.
So, while encouraging them to seek out their own passions in life, she also beseeched them to remember the communities which supported them along their paths to success.
Schaaf gave Piedmont graduates inspiration while also placing challenges before them, urging them to take the broader community's prosperity into their own hands. "Never underestimate your power," she said.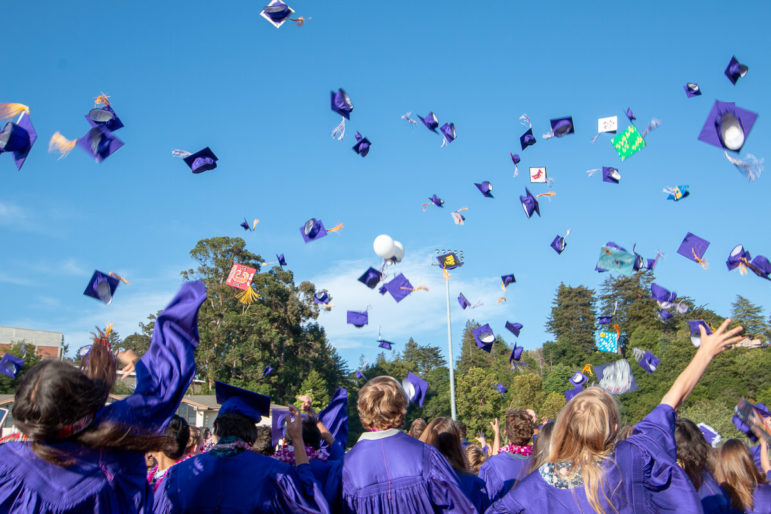 ---