The herbicide Roundup, promoted for more than 40 years as a safe and quick means of controlling weeds and heavily used by home gardeners and large industrial users alike, has made international headlines this year as juries conclude its active ingredient, glyphosate, causes forms of cancer.
Piedmont is being joined by a growing number of municipalities that have halted use of the chemical spray commonly used by many jurisdictions and landscape maintenance contractors as an economical way to control weeds and vegetation growth.
In fact, the city banned the use of all herbicides and pesticides on public property over five years ago, and the city's school district is now following suit.
The school district this week passed a resolution "Prohibiting any district purchase or use herbicide products containing the chemical glyphosate," the active ingredient in Roundup, first patented and marketed by chemical giant Monsanto in 1974.
The resolution is similar to what the city has had in place.
"We have an IPM ( integrated pest management) policy that uses chemicals as the last resort," said Nancy Kent, the city's parks and project manager. "We have had this in play for over 5 years . We also have it in the specifications for our outside landscape contractor — they cannot use Roundup."
Roundup is still promoted as a safe and quick means of controlling weeds and it has been heavily used for years by home gardeners and large industrial users alike, but perceptions are rapidly changing.
As the school district's resolution this week notes, two years ago "the California Environmental Protection Agency's Office of Environmental Health Hazard Assessment added glyphosate to its official list of chemicals known to cause cancer or reproductive toxicity under the Safe Drinking Water and Toxic Enforcement Act of 1986."
Concerns and suspicions have followed Roundup almost from its introduction, but many municipalities have been reluctant to take steps to curb its use, citing the manufacturer's claims of safety and the desire to have an economical way to control weeds over large areas.
That's all changing as lawsuits mount. It was announced in May that use of the product has been halted at all 10 University of California campuses.
Kent said UC's decision is "impressive because it is a large campus and a lot of space to maintain with a limited groundskeeper staff. Eliminating Roundup usually means a bigger commitment to labor costs — physically removing weeds and then the labor and cost of spreading mulch to control their growth."
Piedmont works on a much smaller scale than the expansive UC system.
"With 50 acres of open space we can keep on top of maintaining our spaces by pulling weeds and spreading mulch," Kent said.
"In operation, the city does not have any Roundup stored at the Corporation Yard and does not use it in the landscape."

Nancy Kent, Piedmont parks and project manager
"We recently bid out our landscape maintenance contract" with the stipulation that the outside contractor has to follow all IPM requirements, she said. "This means we use a lot of hand-removal and weeding teams (for) removal of foxtails at our dog parks, a lot of mulch to control weeds."
She said that at the time the city's policy was passed there was little objection from the public or workers.
Kent believes support for the policy was a combination of factors that included overall protection of the environment and that "residents did not want exposure to the spraying process or exposure to sprayed areas when they are in our parks and open spaces," as well as protection of public works staff and contractors we hire to help us maintain our landscapes."
She noted that "another concern about Roundup is that it can become mobile, travel beyond the application site and effect areas downstream. Then it becomes a pollutant in our waterways."
Piedmont's IPM policy also bans pesticides and "pre-emergent" herbicides applied to control seed germination of undesirable plants.
The policy states that the only exception is "the control of a pest which threatens the public health or where hazard and exposure to people, wildlife or the environment is expected to be minimal."
Kent said public works staff releases beneficial insects to control pests and that "sometimes an infected plant is removed and sent to green waste, instead of an extensive spray regimen to kill a pest and try and revive the plant."
Along with extensive mulching and hand-weeding, Piedmont has added a new resource to its vegetation arsenal this year — goats.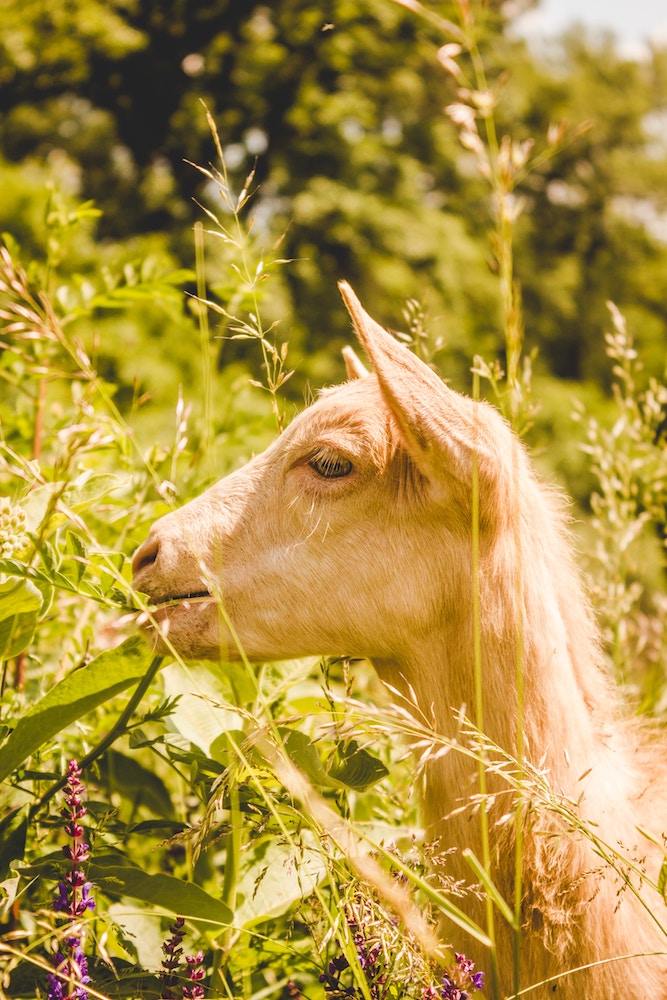 The goats are being deployed in part because work crews made available to the city in the past by Cal Fire (California Department of Forestry and Fire Protection) are now "focused primarily on the foothill communities in rural areas" that have been devastated by wildfires, said Piedmont Fire Chief Bret Black.
A herd of some 500 goats is being used to control vegetation at harder to reach areas.
"We're never had them before," Black said. "They're here on site right now and we're prepping the area" at the bowl below Coaches Field and going up the hillside above the city corporation yard and the skate park.
The bowl, the canyon and steep hillside off Moraga Avenue, is one of the city's most problematic areas.
"The bowl has never been addressed, ever," Black said. "The biggest problem is the thickness of the foliage. You can't even walk there, it's so thick."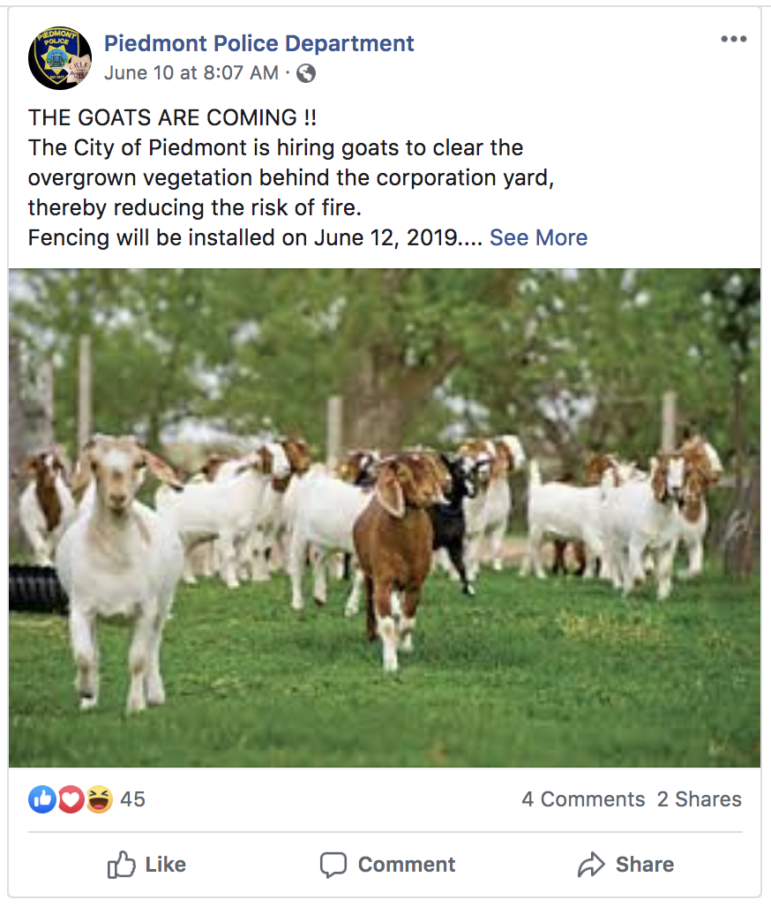 He said Cal Fire has since made a block of days available for work in town, though that could be rescinded if crews are needed for a wildfire emergency. "There are times we even have the tools and portapotties set out at a site, and then they can't come," he said.
"Our hope is that the goats do their magic and if we get a Cal Fire crew we can address the trees and it's going to be a win," Black said.
The city also plans to tend to overgrowth on medians and other public areas but "One of the challenges is timing," Black said.
"If you cut it down too soon it just grows back. You have to wait until the tall grass, or wild oats as we call it, goes brown so it doesn't grow back. On the other side of the tunnel the grass is brown. Here, it may look brown, but if you look close, much of it is still green and not fully cured. That doesn't mean we don't want to address the risk, but we only want to do it once. Yes, it's an eyesore, but it's better to wait."