Moving forward with plans that have been considered, refined and discussed for almost a decade, the Piedmont City Council Monday night voted to continue exploring a proposal to improve and expand Coaches Field off Moraga Avenue.
Specifically, the council voted 4-0 to send out requests for proposals for hiring a consultant to make sure the sports field upgrades comply with the California Environmental Quality Act, and to help determine what level of further environmental reporting is needed. (Vice Mayor Teddy Gray King was absent).
While the proposed improvements to the sports field and surrounding areas have gotten mostly good reviews, several people Monday night spoke up against a plan to install lights at the field. Most pointed to a city statute from 1992 — the year before Coaches Field was built — that prohibits nighttime lights being used there.
Rabim Nabizadeh, who lives on Abbott Way east of and above Coaches Field, was especially pointed in his comments to the council."Is it that you think property values wouldn't go down, or that you just don't care?" said Nabizadeh, adding that he would consider installation of lights an "act of violence."
Resident Mike Mcconathy suggested any attempt by the city to revoke the 1992 lights statute could result in claims against the city for diminished property values. Mcconathy, who said he coached at that field for several years, also said, "Without the lights, I think the city would have near-unanimous support for this project."
The proposed Coaches Field plan includes:
Expansion of the field into the northeast corner of the park, usurping some of the existing Corporation Yard space to create a larger 150-by-300-foot soccer field for under-14 players. This will require building a new retaining wall farther into the northeast corner, and modifying the corp yard.
Re-grading of the field topography to compensate for the current elevation difference of approximately 7 feet, meaning the lower west end would be raised.
Artificial turf with a cork and sand infill, and associated sub-drainage required to properly discharge stormwater.
New field lighting for nighttime use (the controversial element Monday night).
A new wood deck/walkway in the southwest corner of Coaches Field near the baseball backstop to facilitate more convenient access to the field and skate park from the sidewalk on Moraga Avenue.
A new picnic area adjacent to the existing skate park.
Re-configuration and expansion of the existing parking and enhancement of the vehicle entrance from Moraga Avenue.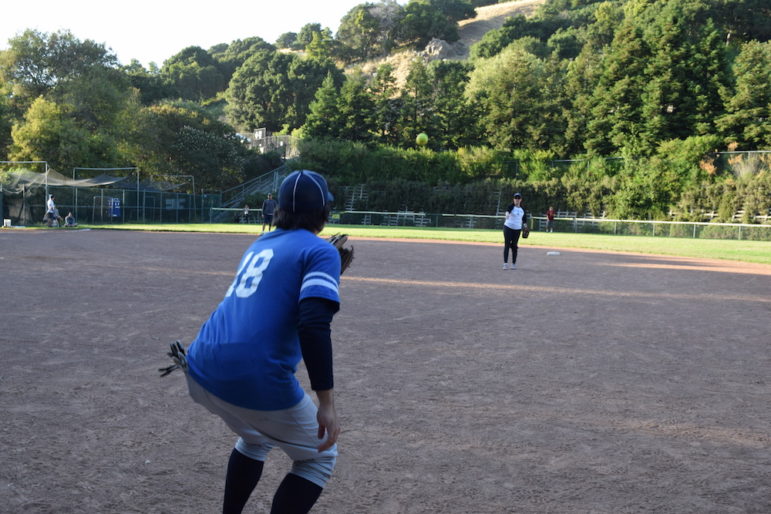 The current-day Coaches Field expansion proposal has its seeds in a plan developed by Piedmont residents William Blackwell and Chuck Oraftik in 2009-2010. Since then, various ideas for improvements there have been discussed.
The city hired Callander and Associates in March 2018 to develop a Coaches Field master plan that would "capture and refine the essence of" the original Blackwell and Oraftik plan, and use it as a launching point. On Oct. 21, 2018 and Jan. 28, 2019, Piedmont City Administrator Paul Benoit and Recreation Director Sara Lillevand led meetings with Coaches Field neighbors; issues of concern among the neighbors included traffic, noise and impacts of the proposed lighting. The project was presented to the Piedmont Recreation Commission on Jan. 16, 2019, and another public meeting was held Feb. 23.
Coaches Field suffers from poor drainage and compaction, and growing demand for athletic field space in a city that has a limited number of facilities has meant Coaches Field has suffered from overuse, a city staff report says. The size of the field and its irregular shape limit its use for a wider range of activities, and for a variety of age groups.
Chris Lundin of Piedmont said he wants the field improved. "The outfield is pretty rough, pretty dangerous," said Lundin, a member of the Baja Bombers adult rec league softball team. "And the drainage … "
Lundin isn't sure about the artificial turf that could require new cleats and other adjustments. But before his team's Monday night game against Game of Throws, Lundin said, "I hope the council says yes to the plan."
The CEQA consultant would determine how much new environmental reporting the project will need; an environmental impact report was created in 2010, but will need at least some updating, and maybe a lot. The lighting situation would be part of any such study, said Piedmont City Attorney Michelle Kenyon.
Council members said they hope residents keep an open mind about the lighting plan, which they said Monday would add appreciable sports field time in a city Councilwoman Betsy Smegal Andersen called a "very landlocked community" with little space for new fields.
Said Mayor Robert McBain, "Times do change, requirements do change, and the decisions on this were made over 20 years ago."
Reach Sam Richards at sam.richards4344@gmail.com