After 21 years as Artistic Director and a 33-year career at Berkeley Rep, Tony Taccone is stepping off the ship. Earlier this year, Johanna Pfaelzer was announced as his successor. Pfaelzer joins the theater company upon departing her previous position as artistic director of the performing arts incubator, New York Stage and Film.
So it's nearly impossible not to ponder the Taccone legacy while watching his final foray, Kiss My Aztec, a rousing music and dance production directed by Taccone and based on a book co-written with comedian/television and film star John Leguizamo. The two-act extravaganza dives headlong into 16th century Meso-American history and features signature Rep benchmarks: a multi-talented cast, astute-goes-rogue script; ingenious, time warp set and costume designs; brilliant musicians performing live; and that "clutch" factor that often is called crisp direction but actually means a decisive editor was in the house during rehearsals. The show cruises at pirate ship-in-pursuit speed, with the exception of a few songs that overstay their welcome and scenes that dwell, shall we say, overlong on crotch issues and stall the show's pellmell momentum.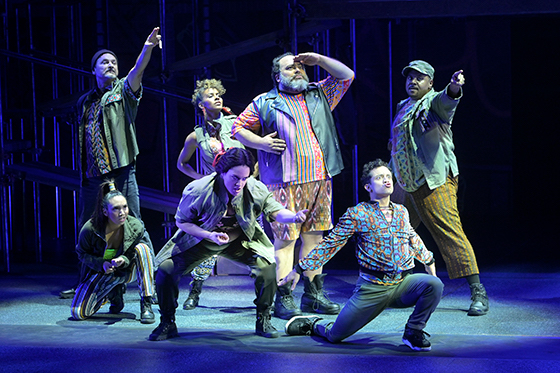 It's important to note, before delving into story, that the band is terrific. Full credit to Kenji Higashihama, Dana Bauer, Juan Carreon, Steve Danska, Marvin McFadden and Eric Price for keeping the pace uptempo. They fling themselves with more than ability — call it gusto — into a kaleidoscope of styles: hip hop, rap, reggae, Latin and Cuban jazz, R&B, gospel, soul, pop and more. There's remarkable talent coming from the ensemble's elevated, upstage-left perch.
Which means the cast and the choreography frolic with abandon to encompass popping, locking, boogaloo, tango, salsa, b-boying, b-girling, b-LGBTQ-ing, if an invented term is allowed. Choreographer Maija García draws on indigenous Latinx dance rhythms and culture; leaning back in time to Africa while simultaneously extending the richness forward with contemporary street dance vocabulary.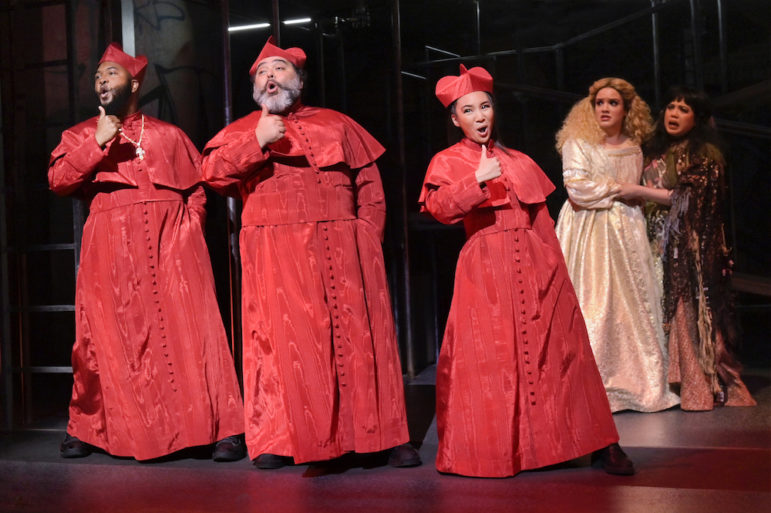 Aztec's script is equally broad: ghetto slang — homie, that's so dope, trash talk, you profiling me? —smash into Elizabethan dialect. Mixing "thee" or "thou" with contemporary urban slang serves up zinger lyrics and steers tune titles: Everybody Needeth a Fixer; Spooneth Me and others. As playwrights, Taccone and Leguizamo favor edgy, satirical, in-your-face or frankly vulgar vocabulary: the unsparing, ribald tone is established in the first musical number, White People on Boats, amplified in second act opener, Dark Meat and laced throughout the production.
Gallivanting through trumped-up but mostly actual history, Aztec begins in 1560, decades after Spanish conquistador Hernán Cortés and his soldiers stormed across the Aztec Empire and enslaved its people. Led by El Jaguar Negro (a sincere Chad Carstarphen) and a blood-red moon that determines timing, the people prepare to overthrow the colonialist citadel. Negro's daughter, Colombina (a commanding Yani Marin), seeks to be a warrior but is denied. She raps a song of Aztec era feminism that bears obvious #MeToo overtones in "Don't Tell Me What I Can't Do,"—then goes on to defy her gender-biased daddy.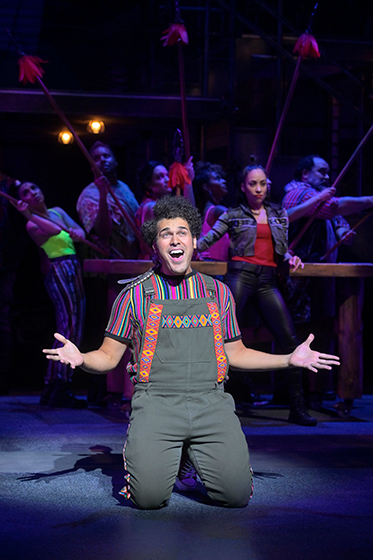 Defiance and non-conformity are themes carried throughout, by characters that include Zachary Infante as the semi-slimy Fernando, who sings "god must be gay" while considering "outing" himself and his inquisitor priest lover. The sock-puppet wielding Pepe (sympathetic and swoony Joel Perez) loves Colombina, but at first brings only cheesy humor in a desperate reach for acceptance and romance. Standout performances representing classic good-versus-evil mythology come from cunning house servant Tolima (impeccable finessed by Maria-Christina Oliveras) and the viceroy, Rodrigo (every kind of nasty served up by Al Rodrigo).
Make no mistake, if black leather pants, Converse shoes, graffiti style brick walls, sexually explicit lyrics and other elements aren't enough clues to establish Aztec as a bold comment on present day culture and America's future, the show's final message, "the world is getting browner," makes it plain. From all indications, Taccone as he departs will be no landlubber and the Rep will continue to be like a space rocket incubator, supporting life, liberty and top speed pursuit of hilarity with bite.