Asking the question "nature or nurture" about artist Pam Smilow's talent is to misspeak. In Smilow's case, the correct interpretation of the source of her artistic gifts is 'nature and nurture.'
A childhood where art, home and life merged
From childhood, Smilow, a well-known contemporary artist based in New York City, was immersed in an environment oriented towards art and artistic principles. As a child, she created paintings, woodcut prints, sculpture or threw pottery on the family's in-home pottery wheel.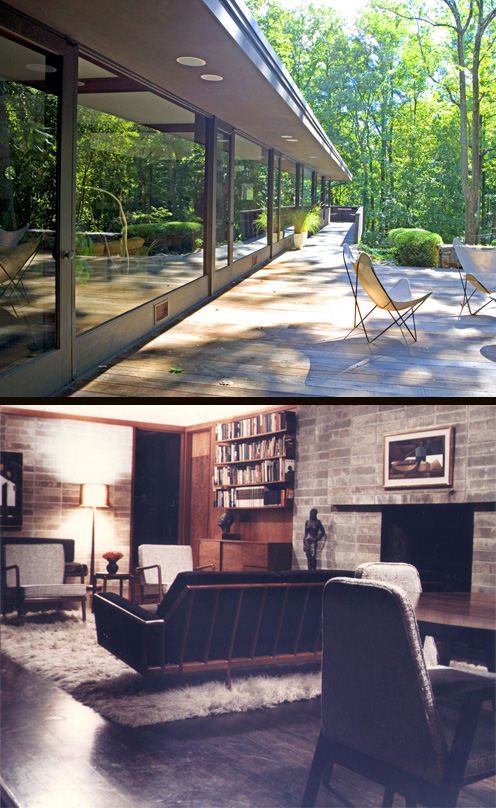 No surprise about her artistic leanings — both of Smilow's parents were artistically inclined. Her father was Mel Smilow, a mid-twentieth-century furniture designer whose award winning and critically reviewed designs focused on clean lines and beautiful proportions. By 1963, the successful manufacturing and retailing of these furnishings, which are still in production today, brought the family the opportunity to purchase Frank Lloyd Wright's 'Roger Kahn' home located in Pleasantville, New York, in the Frank Lloyd Wright planned community know as Usonia Homes.

Growing up in an environment that was all about the integration of home, furnishings and art, Smilow brings her keen intuition when helping an art collector choose one of her paintings. Connecting the right painting to the right home, she considers the palette of the home to be an extension of the palette in the painting. The understanding she gained as a child living in a space which was, famously, designed to seamlessly incorporate functionality with outdoor beauty is key to why she cares where her paintings are hung.

When the left AND right brain collaborate
Later, while earning a degree in French at the University of Michigan, Smilow began to realize that she possessed the enviable ability to multi-task between left and right brain activities. In film and art history classes, Smilow would combine her love of art research with her artistic skills, impressing her professors with visual projects such as collages and handmade books rather than written papers. Today, Smilow enjoys having visitors drop by her studio on an informal basis, finding that she can carry on a complete conversation while continuing to paint.

Art as a direct expression of herself
Smilow works with a variety of mediums to produce works on paper, collage, and large scale acrylic paintings. Her work is characterized by a vibrant color palette and certain motifs that regularly appear. Typically, Smilow will choose a color family to work with on a given painting, such as a group of analogous pinks, reds and oranges, which will be offset by an underpainting consisting of many layers of complementary colors which add depth and dimension to the surface. Smilow uses recurring images such as houses, dresses, tall trees, circles and birds to convey meaning and emotion to the viewer; the techniques of collage and sewing that are used to adhere these elements to the painting add texture.

Smilow working in her New York City Studio

Red/Pink with Pink Ladder

In addition to the art of the Abstract Expressionists, a strong influence in Smilow's early art practice was the Art Brut style, specifically the work of German collage artist Kurt Schwitters. Also known by the now unpopular term 'outsider art,' this style appeals to Smilow because she relates to the way a direct, unfiltered approach to art making leads to a direct expression of self.

Smilow and husband Gert Mathiesen: A romantic and artistic collaboration
Unquestionably, however, the most important period of Smilow's life and art practice so far was the joy-filled time she shared with artist husband, Gert Mathiesen. The two artists together created a dynamic art practice, often collaborating on paintings that earned an avid following across the United States and Europe.
Theirs was a true romantic story, with Mathiesen often leaving love notes for Smilow on gessoed canvases he prepared for her paintings. Since Mathiesen's sudden death of an aneurysm in 2013, Smilow has worked to ensure his legacy by placement of his paintings in museums and private collections throughout the United States and Europe. No easy task in itself, Smilow has nonetheless drawn on her considerable reserves of energy and her positive outlook to continue and even grow her own art practice.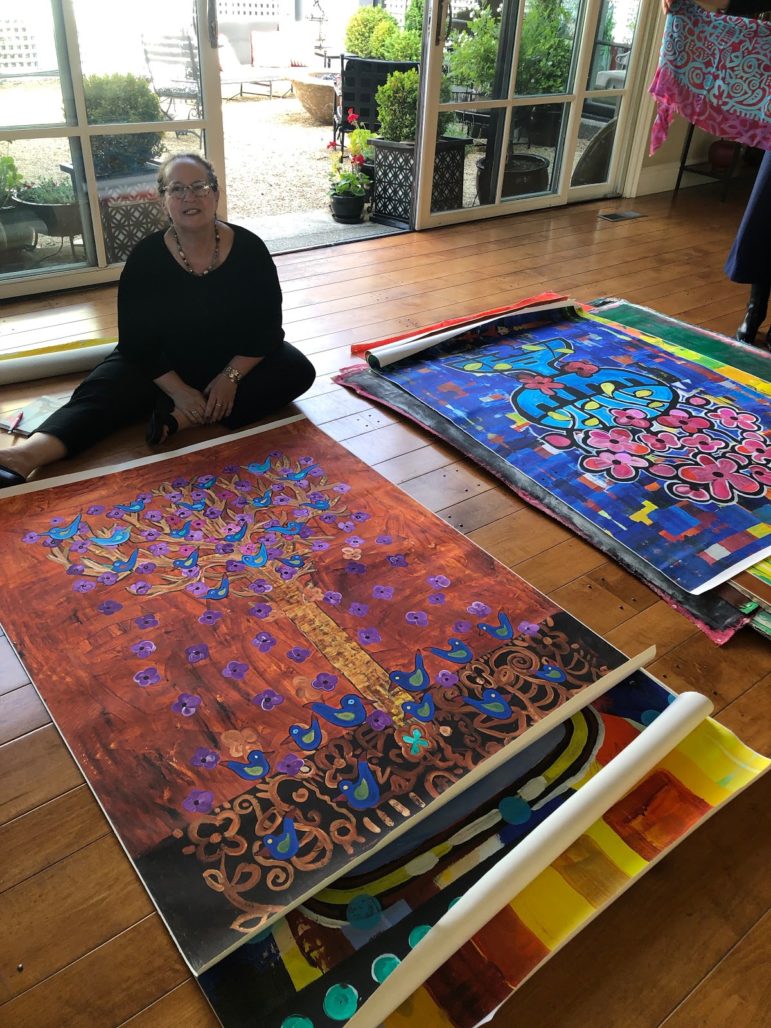 A motivating factor for Smilow comes in letters and emails she receives from collectors, most of whom Smilow has personally worked with in selecting the right painting, describing the joy the paintings have brought to the owner through the years. Smilow believes that now, more than ever, people have felt the need to notice joy in their lives.

Smilow has since begun incorporating the written word in her paintings, often writing her late husband's name on a freshly prepared canvas before laying down the first stroke of color. This has led her to include written quotes, thoughts and poetry among the many layers of her paintings. She shares these messages with viewers by writing them on the back of the painting.

Smilow and Mathiesen established a unique tradition of visiting collectors in their homes, so that they could connect people directly with the art they would be living with. Smilow continues this personal approach to placing her paintings, stating that a home "feels like a home when the art fits."

Piedmont-based decorator Deborah Gadbois on Smilow:
"Her art work is vibrant, friendly, and approachable.  Her sophisticated yet playful use of layered color, texture, and iconic imagery arouse memories of childhood, favorite places, and positive emotions.  It is all so familiar and recognizable; it just feels good to be in front of her art.  Pam's late husband (Gert Mathiesen) also created fun and playful work, full of whimsy and wit."
To see art work by Smilow and Mathiesen, visit http://www.pamelasmilow.com.

Unless noted differently above, photos courtesy of the artist