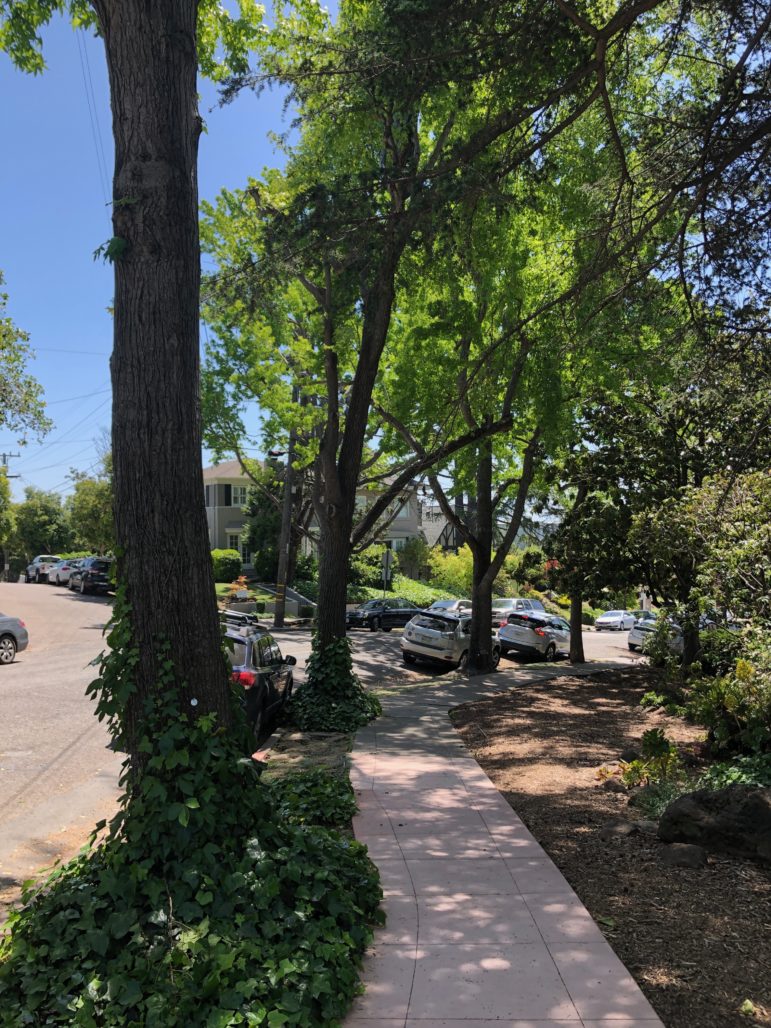 At a Park Commission meeting on Wednesday, multiple homeowners who live on or near Magnolia Avenue raised questions about the city's plan to remove 47 liquidambar trees along the street as part of a long-awaited repaving project.
While no one disputed the safety risk some trees posed or the poor condition of Magnolia Avenue sidewalks, several residents criticized the city for poor communication regarding the timing and scope of the work, and asked the city to slow down and consider proposals that could preserve some of the trees.

The commission first heard from Parks and Projects Manager Nancy Kent, Director of Public Works Chester Nakahara, and a consulting arborist from Hortscience.
"We don't take the removal of trees lightly," said Kent, a sentiment Nakahara echoed later. "We only take out trees when we feel it's a requirement for the project. Replacement trees will follow immediately."
Earlier this year, the city preemptively purchased a collection of Chinese pistache trees in anticipation of tree replacement projects in town.
Fall color mature Liquidambar

Fall color mature Chinese pistache
Nakahara said that the repaving project was a city priority, part of Piedmont's Complete Streets Policy adopted in 2012. (View the policy here.) "The removal of trees is unfortunate, but is a necessity in order to properly pave the street and correct the infrastructure problems," he said. Liquidambar trees are known for their red foliage and stately growth, but they are not well-suited for narrow sidewalk areas, according to both Nakahara and the Hortscience arborist.

A report prepared by Jim Clark of Hortscience noted that the liquidambars (also known as sweetgums) on Magnolia were in generally poor condition. Some trees have endured severe "topping" due to their growth near power lines, as well as root pruning that weakens the trees over time.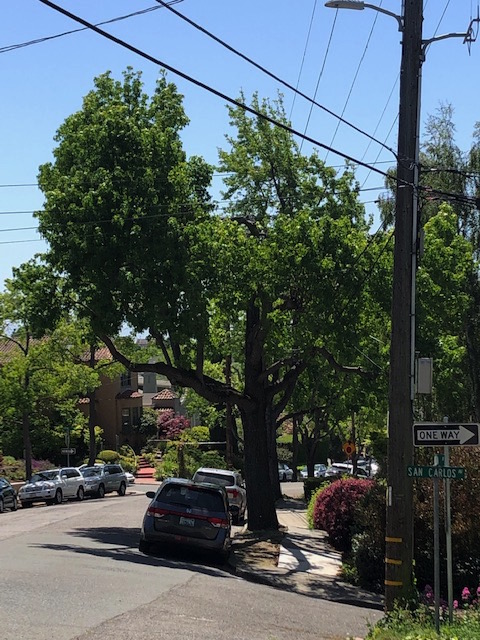 Parts of the sidewalk on Magnolia Avenue have buckled or are in poor condition due to the shallow root structure of the trees, and numerous large tree limbs have fallen in recent years, causing substantial damage to a car in at least one case. Nakahara said public works decided which trees to remove based on a combination of engineering needs, arborist input, and institutional knowledge of various problematic trees.

Liquidambar roots can cause sidewalks to buckle.
Regarding the timing of the project, Nakahara noted that in order to minimize traffic impacts on Magnolia, a major artery into and out of central Piedmont, the work needs to be done over the summer when school is out.
Homeowners in attendance Wednesday night mobilized in response to what some characterized as late or inadequate notice by the city regarding the tree removal plan.
"The public had no map of which trees were targeted, and trees were purchased in advance. Residents believe the city has little interest in hearing from public."

Resident Carole Parker
She asked the Commission to take more time to consider ways to protect the trees while at the same time improving the walkways, citing work on Lakeshore Avenue and the use of "ergonomic" sidewalks to extend urban tree life.

"Please be more creative," El Cerrito Avenue resident and landscape architect Paul Lettieri told the commission. "Consider creating bigger planting strips, moving sidewalks. Also, a monoculture of Chinese pistache is a bad idea, bad scale. A variety of trees should be considered, small trees under power lines, for example."

Resident Jon Reining said the sheer number of trees targeted for removal caught his attention and prompted his appearance before the commission. "Forty-seven trees strikes me as a lot of trees. We've waited a long time; can't we wait another year? These trees aren't the right trees for Piedmont but it's a mistake to just pull them out."

Ann Cox opposed the tree removal plan, citing their power in removing carbon dioxide, providing shade, and absorbing groundwater. Cox said the city's tree replacement program has not been consistent around town.

Not all residents who spoke at the meeting were opposed to the plan. Brandt Kwiram, a resident at Hillside Avenue and Magnolia, spoke in support of the city's plan. "As a father of three small kids and in-laws who are aged, I don't want them walking on the street." Another Hillside resident noted that some of the liquidambar trees have grown so large since the 1980s as to obstruct their views, and would welcome their removal.

Christian Charneaux spoke to save a tree near his residence on Nova. "Some limbs have fallen, the sidewalk has buckled and we have managed to repair it. Compared to destroying a 60- year-old tree, that cost is nothing. New pistache trees are teeny; they don't compare to the liquidambar."

Although sympathetic to many of the issues raised by the residents, commission members Amber Brumfiel, Patty Dunlap, Betsy Goodman, Jim Horner, Brian Mahaney, Eileen Ruby, and Robin Wu appeared to be in sync regarding the necessity to move forward soon with the repaving project, citing safety as a main concern.
Commissioner Dunlap noted that the condition of city sidewalks was a topic that came up repeatedly during her canvassing efforts around town on a different matter. Chairperson Goodman thanked speakers for contributing good ideas, some of which could be taken under consideration.

Commissioner Ruby acknowledged the concerns brought forward by residents, particularly regarding the notification process. According to Kent, a public notice was sent to neighbors within 400 feet Magnolia Ave on April 24, but at least one speaker says he did not receive it.
"I am sympathetic to complaints about notification. As a citizen and Commission member I was surprised too" by what seemed like short notice.


Park Commissioner Eileen Ruby
---
Next steps: Approval of the paving project will come before the city council at the Monday, May 6 meeting