The Piedmont Recreation Department is $2500 richer thanks to a generous donation from the Piedmont Ladies Tennis Club (PLTC) in support of building the Corey Reich Tennis Center.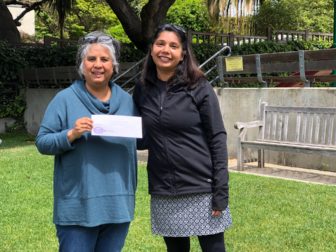 Plans are underway to totally refresh and upgrade the tennis venue on Vista Avenue, and honor Piedmont tennis champion and coach, Corey Reich by renaming the facility The Corey Reich Tennis Center. Cora Woods of the Piedmont Recreation Department accepted the check from outgoing PLTC President Priti Brahma at a post tournament luncheon. The celebration picnic was planned by incoming PLTC President Beth Hurwich and catered by Mulberry's Market.
The PLTC had just held their annual Spring Invitational Tournament, expertly organized by first time tournament directors Shirley Lee and Lisa Taylor. Tennis loving ladies from Piedmont and surrounding communities competed in a doubles format. Devious spins, deadly drop shots, overhead smashes, poaches and charges at the net were all on display under sunny skies.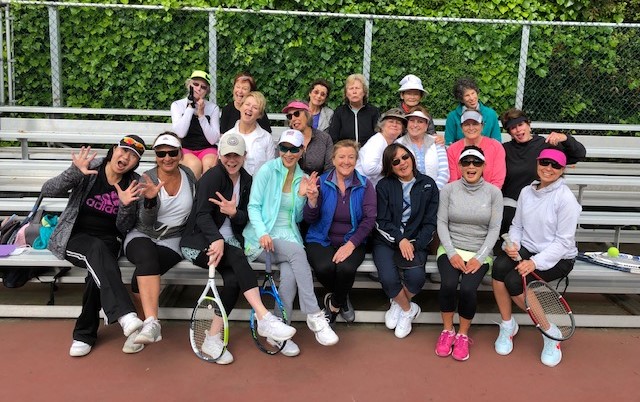 Players showed tenacity and grit, as well as humor and camaraderie. Cathy Papahadjopoulos and Cori Kau won 21 games earning first place, and were awarded Wimbledon net measuring chains. Lisa Taylor and Cynthia Gouw's 19 victories placed them second, winning colorful pouches containing mini-measuring tape and Band-Aids. Wanda Rudsits and Lynn Ching placed third by winning 18 games. Their prize was socks that say "I Am Awesome!" from Annie's Hallmark store in Montclair.
PLTC always welcomes new members. Players don't have to live in Piedmont in order to join. The A Ladder players meet Tuesdays at the Vista Courts 8:30am – 10am. The B Ladder players meet Wednesdays 9am – 10:30am. The ladies play for fun in a collegial round robin format. There is a nominal fee to join.
If interested, contact Membership Chair Ann Binning at 510-652-8602.