Rex Peters scored four goals and had three assists to lead the Highlanders to a 14-3 win over visiting Acalanes in the second round of the North Coast Section (NCS) Division 2 championship on May 9.
The Highlanders (14-8) advance to the semifinals on May 14 against University-San Francisco. Second-seeded Piedmont will host the third-seeded Red Devils at Witter Field at 5 p.m.
Rex Peters

Greg Gately & Marshall Petty

Ian Joseph
The Highlanders jumped all over Acalanes in the second round win, scoring the game's first six goals. Peters set up Marshall Petty for the game's first goal with 10 minutes, 33 seconds to go in the first quarter. Greg Gately then scored to make it 2-0 off an assist from Sam Reynolds. Ian Joseph then made it 3-0 off a pass from Petty. The Highlanders then closed the quarter with two goals in the final 73 seconds. Peters scored off of a Petty assist and then scored unassisted to make it 5-0 after one.
Sachiel Newbrun

JD Harrison

Hunter Settlemier
Petty finished with two goals and two assists. Nate Guzdar had a goal and two assists. Ten Piedmont players scored goals. The others included Jake Richmond, J.D. Harrison, Luke Anderson, Sachiel Newbrun, and Miles Fawcett.
Paul Pappas made 10 saves in goal.
Acalanes (8-13) got goals from Avery Howell, Reed Watson and Jack Wickline. Henry Rogers started in goal for the Dons and made one save in the first quarter. Oliver Rotundo then came on and made eight saves.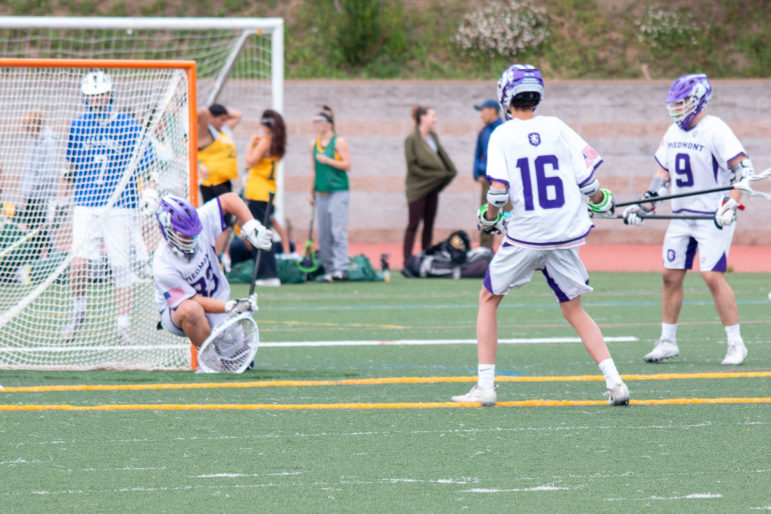 University (16-4) advanced to the semifinals with a 13-6 win over visiting Campolindo. Piedmont did not face University this season, but the schools have several common opponents. The Highlanders are 5-2 in games against Urban-San Francisco, Marin Academy, Bishop O'Dowd, Sacred Heart Cathedral-San Francisco and Novato. The Red Devils went 3-3 against those teams.
Photos by Julie Reichle